Pet Of The Week: Business Proposal's Ahn Hyo-seop And Kim Min-kyu's Cute Cats
Meet these K-Drama cuties' furry muses
K-drama Business Proposal has introduced a whole new bunch of feel-good butterflies in our tummies for two reasons. First, the undeniable chemistry of the two lead couples. And of course, the presence of new crush-worthy heartthrobs on the block Ahn Hyo-seop and Kim Min-gyu and the bromance they portrayed in the drama.
While these two guys aren't new to the spotlight, their appearance in the trending Netflix series have led us to notice and even love them more! And in search of other adorable details about this duo, we discovered a shared interest that is just hard to resist: they are very, very fond of cats.
They're undeniably cast under the spell of love toward their feisty yet alluring furry friends. Ahn Hyo-seop is father to one feline named Ba-ul, an American Shorthair cat named after his master's English name (in case you don't know, Ahm Hyo-seop's English name is Paul!). Lucky Ba-ul has been snuggling with the actor since 2017 (tracing back to Ahn Hyo-seop's first post of his favorite pet!).
Meanwhile, Kim Min-gyu is a proud dad to three felines who are as charismatic as he is in front of the camera. Sian, a British Shorthair cutie, has been with the actor since 2015 (if you scroll back to his very first Instagram posts, you'll be delighted to see a very, very baby Sian!). There's also the eight-year-old Persian Tabby Kun, who loves playing with Sian. And finally, the youngest Shami is a sweet Siamese cat who the actor got in 2018.
Don't ask who's the more passionate cat man between the two—all we can say is they're totally whipped, as seen on their endless photos of their pets on Instagram. And who would blame them, when their furries are that cute?
To give you that much needed good vibes, find more photos of Ahn Hyo-seop and Kim Min-gyu's favorite children in the gallery below!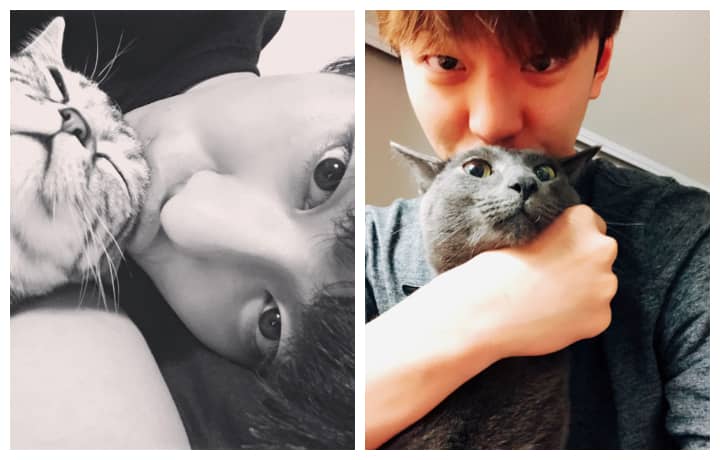 Photo Gallery
Photo Gallery
Taking Home A Cat For The First Time?
Should you consider being a cat pawrent like Ahn Hyo-Seop and Kim Min-Kyu, we made it easy for you. Here's what you should consider:
1. Think of your lifestyle. Do you have children? Do you work from home or spend hours at the office? Your choice of cat breed should be informed by this.
2. Consider adopting from a shelter. There are lots of cats out there who are just waiting for their forever home.
3. Your cat starter kit should contain the essentials: food containers, food, a cat bed or nest, a scratching post, toys, kitty litter, kitty litter box.
4. Visit the vet. This should be top of mind. Remember to inquire about vaccines and the annual requirements to keep your kitty healthy.
5. If you don't want the cat to scratch your furniture, train them early. Get them on a routine. Play time, eating time, bed time should all be established within the first week in order to keep the experience a fun one for you and your kitty.