These Furbabies Make Alexa Ilacad The OG Gen Z Pawrent
This celebrity is a certified animal lover… her pet brood includes dogs and cats alike
If there's one local Gen Z celeb that's a certified animal-lover, it's Alexa Ilacad. One look at her SMN's, and you'll be treated with glimpses of the actress with her pet brood. They're all adorable and showered with love and attention. It is also known that this year, she celebrated her birthday at the Pawssion Project, a pet shelter and advocacy for abandoned pets who are looking for new homes. There, the actress played and fed the furkids. Her latest birthday bash wasn't the only one she spent in the company of animals. Her advocacy for pets also shined through in 2018, when she spent her debut in the company of rescue dogs and cats.
Her love affair with animals has been well-documented by the media, and she has gone on a few TV guestings without escaping the topic of her pets. In ABS-CBN's KaPet Lang, she talked about her Maltese dog, Blush.
Blush is 7-year old Maltese who Alexa has had since she was two months old. The furbaby who gives Alexa good morning kisses was a gift to her by her Alexanators Admin and her best friend.
The little Maltese receives her vitamins from Alexa's hands herself, as she administers them with the help of a syringe. When Alexa does her yoga exercises, Blush is present on the mat as well, actively participating with her antics.
The photogenic pup was named "Blush" because of Alexa's fascination for makeup, blush on, and the pinkish hue of Blush's tummy as a baby. Alexa's mom actually thought of this moniker with a great ring to it, and it stuck. How appropriate for this doggo who loves the camera!
"I had her one by one photo taken at the mall, and she was just the best! She was such a good girl," Alexa gushes.
The actress further states, "Before hindi naman ako takot sa dogs. Siguro may pag-iingat. Yon ang tamang word (Before, I wasn't really scared of dogs. Perhaps just careful... that's the right word)… I really love going near animals. Not just dogs, but also cats. I really like feeding them, especially the strays… Iyon talaga ang aking advocacy (That is really my advocacy)," she says, flashing a t-shirt that says, "Rescue" on it. "Adopt, don't shop," she continues.
"Regalo kasi sakin yung mga pets ko (My pets have all been given to me as gifts)," the celebrity reveals.
The furmom reveals the joys of pet parenthood, "[During Blush's first birthday], I felt so fulfilled planning everything, buying everything, decorating everything… It was so worth it! I don't know if she knows that that was for her, but I hope she felt the love."
Watch the episode here:
Pets Make The Best Stress-Busters
In another show, Magandang Buhay, the actress revealed how her pets helped her manage her stress during the pandemic. "I don't like showing other people what I feel, so sinarili ko iyon (I took it all in on my own) after all this time," she says, referring to the over-all pandemic stressors. "Big help yung pets! (The pets are a big help) Sobrang big help (A very big help)," she offers.
In the gallery below, see moments Alexa enjoys with her furbabies, dogs, (Blush and Peanut Butter) and cats (Chill the Persian and Doja the Rescue Cat) alike.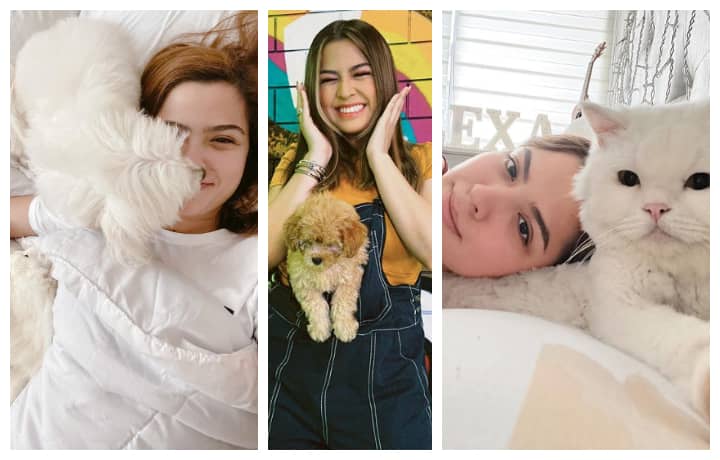 Photo Gallery
Photo Gallery