Applying The Art Of Scentscaping In Your Home
Let us unravel for you this new trend that's sweeping homes and events—and give you some tips to help you get started
You smell the freshly cut grass and it brings you back to memories of your childhood, of times spent in the province, or running around the fields of your grade school campus. You walk into a hotel and immediately you feel relaxed and ready to unwind. You smell a cup of hot chocolate and peppermint and instantly you know that it's Christmas time.
Scents are very good at sparking memories and feelings inside us—and apparently, it's not just all nostalgia or wistfulness. There's also science to it.
According to Venkatesh Murthy, Raymond Leo Erikson Life Sciences Professor and chair of the Department of Molecular and Cellular Biology at Harvard, smell and memory seem to be so closely linked because of the brain's anatomy. He explained in one of his lectures that when we smell something, the odor takes a direct route to the limbic system, where the amygdala and the hippocampus are found. These then make sense because these are the regions related to emotion and memory.
The signature scent that comes with our trips to other places, staycations, and spa dates have become part of the whole experience. And since the pandemic has discouraged many of us step outside our homes for almost three years now, many are looking to recreate these amazing moments inside their own homes.
This is what scentscaping is about. Think of it as some form of decorating or designing—but with your olfactory senses. It is the art of using scents to evoke emotions, feelings, and energy in a certain space.
Different scents—and how they can work for you
WGSN, the world's leading consumer trend forecaster, included scentscaping as a prominent trend in interiors for this year. They believe that the power of scent to create emotion and enhance our sense of space has become even more prominent post-pandemic.
"In the home, consumers are aware of the importance of fragrance to create a sanctuary, with scents that range from clean to calming to set the mood in every room and time of day," wrote WGSN.
And what's great about scentscaping is there is no one way to do it. It all depends on what you want to achieve, what your personal taste is, and what sort of vibe or mood you're looking to create for your space.
This means that maybe you don't need just one scent for every corner of the house. Maybe you'd prefer lavender in your bedroom as it known to help induce better sleep. For your work place or study nook, peppermint is said to boost concentration while citrus can help you feel more energized. When you're feeling a bit blue, you may want to spray some patchouli that's found to uplift the mood and drive away feelings of sadness. If you're feeling a bit stressed, light up some sage to help combat fatigue so you can deal better with stress and anxiety. Entertaining? Light up an orange-scented candle in your living room and let this cheerful, fruity fragrance enhance feelings of well-being. Want to create a spa-like mood of relaxation in a space? Using eucalyptus or jasmine to help your body and senses relax.
Apart from pure scents, many candle and room spray makers have ventured into creating signature scents and concoctions to create a more complex aroma. In the same way that perfumes are usually different scents layered on top of each other, creating these layered scents for your space allows you to express your creativity and personal taste, and establish a signature smell that you can instantly associate with your home.
Scents can also be a time thing just as much as a spatial thing as they are great in creating delineations in your routine. If you live in a small space and you're working, resting, and playing all in the same area, you can instantly change the atmosphere by putting on a different scent depending on the time of day and the kind of activity you're doing. By nighttime, put on something more relaxing to help put you into relax mode. When you wake up, put on something that will help you focus to tell your body that it's time to work.
Choose your mode of scent dispersion
When you're ready to play around with different scents, one of the very first things that you should think about is your chosen vehicle of scent dispersion. There are many ways to perfume a space, and you may have to consider what is the perfect fit for your needs.
Candles are one of the most popular ways to scent a room. The scent that comes from candles is very rich and long-lasting, and there's something magical about the way the flame dances and creates shadows when lit at night. But while candles are a favorite in scentscaping, they pose additional risks and requirements such as the required 1-hour burn to avoid tunneling, soot residue, and the undeniable fire hazard. If you have kids and pets running around, lighting a candle may not be your best option.
As an alternative to lighting candles, electric diffusers allow you to create a rich and long-lasting smell for your space. If you're a fan of essential oils, using electric diffusers will let you enjoy all the aromatherapeutic benefits of these precious oils in your home. However, like any plant product, using essential oils can contribute to skin irritation and hormone-related symptoms when used improperly, so something to think about if you have particularly sensitive senses.
If you want something more straightforward, room and linen sprays are great options, too. Sofas, beds, carpets, and cabinets are great places to use your linen sprays.
There are many pros and cons to different scent vehicles, so it's always nice to have different ones around depends on your needs.
If you're ready to scentscape your home, check out the gallery below for our list of favorite scents and suppliers in the metro.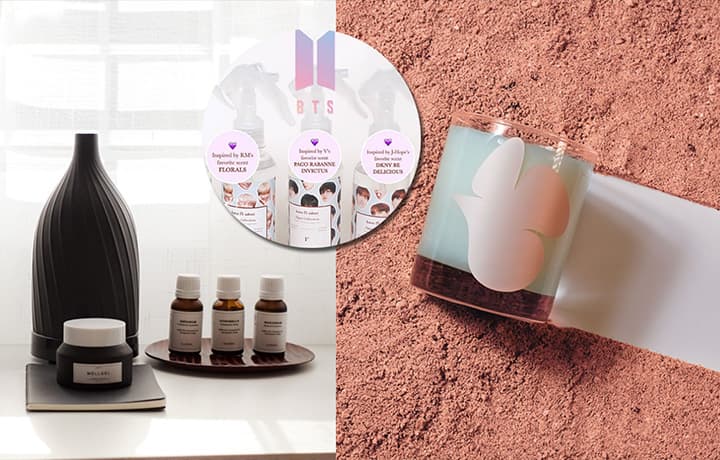 Photo Gallery
Photo Gallery