Sail Your Summer Days Away By Learning About The World Of Yacht Interior Design
Ahoy there, matey!
What we've give for a day out on a yacht deck in the open sea, soaking up rays and feeling the refreshing spritz of cold saltwater on our cheeks with nothing but the sound of gulls and great conversation all around these days.
It's crazy to think that now is yet another summer we're spending indoors, with current circumstances trumping our fantasies of sailing into paradise on a breathtaking yacht, one that's just as beautiful as the thousand and one crests and troughs of waves before us.
And though the most we can do at the moment is diffuse ocean spray-inspired essential oil blends into our homes (Extra tip: We hear bergamot, cedarwood, and peppermint help bring the beach to your bedrooms) there's something else that might satiate our appetite for an ocean adventure.
Still in keeping with the recommendation of enjoying this outdoorsy season indoors, long-time yacht designer April Trower walks us through the unexplored world of yacht interior design; there's so much more that meets the eye, and it's a whole other way to appreciate the art and sport of sailing.
If anything, we're using her work to fuel more of our daydreams of a summer well spent. After all, COVID can't (won't) be forever, and we're bound to return to doing the things we love most and discovering brand new ways to live life to the fullest—all things yachting included!
"My interest in the marine industry started out 15 years ago. I managed a small boat manufacturing company here in Subic. I was not only interested in the management side of the business, but I was equally interested in the manufacturing process of our boat models. I was on the shop floor a lot," April begins.
Sooner than later, she learned that beautifying boats, especially the most high-end and luxurious of them all, required an expert understanding of the layer machinery and interconnected systems hiding underneath the plushness of a king-sized bed in a bedroom, a fully decked out bathroom, or a well-equipped game and bar area. Planning for the interiors of a boat is far different from prettifying, say, a penthouse apartment or an office space; the designer has to know the right questions to ask her marine engineers, be well-versed in materials able to resist ocean wear and tear yet maintain buoyancy, and clever enough to dream up individually fabricated pieces given that yachts almost never have the same set of specs.
More than once, April has found herself on her hands and knees, sanding yachts to know what it really takes to make them the princes and princesses of the sea, all the while watching the pros expertly marry design and practicality to create one of a kind looks for every client.
"About 2009, we started Ocean Gecko Designs and Marine Services. That year, we found ourselves doing our first big yacht conversion—MY/Anda, a 41-meter buoy tender built in 1965. I headed the design department [and was also] the then President of the company. We had a big number of expat engineers that worked for us and they ran me through the technicalities of the yacht," April tells us.
April has worked on four yachts since Ocean Gecko came into existence. Her first client was from Australia and enlisted her to work on two boats of theirs, her second from Belgium, and her most recent right here from Manila.
Probably one of the most surprising things ordinary folks like will take away from her insight is how one yacht takes about three years to design, which is why designers like April really only take on one client at a time. The amount of time and effort add to the affluence of the yachting business; it really is a painstakingly long process to make sure that all fixtures and furniture, all finishes and textures, and all colors and details are all what and where they should be, amounting to nothing but perfection. Research, sourcing, and execution all take place within this timeframe.
If a yacht demands a specific look or a client has quite a special vision in mind, it's commonplace to import materials from all over the world and mix and match them with pieces deliberately made just for them. It's not unheard for yacht designers like April make multiple trips to and from the drawing board, what with so many moving parts (literally and figuratively) involved.
From her experience, April has noted two things that truly amplify the feel of luxury of a yacht: knowing to to use exotic wood veneers to your advantage, and be partial to high gloss finishes. If there's anything a yacht owner should prioritize in the design process, and if for instance, there are budget constraints limiting what details you can spend on, it's those two things that should top the list.
If you have a little more financial wiggle room, customization is truly the way to go for that unbeatable feel of luxe. There's nothing quite like getting interiors made according to your preference to speak of personalized elegance.
Yacht interiors can be re-fitted or designed from scratch. April has worked on both. A ballpark figure for what it costs for yacht owners to work on their boat interiors is around $100,000 (USD)—more if they want to hit maximum levels on the opulence meter and the vessel is 30 meters or bigger.
Another consideration newbie yacht owners hoping to redesign their home on the sea is that different regulations dictate what can and can't be done on a boat. With April having experience in with yacht design abroad, she's used to working within the limitations of flag state rules. When it comes to yacht design, it isn't an "anything goes" game. Don't expect that just because designers can materialize yacht owners' wildest design dreams that it's a good idea to do so! Part of the job is balancing pushing the design envelope while ensuring clients' safety.
Luxury has no limits, and though that's true in theory, in reality, your yacht can only carry so much and power so many appliances and cool gadgets.
"For example, weight is a huge consideration when it comes to designing and fitting out a yacht. That means we use light weight panels to make all the parts in both the interior and exterior of the boat to make sure the boat remains stable while at rest or underway. Safety plays a major part when it comes to choosing materials, appliances, and other fixtures. Underneath that shiny, beautiful, and luxurious interior is a complex system of electrical cables, pipework and ducting," April details.
You certainly don't want to be the yacht owner that's proud of spending millions on turning your boat into the ultimate floating playground for society's well-heeled, and then makes the headlines for sinking a piece of luxury to the bottom of the sea because of failing to heed expert advice.
The pre-emptive antidote to this? Don't be afraid to ask engineers and your designer for mockups, and don't rush them to rush the process. Accept redesign as part and parcel the work and that there may come a point where you may have to scrap original ideas to make way for better work-arounds. If you don't want to skimp on expenses so your yacht is outfitted with only the best of the best in design, apply the same meticulousness and thoroughness with safety and functionality.
"A good quality yacht interior design is one that works seamlessly with all the complex systems underneath the surface. I should say that it goes beyond the beauty that a person sees when the work is completed... It is one thing to design it and another thing to build it," April emphasizes.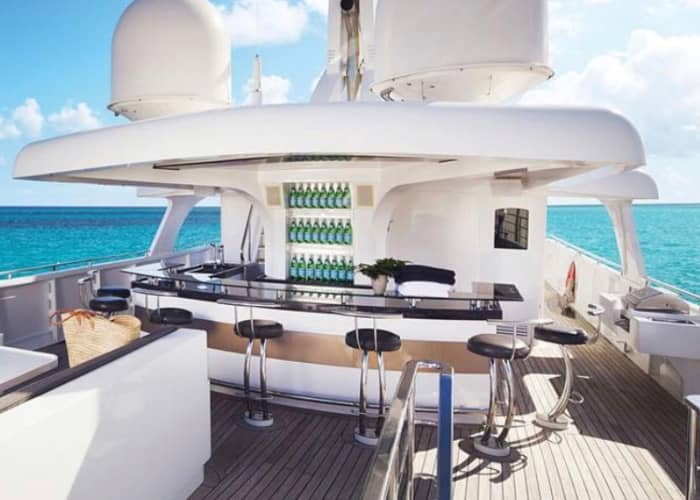 A look inside the work of April Trower of Ocean Gecko
A look inside the work of April Trower of Ocean Gecko
One big worry yacht owners might be not wanting to spend hefty amounts of money on a design that could be dated in two, three years' time. This is one of the few areas where yachts and homes coincide. Just like when you're designing a house, you want to make sure that its aesthetic can stand the test of time until the next big overhaul is due. And while interior design trends come and go on a yearly basis, it's a matter of enlisting the services of a designer who is skilled at translating what's on paper into timeless design, and then peppering that classic canvass with trendier details here and there that can be updated over time (in contrast to a designer that insists on creating something that's reflective of current fads and relatively permanent, making it unadaptable to change according to future styles).
"Yacht and luxury would always go hand in hand and this bypasses all trends. A well maintained yacht that is a few decades old would still have its charm... Any design style can be beautiful as long as they are tastefully done," April assures.
One that that has definitely changed the name of the game for yacht owners and designers alike, however, is the growing focus on eco-conscious design. It's definitely something we'll see more of in the near future, considering how so much of the world has been cooped up for so long, and how so many of us have craved a closer connection with nature (and a newfound appreciation for our natural environment) after being separated from it for so long.
More and more designers are opting for eco-friendly materials whenever possible, whereas more clients are more often requesting for larger windows that afford them more dramatic panoramic views, larger deck areas that allow more open-air activities to take place, and merging indoor and outdoor spaces (think outdoor kitchens, dining areas, and lounge sets). In contrast to what we talked about earlier about cautioning against falling into the trap of trendiness, these are but a few trends that we hope will turn into common practice thanks to their positive impacts on health and the environment.
Looking back on how she got her start in the business of yacht design, April says, "I was very much involved during the planning and the build process. Having to learn how it was put together helped me design the space that was coherent with all the complicated system of the yacht. It is not enough to just design a beautiful interior but one must know how the whole complicated system works. I basically lived and breathed it until it became natural for me already."
"Designing a yacht is a completely different ballgame. To design it successfully, one must know the complicated systems involved. Everything that goes in it must be well calculated," she ends.
Aside from designing yacht interiors, April also works on another passion of hers on the side. She co-founded Silong in 2020, a plant-focused business where she creates interesting terrariums for the gardener with a more eccentric taste in gardening and plant décor.
Photos courtesy of April Trower / Additional images from @ocean_gecko