LOOK: This Homegrown Decal Line Will Be The New Star Of Your Rooms
Affordable, unique and customizable, these wall enhancements fill the gap in the local market… PLUS everything you need to know about decorating with them
As a self-taught watercolorist and surface pattern designer, Fannina Bautista started designing affordable home wall decals by hand-painting different elements, botanical to playful shapes, to help millennial mothers create beautiful and comfortable space for their family, without breaking the bank. "I noticed people are looking for nude and neutral palettes, a combination of light brown, blush red, beige, copper brown, light gray, black, white. 70% of our customers prefer boho style and color to match native baskets, abaca rugs that are very popular in Instagram shops and Pinterest right now. The other 30% is a bit bold when it comes to wall paint choices, which the decal design highly depends on. I remember I had one customer who was requesting to change the decal color to a lighter one to match her dark green wall. And I had another one with a teal wall. When it comes to design, it's mixed. Some like Scandinavian-inspired elements such as simples shapes in a neutral color, bohemian elements - if you're familiar with the nude rainbows you always see in kids' room, that's it. Some are into nature, safari-themed with wild animals. Greens are still very popular - monstera watercolors. And with the distance learning, our alphabet and number decals are best buys. And of course, personalization with name decals or quote decals are still preferred," she tells Metro.Style.
Most quality wall decals come from the US and Europe. You can order them online and pay an expensive delivery fee, or get them through their distributors here at marked-up prices for typical designs. This month-old endeavor by artist Fannina Bautista is Arte by fanblythe, a local brand with the mission to fill that gap , offering affordable & accessible wall decals, unique, hand-painted designs, and customizable. A certified interior design lover, Fannina, a self-taught artist also calls herself a "ceritified interior design lover." Scrolling through Instagram and Pinterest feeds of her favorite shelter publications, her passion for interior design fueled her decal creations.
For the home organizing lover, Arte by fanblythe also offers customizable home labels. In addition, Fannina also creates pattern designs for textiles, wallpaper, throw pillows, placemats and other home products, soon to be added to the list of products Arte by fanblythe offers.
Planning on decorating your walls with decals? Learn from our Q & A with Fannina Bautista:
How does one care for wall decals?
Caring for wall decals is very basic and it all boils down to initial installation because it greatly affects the adhesive. Here are tips:
- Make sure the wall is smooth, non-greasy, dust-free, and dry before installation. For newly-painted walls, you have to wait for a month before sticking your wall decals.
- During installation, you have to stick it carefully and slowly so it will not stretch.
- Use a smooth squeegee. You may use cards such as credit card, ID, but make sure not to press too hard because they are made of hard materials.
- All our decals come with application tape to aid in installation, so it's very easy.
How are wall decals cleaned?
Use a slightly damp cloth and a little hand soap to remove any dirt, dust, or other substances. We do not recommend spraying alcohol or other chemicals.
Is it advisable to put them in bathrooms? What rooms will best benefit from decals?
Yes you may design your bathroom with wall decals but not inside the shower because it will be exposed to different temperatures and might affect it's adhesive. We also do not recommend sticking it to the shower glass panel or the sliding door. Consider sticking them by your mirror, decorate your cabinet, and the usually empty wall above the toilet. Always remember to stick it into smoother surfaces.
How are they used? Do they look best on accent walls? Can a small room afford them?
Wall decals are commonly used in decorating nurseries. And yes it will also create a beautiful accent wall in your living room, kitchen, laundry, pantry, as long as indoor spaces. Outdoor use is not recommended. Of course, a small room may be decorated with wall decals. We have lots of small cut decals that might fit a small space. You may also decorate it with a quote wall decal. You may use this anywhere you want except outdoors and inside the shower.
Can your wall decals be used and saved? If so, how are they removed, and how exactly does one save them for another future room?
To remove wall decals, start from the top edge and slowly lift the decal. In case it was stuck, use a blow dryer on the edge until it warms, they slowly lift it again.
Wall decals are not reusable in nature. However, there are cases that may be reused depending on the adhesive and the surface you are re-sticking into. If you think it will still stick to another surface, then make sure to stick it back again to its backing paper. You may also use a semi-matte paper with a smooth surface in case you lost the back paper.
How long do they last?
They will stay with you for up to 4 years the most.
Does the paint onto which the decals are stuck matter? Will the decals adhere better with, say, a satin finish vs. a glossy finish?
Wall decals should be put in smooth surfaces such as walls, satin or glossy finish will do, wood furniture, glass, mirrors, tumblers, pantry jars, plastic wares, coffee cups, and gadgets. For newly painted walls, wait after a month before installing the decal to make sure it's completely dry.
Choose from a variety of designs by Fannina Bautsita (Arte by fanblythe):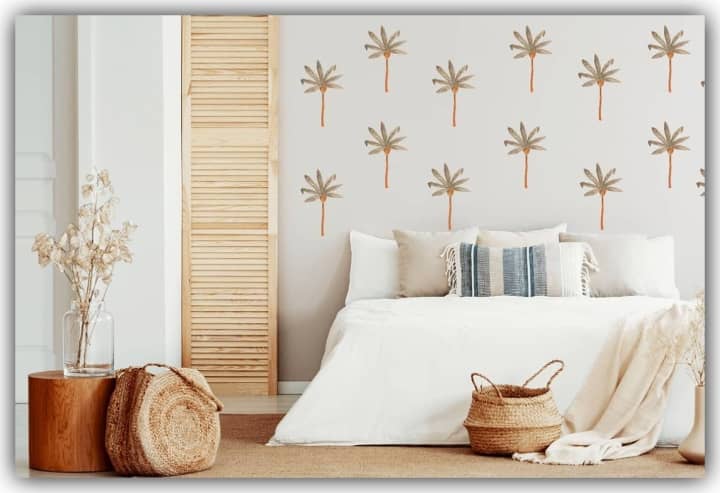 Photo Gallery
Photo Gallery