Learn Plant Care Tips From Certified "Plant Mother" Aubrey Miles
The long-time plant-lover shares her do's and don'ts in indoor planting
Even before the plant parenting trend this pandemic took over social media, Aubrey Miles has been way ahead of the game. This celebrated plantita, who's been juggling family, staying fit, and taking care of her indoor garden, proudly presents her well-tended greenery through nicely-taken photos that fellow plant enthusiasts can take inspiration from. One look at her Instagram account, @milesaubrey reveals a picture of everything the color green represents: health, growth and positivity, as her photos alternate between those of her "plant children," her family life and her fitness endeavors.
But Aubrey doesn't just make her plants photo-ready—she's a serious plant lover that really puts the time and effort in taking care of her garden. In her Instagram posts, she even gives a shout out to the her suppliers of plant holders and pedestals, careful to elevate those who need more sunlight in her thriving indoor garden. Just when people began riding the lock down garden wave, the actress released a video of her do's and don'ts when it comes to indoor plants. In the helpful guide, she shares some plant recommendations for beginners as well as tips in growing them.
Watch the full video below.
Just like parenting your children, taking care of plants is serious business. "There's no such thing as hindi sila mamamatay. They will die if you ignore; they will die if you don't care," Aubrey shares. She suggests you start with the 'hardcore' indoor plants, such as snake plant varieties, pothos, and rubber plant as these are low-maintenance, sturdy greens that can thrive with little sun and water.
This plant mama also points out how important it is to measure and pick the right spot for your plant: do your research, start small, and be patient in your journey towards tending to your plants' growth. Meanwhile, the mom of three wants you to avoid over-caring and over-decorating, watering them at night, and feeling discouraged along the way.
And above all, "Kailangang mahalin mo sila and they will love you back," she stresses.
What's in a hashtag? Aubrey uses #jungalowstyle in a number of her posts. This refers to a look that was made popular by designer, artist and author, Justina Blakeney, who named her blog "Jungalow," referencing the maximalist look she espouses. Marked by large tropical fronds, organic textures, graphic prints and vivid color, this life-affirming look has seen a huge following through the years and has caught on to numerous interpretations.
There's nothing like watching greens and flowers bloom to instill hope during this season.
Below, check out the gallery of Aubrey's collection of her beautiful plant children at home for your dose of pick-me-up today!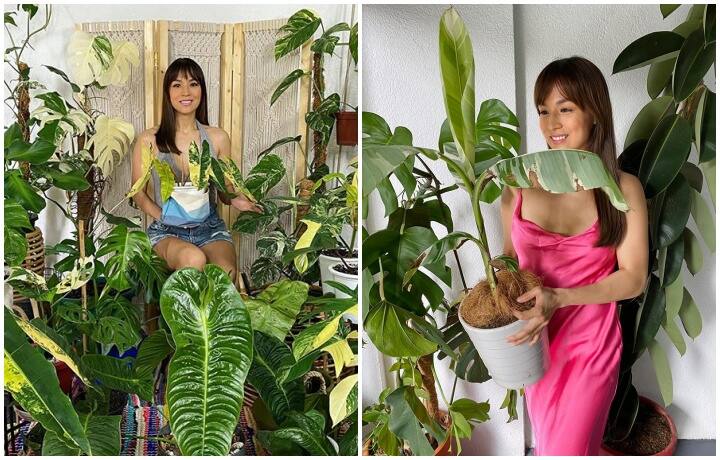 Photo Gallery
SWIPE LEFT OR RIGHT
TO NAVIGATE BETWEEN PAGES
Images from @milesaubrey on Instagram