Inside A Cavernous Café That Resembles Chocolate Cake
In Auro Café BGC, colorful lamps shaped like cacao pods, a terrace fully clad in arurog and references to Palawan's Cathedral Cave are all part of the bold design moves that portray a tropical paradise
The newly opened Auro Café in BGC can be seen from afar. It glows amidst its surroundings and it's hard not to stop and stare at it. From the outside, you can see milk chocolate colored arches reaching up towards colorful lamps shaped like cacao pods.
Stepping inside takes you far from the city life and makes you feel as if you were near a beach. This was intentional according to Mark Ocampo, co-founder of Auro Cafe, "We were playing around with the idea of tropicality of the Philippines when we were conceptualizing this space. When people talk about the good things about the Philippines, they refer to it as a paradise partly because of its beaches. We're known for our beaches but there's no experience in the city that feels like a beach."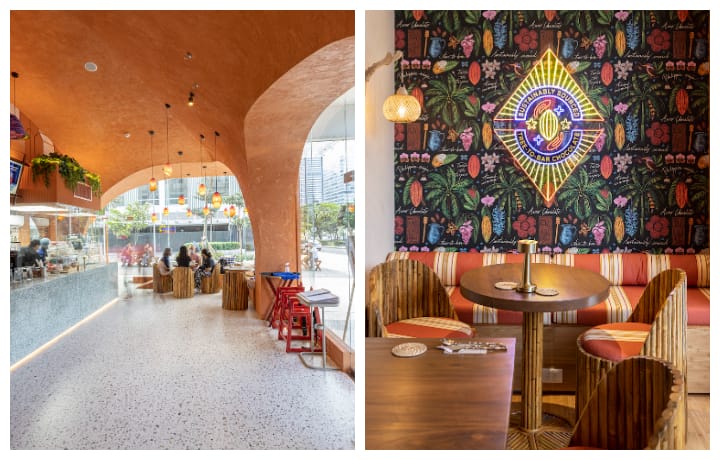 Photo Gallery
Photo Gallery
Auro Chocolate as a brand is known to straddle the fine line of playfulness and sophistication. The architecture and interiors of Auro Cafe is the same way with its beautiful cavernous dining area. Terrazzo flooring resembles either sand at the beach or chocolate bark full of nuts depending on how hungry you are. Woven lamps in a vibrant array of colors by Rita Nazareno of Zacarias1925 hang above the order counter. The pattern seen behind the counter is the same exact pattern featured on Auro Chocolate bars.
"The front area [of the cafe] is structural like a cave. When you go to Palawan, you explore caves like the Cathedral Cave. Here it looks like a cave but it also looks like a chocolate cake," Ocampo explains.
For the furniture, bamboo chairs made by a furniture company from Cavite named Winners Furniture further the feel of a beach setting. The fabric of the pillows are from Iloilo. Wallpaper featuring illustrations of cacao pods, coconut trees and the indigenous rafflesia flower are by illustrator Raxenne Maniquiz. "Even our uniforms are made by Rurungan Sa Tubod, a community of indigenous women in Palawan," Ocampo shares.
Kitty Buñag was enlisted to do visual merchandising for the space, and for the retail area she suggested putting a tree. Ocampo further developed this idea into a display tree as a representation of a cacao tree. He drew what he had in mind and had Rita Nazareno put to life what he envisioned. The result? A vibrant multi-level functional display with thick woven trunk-like legs and branches with small shelves and woven cacao pods.
There is a terrace fully cladded in arurog or wicker that transports you to a faraway beach club. The cafe is filled with natural light and this was a requirement that Ocampo sought out from the very beginning. "I didn't want the space to feel claustrophobic. So when we were looking for a space in BGC, we liked how this spot had a park in front of it and a park on the side. So it feels more open and not congested."
The menu features mostly Filipino food incorporating cacao and chocolate in every dish. The Chicharron Manok is deep fried chicken skin with a very light dusting of cacao powder. Their Beef Tapa is marinated in cacao (lending a very subtle chocolate aroma) and served with an atchara made with house made cacao vinegar.
Their pastries and viennoiserie is in collaboration with Chef Leti Moreau of Simone (@simoneandamelia). Since opening, lines have been forming as early as 6:30am and pastries get sold out before lunch time. Their Pain Auro Chocolate is a croissant dough in the form of a cute caterpillar filled with 64% dark chocolate ganache.
The cafe also serves craft beer from Engkanto and classic cocktails crafted by Run Rabbit Run but Ocampo is especially proud of the Tiki drinks. According to its Ocampo, "Tiki drinks is a really fun concept. We realized that even if it was from Hawaii, bartenders who were Filipinos were responsible for it."
According to Auro Cafe's menu, "Dating back to Donn Beach's introduction to tiki drinks in 1933, Filipinos have been the unsung heroes who concocted and perfected these complex and incredibly tasty drinks that transport you to a tropical paradise. Donn initially had four Filipino bartenders, whom he called 'The Four Boys', making world-renowned tiki drinks behind the scenes. We pay homage to them and their enduring yet untold legacy in tiki culture in our own spin on the classics."
From the menu to the space's design, Ocampo had a strong hand and a clear vision. "We wanted a create a space that was uncompromising where people can actually be in a space that was all Filipino. We really invested in the best suppliers in all of the elements of the café. We want Filipinos to feel that they deserve the best."