Balcony & Gardens Manila's Vincent Lim On Why The Business Of Landscaping Is Also The Business Of Health
"Working with plants teaches me so many things–patience, openness, being bold, becoming firm as needed, and letting go of biases… It's already a given, at least for me, that working with plants is always therapeutic or meditative," he says
What people don't realize is that when you're in the business of plants, you're also in the business of health.
(Health? Yes, health).
This is especially true when you don't only sell plants, pots and seedlings, accessories and all, but transform spaces meant for outdoor use from wild, messy, and underutilized into lush, healing, and curated via the work of an experienced landscape architect. The process goes beyond what landscaping is, literally—altering a piece of land or an outdoor space, big or small, to make it more attractive for human use. In the end, what owners of landscaped spaces end up with, cannot be found in any 3D render or their billing statement; they have a beautiful outdoor space that encourages both activity and stillness, connecting with others and enjoying your own company, stimulation of the senses and respite for the mind.
They're given a whole new way to care for themselves and focus on their well-being in the most natural way possible—by communing with nature itself in a space that's all their own. There's nothing quite like being able to escape into a pocket of green whenever you need a breather from urban living (or from staying indoors these days) any time you want to.
It's rewarding for both clients and landscapers. It's definitely why Vincent Lim, a graduate of UP Diliman's College of Architecture, and founder of Balcony & Gardens Manila, does what he does.
"Each time me and my team are able to transform a client's space through landscaping, we get a certain high from hearing how they have so much fun in using the gardens. It's the stories they share with us that keep us going. More than the profits, we are grateful how this business allows us to create meaningful spaces for our clients," Vincent begins.
"...Seeing the families enjoy gardens is on another level of joy which I find hard to explain. It is what it is," he continues.
With almost a year and a half of quarantine living under our belts, we know exactly we should be grateful for for making things a little (or a lot) more bearable. The pandemic that's turned into a plantdemic for some folks have Vincent to thank, what with his natural talents at making life at home much less dreary and inanimate.
Landscape architects like Vincent have definitely entertained more inquiries than usual over the past year since launching his own landscaping ventures in 2018, and he's glad to see an upswing in interest in prettifying outdoor spaces.
"I'm happy that they have some form of healthful respite in these trying times – now that they've realized they can easily access these plants or gardens. I hope now that they see the value of gardens, this would translate to even larger attempts to put the greens back everywhere – tree planting along roadways, reforestations, park restorations, green roofs on offices, use of native species, and many more," he tells us.
In his time as the owner of a landscaping firm, he's developed a style that many Filipinos desire: lush, tropical gardens that inject a sense of vitality that many city homes are missing. All of Vincent's projects are different of course, but he has signature elements that provide the baseline for his designs.
"You'll see our favorite and badjangs, melinoniis, schelffera, crinums, lilies of different sizes, philodendrons and gingers. For hardscape materials, we like working with piedras, outdoor wood, and pebble washout. I think, even with just basic finishes, when done well, the outcome can be elegant and timeless," he describes.
The best part about working with Vincent and his team isn't only that you're assured of results that are essentially all your garden fantasies materializing before your very eyes; it's that Vincent tries his best to make landscaping services a lot more accessible to more kinds of homeowners with different budgets. He doesn't subscribe to the idea that landscaping is a privilege only for a few. With all the health benefits that being outdoors and being surrounded by organic spaces provides us all these days, Vincent believes that everyone deserves to get a taste of that. After all, well-being isn't, and shouldn't, only be for those who can afford it.
"[Landscaping services come] with a bit of premium, specially now that plant prices are still very high (since the height of the pandemic last year). When the cost estimate made is higher than expected, either by our team at B&G or by their chosen supplier, we help them prioritize spaces and workout on phasing strategies," he explains.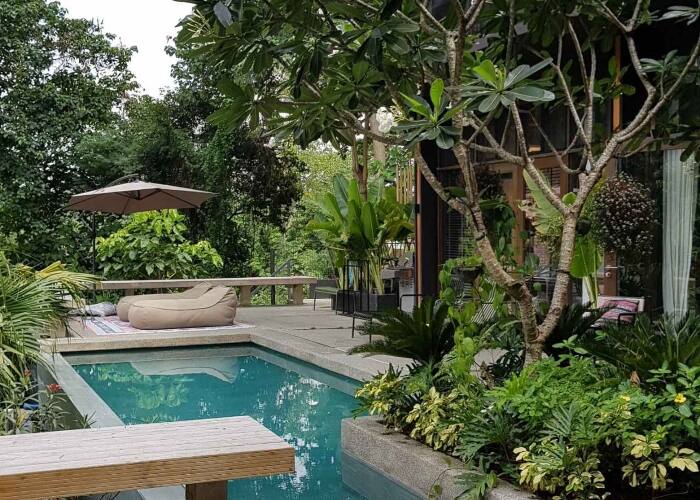 In Photos: Balcony & Gardens Manila
In Photos: Balcony & Gardens Manila
Vincent's obvious care for his clients comes from a very special place. It shows that he's not only a business owner who happens to be able to monetize a hobby; he's an artist with a heart for what he does and takes great effort in executing projects with a personal touch.
Landscaping—despite it being about working with organic elements—can still actually be rather mechanical and template-like; you can show a landscaper a Pinterest photo and a landscaper can recreate it, or they can keep recycling a set of designs they've executed before with small tweaks here and there without truly factoring in a clients' lifestyle or personality. With these methods, landscapers can still achieve quality results, make clients happy, and get paid a pretty penny, but for a landscape architect that's also a visionary, this is the bare minimum and it will never be sufficient for Vincent.
Vincent's work is a visual representation and extension of the person he's working with. It helps tell their story and it enhances all it is that they enjoy doing. A garden or any outdoor space after it's remolded by his hands should be a venue for a client to get more out of life; they can discover new hobbies there, they can finally have the space to do something they've been putting off for too long, they can use it to connect with family and friends, or they can use it as a safe space to retreat inwards when they need peaceful private time.
A lot of things go through his mind when he tries to match design with client.
"It feels both like an art and science at the same time. I have to balance the technical side of our practice with the 'curation' of different landscape elements. More than being a designer, I love the idea of being able to create or transform outdoor spaces. I try to create balance and rhythm in the spaces we design," he shares.
In the process, it's not only Vincent's clients that end up changed by having better outdoor spaces. With each completed project, Vincent ends things with a takeaway or two himself.
"Working with plants teaches me so many things—patience, openness, being bold, becoming firm as needed, and letting go of biases... It's humbling to be able to take out my personal biases when designing a space. When successful, it's immensely satisfying." he says.
After being in the business for quite some time, Vincent has become a keen observer of what's in and what's out.
For those in need of a little direction for their landscaping needs, some popular requests he's gotten over the quarantine all revolve around making a garden a functional, inviting space. It's not just something people want to look at these days, but they want to experience it.
Exotic plants are a top purchase (exotic could mean imported or rare local finds), closely followed by water fixtures and green walls (think vertical gardening). Fragrant plants, fruit-bearing trees, and herb and veggie gardens that surround al fresco dining spots have reached an all-time high in popularity for obvious reasons.
Gone are the days when clients mostly wanted themed gardens (when everything was clearly Balinese or Mediterranean-inspired, for instance). Curated eclectic is the way to go.
"...A lot of our clients want something rustic or loose, not too manicured. My theory is, because they've been stuck at their houses specially during the pandemic, they want to look at things that are more loose and free [but] still curated, of course," Vincent points out.
He's also here to dispel the myth that landscaping can only be done if you have the space for it. You can "landscape" small spaces, too! Balconies, and even a bathroom, a work desk, or a dining area can be redone and rearranged with plants to achieve the same health-benefitting changes a landscaped garden affords.
In fact, Vincent has a pretty useful suggestions for the kinds of plants one should buy or request for if you want to achieve any of the four looks described below:
A modern, minimalist look: Kamuning and dwarf pandakaki for hedges, a simple groundcover that has a variegated fixture, one accent plant on a clean looking pot, and snake plants (mix and match the many varities of snake plants)
A chic boho look: Monstera on a colored pot, song of India or Jamaica for a bit of height, ti plants, yucca, palmera, and San Francisco for color
A tropical, indoor jungle look: Calatheas, monstera (the big ones), rubber plant, Boston fern (this is hard to kill), ZZ plants, philodendrons
An elegant, feminine look that incorporates florals: Forget-me-nots, bougainvillea, yellow bells, gardenias, hydrangeas (for colder areas), peace lilies
To date, Vincent has worked on all manners of spaces from traditional home gardens, to balconies, treehouses, poos and decks, and even the occasional Airbnb and industrial/commercial space. The pandemic challenged him to figure out ways to advance his business, and just like a baby bud that makes a final and last push to break through the top of layer of soil to emerge and begin its growth, so has Vincent as an entrepreneur and a a landscape architect.
"Our passion is really in creating landscaped spaces, whether outdoor or indoor, to become avenues for creating memorable moments for our clients," Vincent says.
"We are very grateful that through our services, be it in selling plants and accessories, to designing small to big spaces, we were able to help a lot of our clients in creating relaxing spaces which we believe helped a lot mentally, emotionally and psychologically to our clients," he ends.
Photos courtesy of Vincent Lim