The Ultimate Guide To Mother's Day Bouquets: Fresh, Dried Blooms, Paper Flowers, And Even Vegetable Bouquets
Surprise your mom, grandmother, sister, or wife with these breathtaking bouquets made from fresh blooms, dried flowers, sustainable handmade materials, and even fruits and vegetables
When you think about it, flowers are not the most useful of presents. Fresh ones would sit around in your desk for days before being tossed out in the garbage, and even dried blooms have a certain life span and don't retain their vibrance for more than two years. But hold up! Before you bare your fangs and attack, we want to help make the case that bouquets are the most timeless and beautiful of gifts, whatever the occasion is.
The tradition of flower-giving dates back to at least 4,000 years ago. Ancient Greek, Egyptian, and Chinese civilizations were all found to have used flowers, not just for decoration, but have also assigned symbolic meanings to them, making them thoughtful offerings to lovers and gods. In fact, during the Victorian era in England, many books were written about the "language of flowers," and people would resort to creating bouquets that convey emotions and feelings they won't otherwise be able to communicate out loud.
To date, many people have continued to attach these same meaning to flowers, giving it a certain level of significance. And history and meanings aside, don't flowers have that magical ability to lighten up every room and brighten every occasion?
This Mother's Day, let your mom, grandmother, sister, or wife know how much you love and care for them by giving them one of these breathtaking bouquets.
Check out the gallery below for our favorite bouquets from flower stores in the Metro that can deliver fresh, dried, and paper blooms—and even unconventional fruit and vegetable bouquets—to your loved ones this Mother's Day. Hurry because some of them have discounts going on for this special occasion!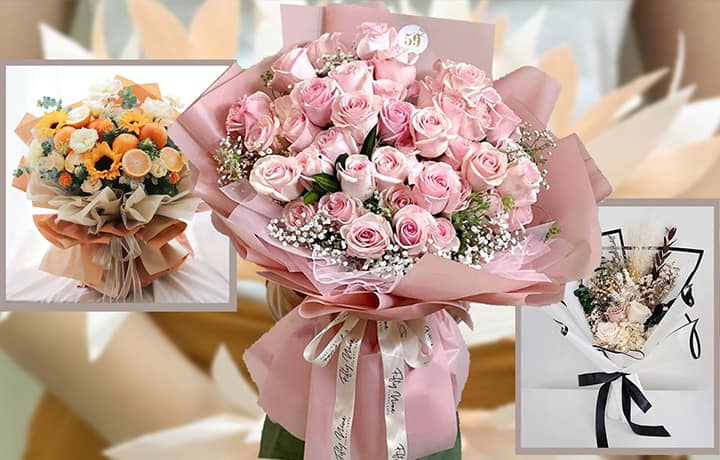 Photo Gallery
Photo Gallery