LOOK: BTS Depicts The New Normal In 7 Interior Looks
The new album, BE, assures their audience that life goes on even with the restrictions of this pandemic... But first, a look at what it's like to be in quarantine with each of the BTS members
"The new album delivers a message of healing to the world by declaring, 'Even in the face of this new normality, our life goes on.'" -Big Hit Entertainment
BTS's new album BE (De Luxe Edition) will be released on November 20! That's in two days! BE's release was preceded by a production in which all the band members participated. In fact RM, Jin, Suga, j-hope, Jimin, V and Jung Kook were involved not only in the process of music production, but collaborated in the realization of all this related to it, including the promo materials! We don't know about you, but we noticed that the band's IG feed, @bts.brightofficial, has been populated with interior design details and elements... and we've been obsessed!
In the above IG posts are elements of interiors, one for each member of the band. An idealized vision, each of these are populated with objects that represent them, allowing fans an intimate view into their personalities. Each room reveals a passion, style or aspect of the character of those who occupy it, for example, the pictorial works hanging on the wall were made by Suga himself, revealing his passion for painting, or Jung Kook's relationship with music whose room (a kind of recording/study room) shows how it represents his life, which arises from intense work and study witnessed by the blackboard walls, soundproof walls and stereos.
The style of each room is very different, but definitive. Fundamental is the presence of a precise color palette that varies for each of the seven artists. There are also vintage objects that hold strong symbolism or references to contemporary art through painting, photography, sculpture and design, including the wooden Bearbricks in the room set up by RM, or the vintage lamps and bedside tables chosen by Jimin, the photograph chosen by V with which he pairs the red velvet sofa and the violins hanging on the wall, an assemblage that pays homage to the French artist, Arman, the crystals and purity that surrounds the set-up chosen by Jin.
Each of these interior environments allows the ARMY an intimate peek into the character and passions of these young rock stars, an aspect very much considered by BTS who have always shown a lot of attention towards their fans, and even in this difficult moment in which they show solidarity with everyone in trying to stay safe at home, in quarantine, just like the rest of us.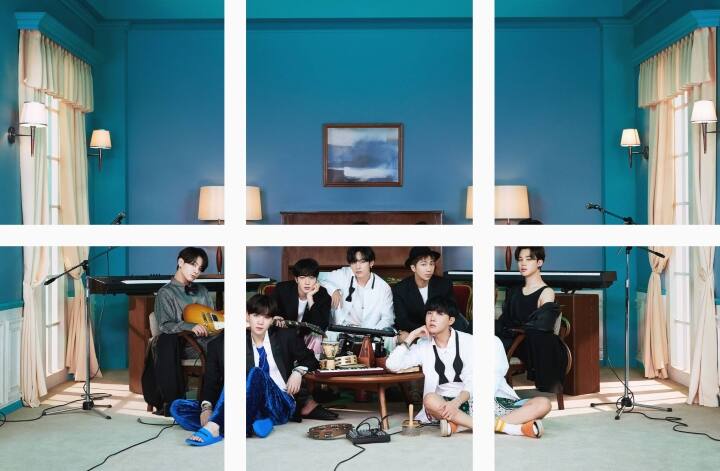 Photo Gallery
SWIPE LEFT OR RIGHT
TO NAVIGATE BETWEEN PAGES
BE by BTS
Photo Credit: @bts.brightofficial
BE by BTS
Photo Credit: @bts.brightofficial
BE by BTS
Photo Credit: @bts.brightofficial
BE by BTS
Photo Credit: @bts.brightofficial
BE by BTS
Photo Credit: @bts.brightofficial
BE by BTS
Photo Credit: @bts.brightofficial
BE by BTS
Photo Credit: @bts.brightofficial