Carlos Rocha's Art Evolves For The Smart TV And Digital Generation
Galeria Paloma and Samsung debut a series of exhibits… the first invites visitors to view paintings and sculpture by Carlos side-by-side with his pieces of crypto art in collaboration with crypto artist and motion designer Isaiah Cacnio
Those familiar with Carlos Rocha's paintings know very well the inviting scenes he depicts. He paints a picture of life unhurried, relishing in the details of a slow and lazy afternoon. Perhaps in a café situated in a sleepy Tuscan town, or a music studio overlooking the French Riviera. His is not art that comments loudly on the harshness of social truths and current events. Rather, he paints serene invitations to slow down and view life's quiet moments enhanced by beautiful vistas. Characterized by rhythmic, undulating lines and the use of bold colors, his canvases are evocative of stories.
"When I was young I used to write plays for school. I never thought of a story before putting a pen to paper. I would just close my eyes and a scene would play out in my imagination. That's what happens when I face a blank canvas, too. I start seeing a story unfold. Details float to the surface. I prefer subjects and landscapes that evoke happy emotions. It comes from my heart, my desire to make people happy through my paintings. I can imagine a world that I'd like to be in with the one I love, and I can imagine those who see my paintings see a world they'd like to be in, as well," Carlos reveals.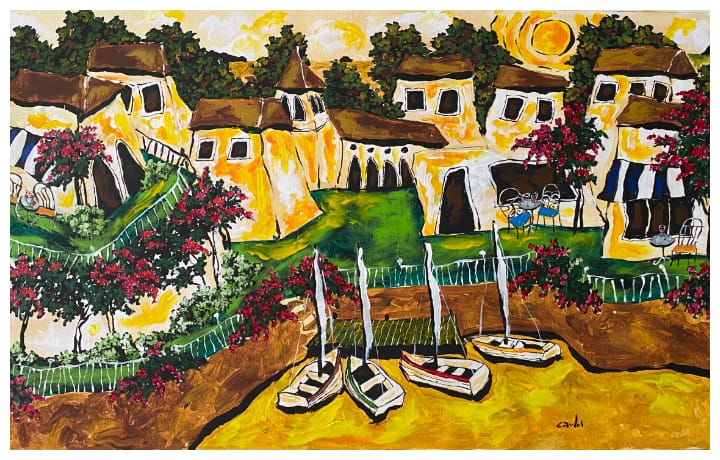 Photo Gallery
Photo Gallery
It's one thing to behold the artist's work as a painting, already exuding expression, passion and emotions. For in the world Carlos paints, pairs of wrought iron chairs lean on each other, suggestive of a snuggle. Two wine glasses playfully tilt toward one other, seeming to be in communication. The next natural evolution for his art, therefore, is choreographed animation, deftly carried out by crypto artist and motion designer, Isaiah Cacnio. Imagine these exhibited in your own rooms via The Frame by Samsung.
A Galeria Paloma x Samsung Collab
Galeria Paloma, in partnership with Samsung The Frame, is pleased to present The Colors of Carlos, an art exhibition featuring paintings, sculpture, and crypto art NFTs by the artist Carlos on July 8 to 12, 2022, at the North Court of Power Plant Mall, Rockwell Center.
The Colors of Carlos is the launching exhibit of a series of upcoming shows by Galeria Paloma which aims to bridge the gap between the familiar media of visual art and the emerging genre of crypto art. In these exhibitions, traditional forms of art will be displayed side-by-side with crypto art in Samsung The Frame TV screens.
A remarkable feature of this exhibit and the rest of the series is the use of Samsung The Frame TVs for all the digital artworks. "We were impressed by its features, some of which are its matte screen and incredible resolution, and, of course, the bezel that melds seamlessly in an art exhibition and ultimately, a collector's home," says gallery director Kimberly Delgado. "The Frame is poised to serve Galeria Paloma's discerning art collectors who appreciate that their collections must be displayed in the best way possible. This applies equally to digital artworks.
"Samsung's The Frame has helped to democratize access to art by placing it into the homes of people around the world. However, this partnership with Galeria Paloma featuring their new NFT art collection is something new for us and extremely special," says Mahir Al-Rubah, head of AV product marketing at Samsung. "We look forward to taking part in this digital-art series and help the gallery foster greater appreciation and understanding of this emerging art genre."
While digital art has existed since the advent of computers, the ownership and provenance of digital works of art that are not entirely in the physical custody of its owner or creator is one of the reasons why the adoption of the genre has come slowly. In the past several years, however, these uncertainties have been replaced with the immutability of blockchains proving ownership, provenance, and authenticity in a transparent fashion. As a result, there has been an uptick in the adoption and collection of crypto art, encouraging bullishness toward crypto art not only among collectors and digital-native artists, but even among traditional artists who harness their creativity as they explore the medium.
The Colors Of Carlos
In the Philippines, one of these artists is Carlos. Carlos is a painter and sculptor with an art career spanning 40 years. He is most known for the use of vibrant colors, which are just as much a subject as the idyllic scenes he paints on canvases.
"Life is about the colors you and others paint your world with," he states.
While the past decades have seen him creating paintings and sculpture, this year he has added crypto art as another medium in his oeuvre. As an artist, he approaches crypto art not just as a means to secure ownership and provenance for the digital art he creates, but even more so as a medium by which he is able to express his artist's philosophy–to tell a story that inspires joy and optimism in the viewer–beyond the canvas. In this regard, and to highlight his use of color, he collaborated with artist and motion designer Isaiah Cacnio, bringing monochromatic versions of the paintings to life through choreographed colorization and animation. In so doing, the crypto art pieces envelop the viewer deeper into the warmth and joy of the worlds he creates in his canvases. Several pieces from his genesis collection In My World will also be shown.
The public is welcome to visit the exhibition on July 8 - 12 at Power Plant Mall. For more information, visit www.galeriapaloma.com. Colors By Carlos will benefit Mano Amiga, an organization that provides quality education for underprivileged children and sustainable livelihood opportunities to families from disadvantaged communities. "Children from low-income families have been disproportionately affected by the pandemic-induced educational disruption. This partnership with Galeria Paloma enables us to provide more scholarships and help more students bounce back from the learning loss, and to receive the quality education they need and deserve," says Lynn Pinugu, Mano Amiga co-founder and executive director.
Images by @artbycarlosph and @galeriapaloma