IN PHOTOS: Christmas Décor In Malls And Public Spaces, 2021
As signs of life begin to show, this holiday season looks bigger and brighter
The holidays are upon us once again, and this year seems to be more special than the last two at least! As vaccination rates rise and travel restrictions ease, we start to see signs of life in what we are hoping is the beginning of the post-pandemic season. Malls and many other public spaces have begun to see crowds in numbers that are beginning to look like the pre-pandemic times. People are cautiously coming out of their homes, and into restaurants and shops. Indeed, much bigger and better gatherings are in store for many.
Abroad, the National Retail Federation predicts a 7% to 10% increase in spending from 2020, with the average household dropping about $230 (PhP 11,500) on non-gift holiday purchases, including décor. The festive mood is definitely on an upswing. Thus, trend experts encourage a look that harkens the celebratory atmosphere, while being mindful of sustainability. Think of decorating with investment-worthy heirlooms and low-impact materials that can be used all-year.
The trend experts at WGSN stand by these Christmas palettes in 2021:
Joyful Rainbow:
All colors apply in celebrating the happiness of the season. This non-traditional palette signals a bright and cheery Christmas season.
Dark and Romantic:
In contrast, turn the colors down, and go for mood and sophistication with these dark, enigmatic textures and colors that play up the season's coziness.
#Cozyliving:
Soft shades and soothing textures provide comfort this holiday season. With the challenges of the pandemic still felt, especially during the holidays where the presence of lost loved ones is missed, incorporate textures that console. Tactililty is big this season. Use large knits and natural textiles like linen, hook rugs, punch needle pillows and our local weaves. Color-wise, incorporate muted pastels into the typical red and green.
Still looking for last minute holiday décor ideas? See how some of the local malls are decorating for Christmas in the gallery below and be inspired: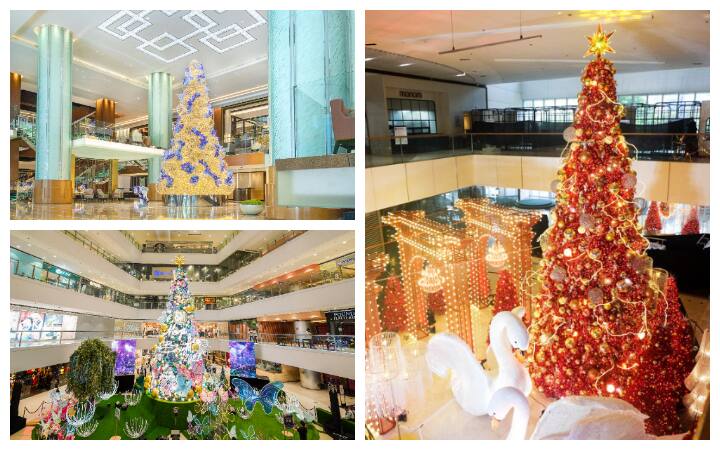 Christmas Décor In Public Spaces, 2021
SWIPE LEFT OR RIGHT
TO NAVIGATE BETWEEN PAGES
Central Square Mall, BGC
Photo Credit: https://www.instagram.com/p/CVmjmBtB348/?utm_source=ig_web_copy_link
SM Aura
Photo Credit: Courtesy of SM Malls
SM Aura
Photo Credit: Courtesy of SM Malls
SM Aura
Photo Credit: Courtesy of SM Malls
SM Aura
Photo Credit: Courtesy of SM Malls
SM Aura
Photo Credit: Courtesy of SM Malls
SM Aura
Photo Credit: Courtesy of SM Malls
SM Aura
Photo Credit: Courtesy of SM Malls
SM Aura
Photo Credit: Courtesy of SM Malls
SM MOA
Photo Credit: Courtesy of SM Malls
SM MOA
Photo Credit: Courtesy of SM Malls
SM MOA
Photo Credit: Courtesy of SM Malls
SM North EDSA
Photo Credit: Courtesy of SM Malls
SM North EDSA
Photo Credit: Courtesy of SM Malls
SM Mega Mall
Photo Credit: Courtesy of SM Malls
Grand Hyatt Manila
Photo Credit: Courtesy of Grand Hyatt Manila
Grand Hyatt Manila
Photo Credit: Courtesy of Grand Hyatt Manila
The Peninsula Manila
Photo Credit: @ucchy_tokyo