Collar & Comb: A Pawsitively Pawfect Experience
There's a new dog grooming shop in town that aims to be a cut above the rest in quality of services and connection to clients. It also is super IG-worthy
You know when you walk into a store and you can feel the genuine excitement and emotional investment that the owners have for it? That's how it felt when I stepped foot in Collar & Comb, a new dog grooming shop in Pasig City, with my own fur babies in tow. It's got everything you could ask for in a pet salon—great quality of their services, a well-curated list of products carried, and super cute interiors which make for setting the scene of pics that will definitely land on your IG feed. I was so happy with the service (let me tell you, my dogs smelled great) and I got curious to know the shop's story, knowing that this was definitely a place I'd like to come back to and a place I wanted to write about and share. (Hence, this story!)
Born out of a lifetime love for dogs, founder Toni Dionisio set out with a brilliant idea of having her own shop but took it a step further, thinking clearly how she wanted to make it different from others. Having lived in the United States for several years, with her two Chow Chows, Churro and Toffee in tow, she faced a few dog mom challenges, namely, the costs of grooming and the subpar quality of the service itself. "I remember this one time, when I took my dogs to get groomed at a new place where we had moved—which cost me an arm and a leg, by the way!—and I was so unhappy with how it turned out. From then on, I decided to try to do it myself and I actually really enjoyed it! At one point, I was watching all these videos, buying the tools… the works!" she smiles.
Before she and her husband Doni moved back to the Philippines, she decided to take this dream seriously and jumped at the opportunity to learn everything she possibly could about the business. "I did this by taking up a certificate course in dog and cat grooming in the States. I guess you can say it's definitely my passion," Toni grins. "Even if I don't personally cut and groom the pets (since our talented groomers do the job so well), just having the knowledge of the basics, safety requirements, understanding the differences in specific breed temperaments (for both dogs and cats), I could help relay and impart guidance to the team while keeping our clients' concerns in mind!"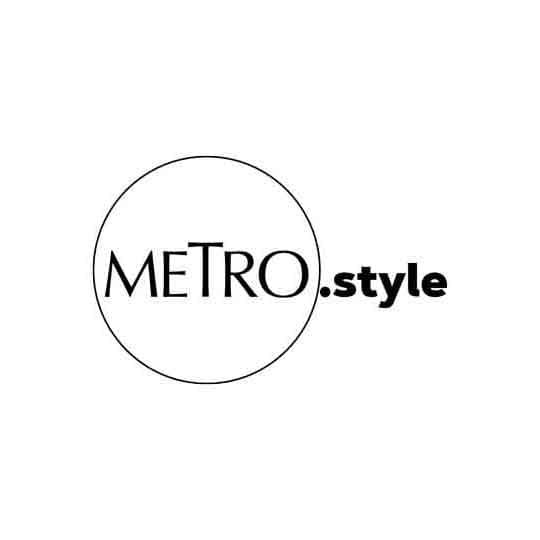 Collar and Comb owners Toni and Doni Dionisio | Courtesy of Collar and Comb
At Collar & Comb, the ultimate goal is to treat each four-legged client with the utmost care and provide the best service possible to get them begging their owners to keep coming back. "Having a pet nowadays is like having another member in the family, and at the end of the day, we understand this because we feel this same way, too," says Toni. When she and Doni returned to the Philippines in November 2021, they did all the initial research, concept creation, and architectural branding—laying the foundation of a business that they were not only proud of, but one that resonated with their own values and sentiments about their own pup, too. Through the help of their partners (who are also pet parents and pet lovers, of course) they were able to realize the project and opened Collar & Comb on May 1, 2022.
"Tammy (Pineda) and Jacko (Hernandez) were the first people we approached to be part of the business. Being long time friends (since grade school) and their experience in business, we felt like it would be a great partnership. We also have Fern Garcia, one of Doni's closest friends, bringing to the table his experience in sales—having him around was a no brainer. Lastly, Andie (Tanjuatco), Doni's younger cousin, who has a knack for marketing was also a strategic move for Collar & Comb partnering with her," explains Toni.
When it came to the branding and the entire energy behind Collar & Comb, it boiled down to keeping things authentic and relatable. "We wanted something that projected a sense of refinement and care, while also being playful and whimsical. [We did not want to use] the overused and typical nomenclature, branding, and vibe that other similar businesses have. We wanted to be different in a way that would help create our brand image to foster uniqueness and resonate in the way we serve our customers," Toni says.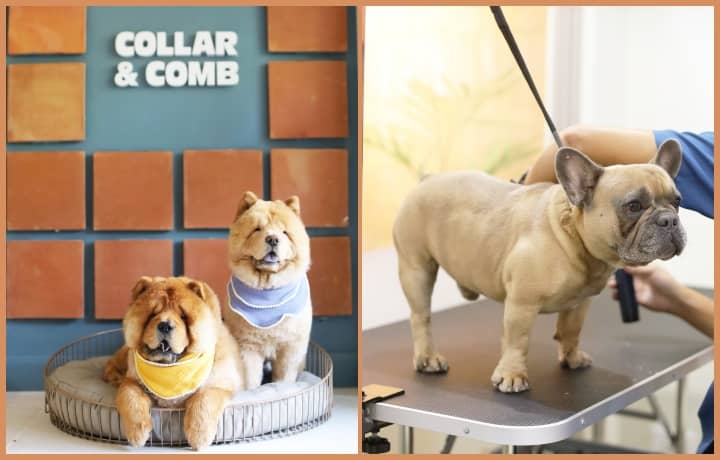 Photo Gallery
Photo Gallery
For the entire look behind the store and the brand, Doni, an architect, was the creative force. Together with his brother, Daniel, he set out to create a space to resonate the vibe of a home patio or sitting in a plaza and a park, which were inspirations because they are settings that people could see pets thrive in. "The colors and textures are there to invoke the out of the ordinary, playful, and rustic nature of the space, but also be crisp and intentional. And these factors played a role in the branding and marketing that then was composed by Daniel back in LA," smiles Toni.
The menu of grooming services includes Full Grooming for dogs and cats of all sizes, Bath & Dry for dogs of all sizes, as well as an extensive list of a la carte services that make for quick in and out trips when you need help giving your fur babies a little extra TLC that you can't do at home. The products carried are vetted by the founders and partners of Collar & Comb, testing everything personally on their own fur babies to see if it's worth selling. I personally recommend picking up a bottle of their home brand shampoo (for in between visits refreshing) and dehydrated beef tendons from Pawfect Plate, the latter of which my bullies especially loved.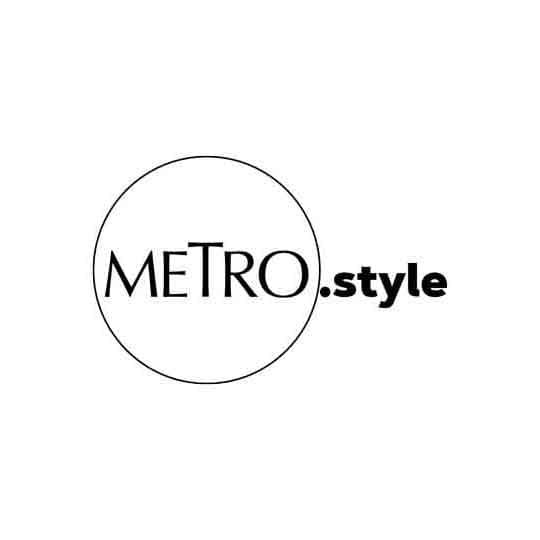 Article author, Metro.Style Culture Editor, Justin Convento with her bully dog, enjoying the Collar and Comb experience. | Courtesy of Justin Convento
When I ask Toni what's next for Collar & Comb, she beams: "Our main goal of the year is to just break through and show pet parents that they have a choice now that is different from the rest! For now, we're looking to add to our services. We actually just opened our pet hotel and daycare, at a great price. As for future plans, a lot is still in the works and it's confidential for now!"
Visit Collar & Comb at Unit C L. Orosa Building, 1010 Meralco Ave., Pasig City, Metro Manila. For updates and bookings, check them out on Instagram and Facebook at @collarandcomb.ph. You may also reach them at 0916-501-3739.
Photographs courtesy of Collar and Comb.