COP THE LOOK: BLACKPINK and Selena Gomez's Ice Cream Video Is As Sweet As Sugar
Bubble gum pink has never looked so good… dress your rooms inspired by this music video
BLACKPINK and Selena Gomez's collab music video, Ice Cream, is sugar-sweet! With all the pastel colors, references to all manner of desserts… donuts and ice cream, complete with the cherry on top, fans have been treated to a visual feast, replete with the nostalgia and joys of childhood.

In this universe, ice cream trucks, golden retrievers and capybaras playfully frolic with members of BLACKPINK and Selena in a dreamy pop confection.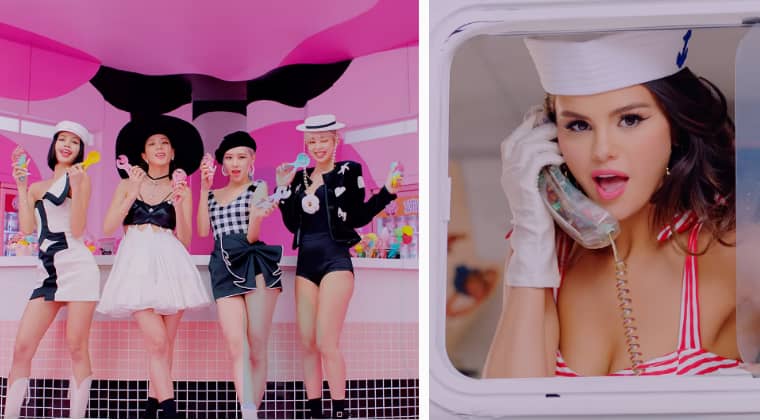 SELPINK
SELPINK
The set is the perfect peg for a child or a teenager's room. With its dominant colors leaning towards pastels, we gathered some tips on how to dress your room in the lighter end of the color spectrum:
The addition of pastel colors is welcome in spaces where the dominant colors and textures are neutral. They will add life to these spaces. Neutrals complement pastels nicely, giving an over-all soft look.
Pink, mint green and baby blue go very well with the gray family.
A more grown up way to decorate with pastels is to keep the colors within the same palette in different shades. This way, the scheme is controlled and cohesive. If your hero color is pink, consider accents cushions in deeper shades of the color. Go for the lightest shade on your walls, making the room look larger.
Mix patterns within the same color palette and color family to give the room depth.
If you are so compelled to adapt the look of Ice Cream to your own room, start small. Choose a color from the many hues in the video. You don't have to paint your entire room with it. Rather, start with accent pieces that recall the video. There are a number of themes that you can choose from: are you attracted to the dessert theme? Perhaps it's the neon signage that you are crushing on? You may adapt specific elements from it.
We've shortlisted some items for you to start with. Shop this story: