Must See: A Collection of 200 Objects That Represent Modern Design Around The World
CWC and Midcentury Modern Manila, along with a roster of top collectors showcase the value of good design
Fast Company called the Midcentury Modern (MCM) movement the "pumpkin spice latte of interior design," alluding to its generally pleasing, non-offensive look that has never really gone out of trend, decades after first flourished. "Neutral warmth" is how writer Kelsey Campbell-Dollaghan described MCM, owing to the fact that these pieces are at home in most interiors. They are so ubiquitous, our digital-era eyes have been de-sensitized to accepting them as part and parcel of our environment.
Arne Jacobsen, Eero Saarinen, Charles and Ray Eames, and Florence Knoll are some of the biggest names associated with the MCM. They are the heroes of an aesthetic that championed industrial manufacturing, clean lines and simplicity in the post-war era, a look that still finds itself belonging to pretty much any modern interior: tall skyscrapers, industrial lofts and even Asian modern dwellings. This versatility, easy upkeep, its universal simplicity, and the fact that it lends itself well to condo spaces are all reasons why MCM has been continuously celebrated. Design trends may have momentarily flirted with Shabby Chic, Neo-Victorian, Farmhouse Rustic, but none of these or the elements that made it have proven as enduring as MCM.
In a collaborative effort to bring together a collection of over 200 objects that represent the modernist design from around the world spanning the 20th century, Midcentury Manila and CWC Interiors stage Iconic and Exotic, an expansive exhibition of Midcentury Modern design.
The Exhibit is centered on raising awareness for the value of good design, demonstrating beautifully made furniture pieces to a broader audience. A selection of items from CWC Interiors, Midcentury Manila and from a handful of Philippine top collectors to showcase Mid Century Modern pieces and exotic, rare and hard to find vintage furniture.
CWC Interiors, a subsidiary of CWC International Corp, a 28-year-old firm with a solid standing in the Philippine retail contract and furniture industry, is headed by CEO and President Frederick H. Yuson. Fred's vision is to make available to the iconic pieces from around the world and make CWC top of mind in every home and work space environment.
On the other hand, Midcentury Manila was founded 2017 by Ken Mishuku – a midcentury modern furniture collector whose Social Media platform serves to educate on iconic furniture items, the designers behind them, and spurring excitement and active engagement from buyers. Through his forum, people wanted to learn more and eventually demand for the items grew. Together, their synergy aims to increase awareness and appreciation for furniture design. The collaboration aims to tie together heritage and history at the same time providing access and availability of iconic modernist pieces from around the world to the Filipino.
Together, the partnership forms a strong presence and reach, dominating the furniture industry. The Exhibit also highlights that Filipino designs stands at par with the world. Lor Calma's modernist design is featured through his Stork Chair and Duyan Chair, where he clearly exhibits a deep understanding of material and technique. Featured contributors to the show are the following Collectors: Julius Babao where we feature his Frank Gehry Cross Check Chair , Fely and Kim Atienza with their Warren Platner Easy Chair, Architect Ed Calma with his Gaudi Chair, and other contributing collectors: Architect Sarah Canlas, Kerwin Lo, Bernie Paras Gan, Kristoff Vidal, Frederick H Yuson, Celestine Bonares, Agnes Sauler, Thor Mutuc and Monique Teodoro.
See some of these iconic pieces in this gallery: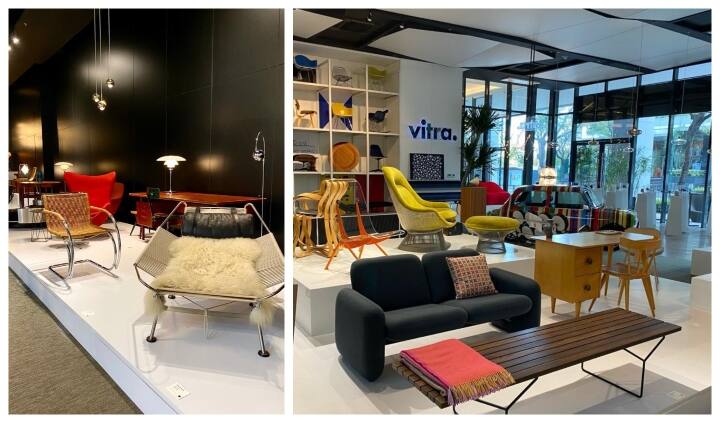 Photo Gallery
Photo Gallery
Iconic and Exotic may be viewed at the CWC Interiors Showroom at 5th Ave., BGC, Taguig, Manila through Dec. 30, 2020.