A Room of Dad's Own
For his man cave, a strategic balance between style and pragmatic consideration is key to making this a space the man of the house will love to use
For dad, home is wherever his brood is. Always the provider, the protector, and the wise guide, he assumes multiple roles as the man of the house. He may be content just to see his family happy and comfortable, and for this reason, he deserves a whole room to himself, a place where he can kick back, relax and enjoy. A man cave or a manutary, if you will.
The design for dad's man cave should very well bear traces of discerning taste. But to make the most of this space, the reigning design dictum for the man cave is strategy. In his mantuary, textures, line, and the use of geometric pattern all play a calculated role, each element in premeditated dozes.
A penchant for studied design is expressed as soon as one enters the room. Minimally furnished, this contains the essentials: drawers for necessities and a few sculptural objects. Art work looming over the ensemble is the statement piece that ties it all together, giving the still life its requisite punches of understated color.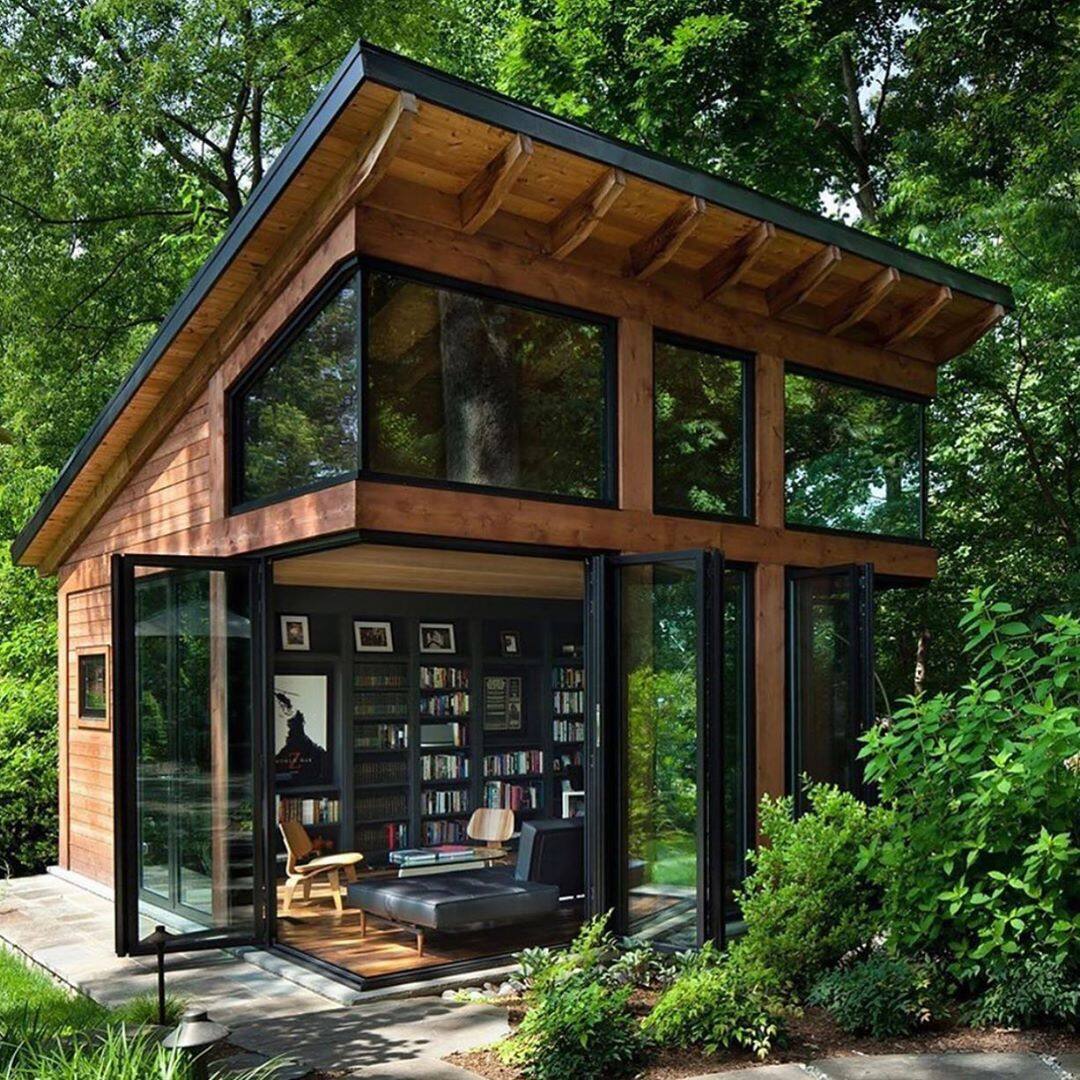 The man cave may be located in a separate structure outside of the home. This particular one by Harrison Design enjoys the benefit of a view of greenery, owing to its large glass windows. | @harrisondesign
Color
A monochromatic color scheme is always safe. Shades of gray provide a subdued, calming hero color for a mantuary.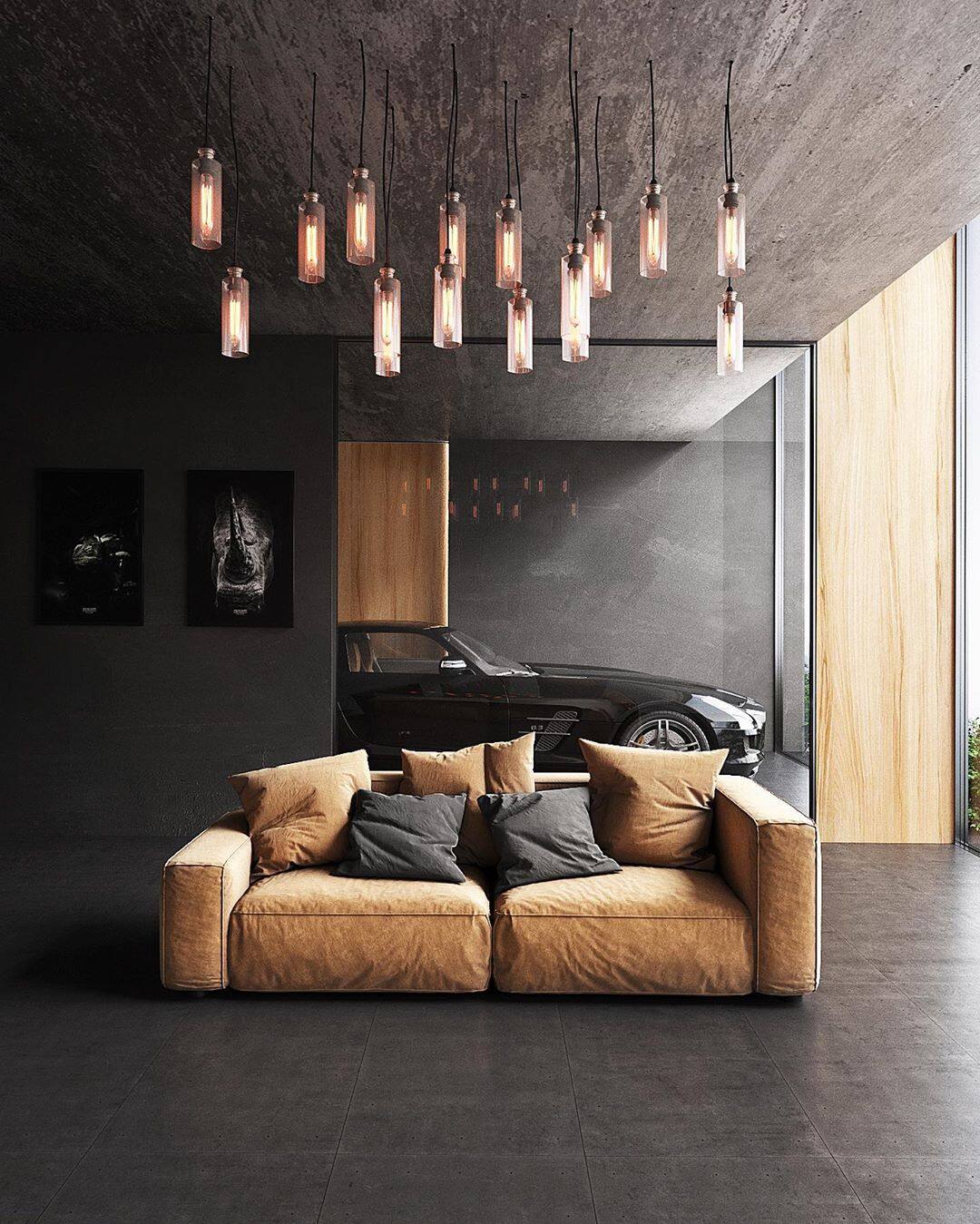 A monochromatic scheme with a dark shade of gray wrapping the room, from floor to ceiling. A mustard sofa breaks the monotony, adding a pop of color. | @hadacdesign
Textures and Shapes
The décor for a man cave may be sparse, leaning towards a no frills design ethic, but one may also use textures as a subtle way to introduce visual interest. Rustic textures such as the grain of wood or bricks and natural stone are welcome here.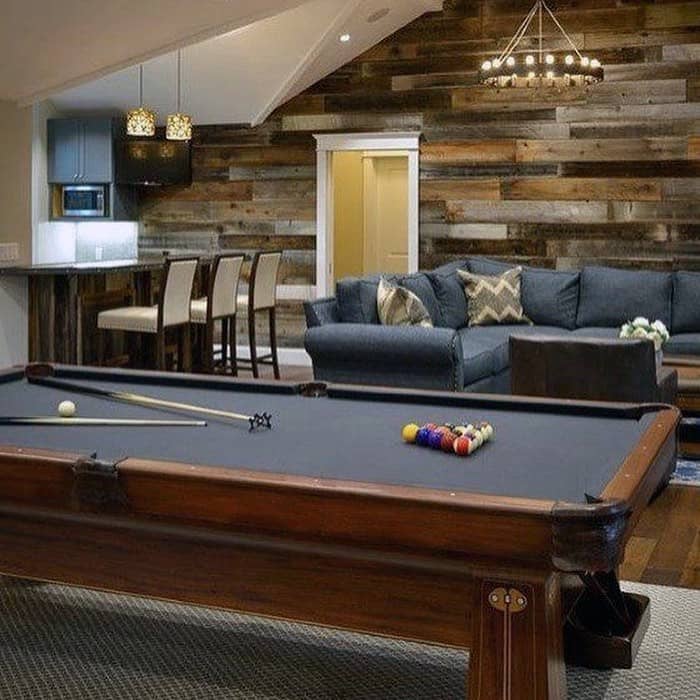 Unfinished wood panels installed in a running bond pattern, on the walls give character to this man cave. | @pzdesign.arq
The Furniture
A study is essential for the man with a plan. Give this hard worker an ergonomic chair paired with a sparse desk in this setting. Introduce plants to add an element of life and to purify the air. Add sculptural objects such as book ends and paper weights that are rendered in good, solid materials such as cold, white marble as accessories for his desk that, when grouped together, create a subdued still life.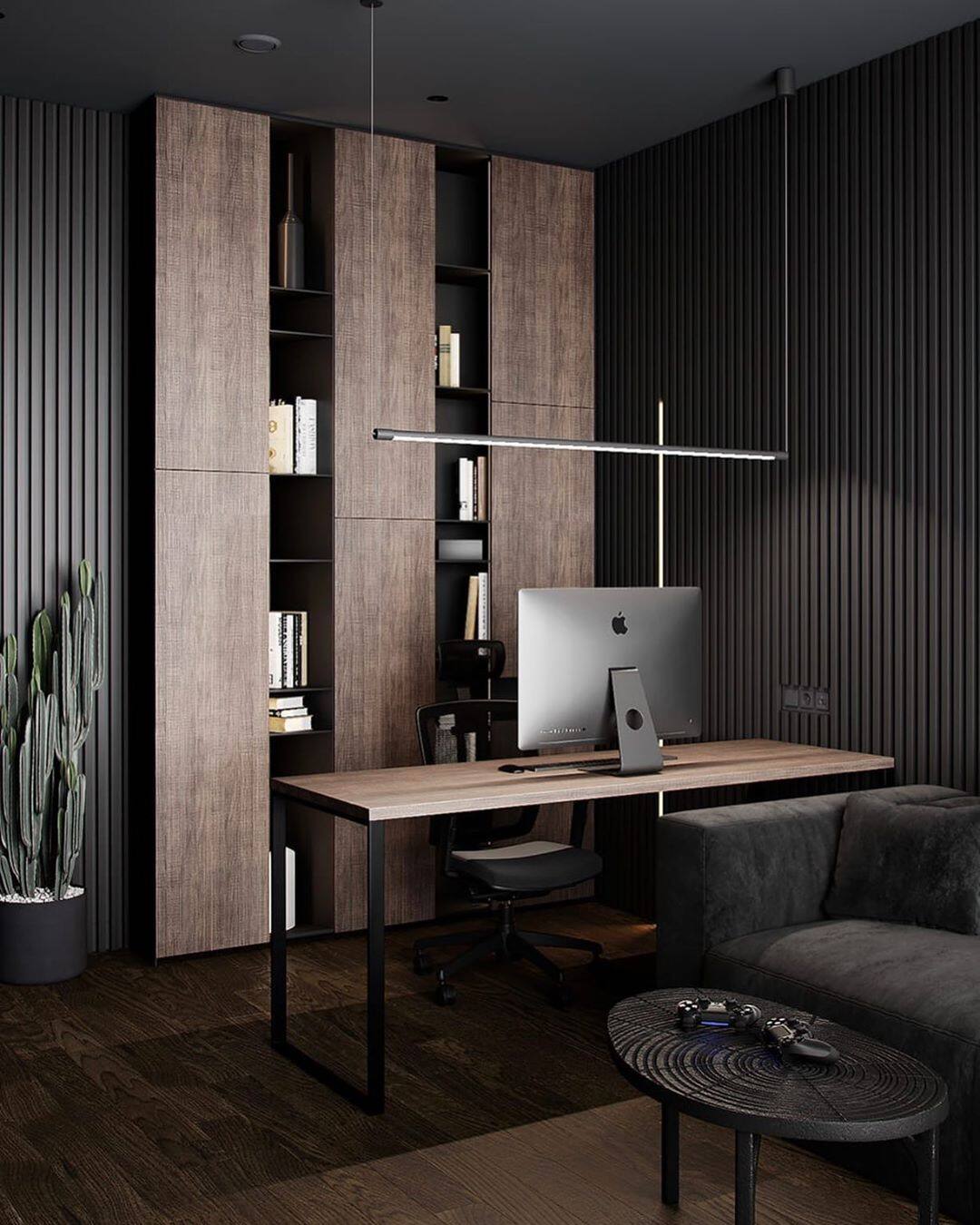 An area for work in the man cave is composed of a simple desk, an ergonomic chair and a plant to purify the air. Grain of wood is used as a design element for the cabinetry panels and floor. | @bodes_studio
A bar and entertainment area complete the man cave. Deck it out with soft leather theater seats, an excellent sound system and a movie projector and screen so he can enjoy his favorite films while entertaining his friends.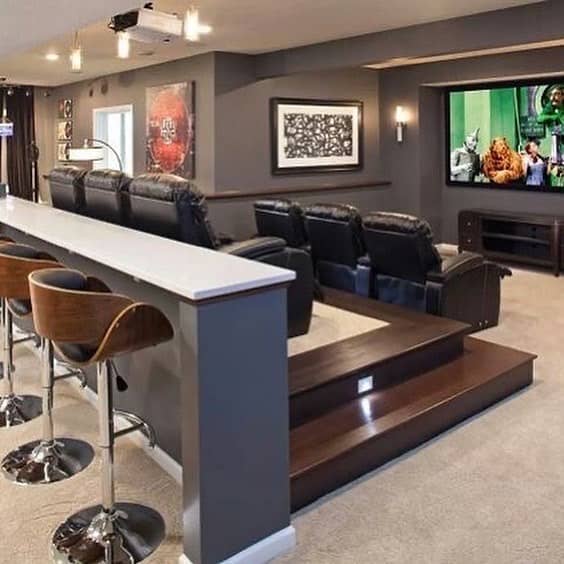 Bar area and plush leather theater seats in the man cave | @pzdesign.arq
Finally, part of his strategy here is to go big in comfort. A large sofa plays host for more than enough pillows and perhaps even the whole family.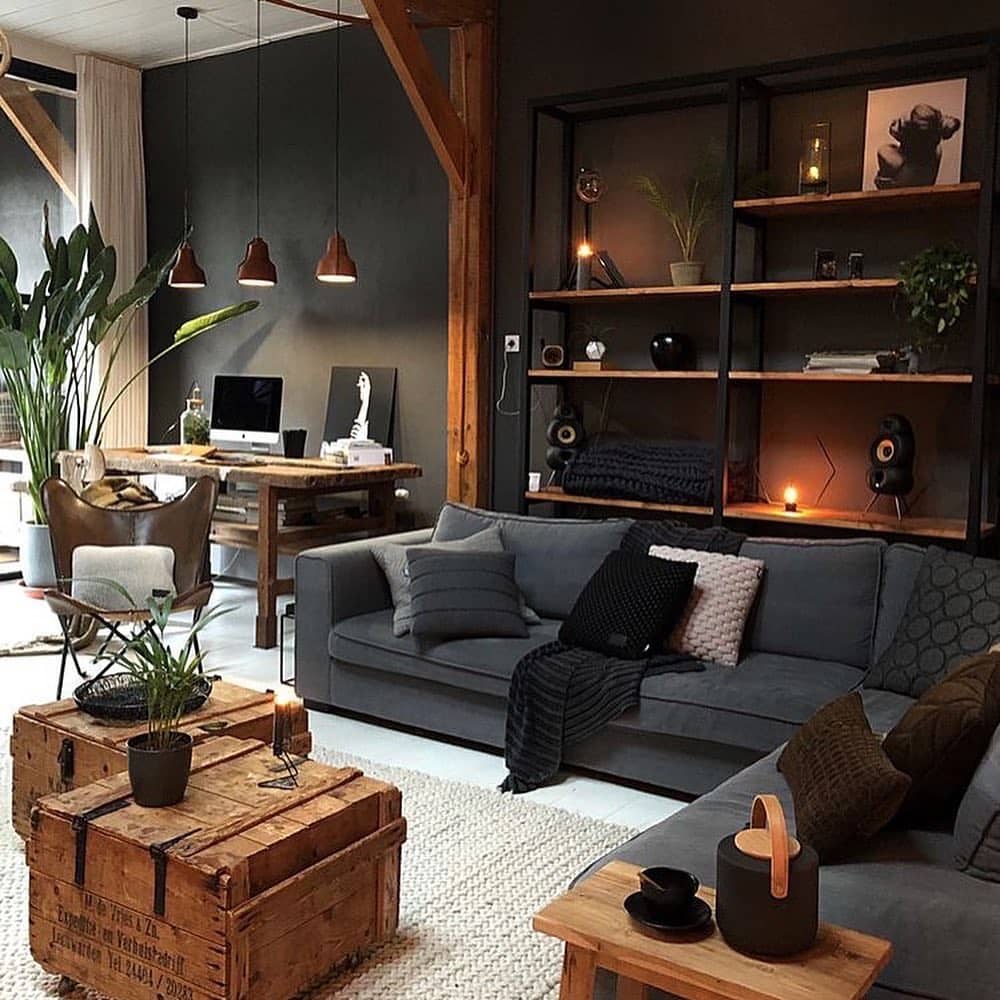 An L-Shaped sofa plays host to monochromatic pillows of various textures. The combination of gray paint on the walls and stained wood as architectural accents and furniture, plus the leather butterfly chair work to create a masculine space. | @pvdesign.arq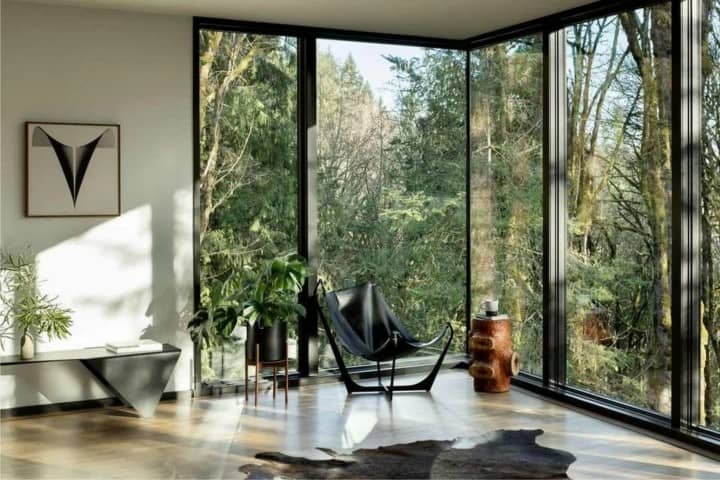 Design Ideas for a Room of Dad's Own
Design Ideas for a Room of Dad's Own
Banner and thumbnail photographs by @urelas and @bodes.studio