Bring Nostalgia Into Your Home This Holiday Season With A Rustic Christmas Tree
Plus, a few tips to get you started!
Going for a rustic-themed Christmas tree rides on the modern farmhouse trend. Think Chip and Joanna Gaines' Magnolia. Celebrating the simple charms of vintage Americana, this soulful decorating style makes for a cozy home, where imperfections are welcome, and telling a story is the goal of decorating. This is a look where the natural patina of finishes, delivered through time, is a welcome change over the expected sparkle of typical Christmas decor palettes. It's not just refreshing, though—it's quite a challenge. Looking for inspiration online is a way to go, but with all the ideas the internet can offer, which among those options should you actually go for?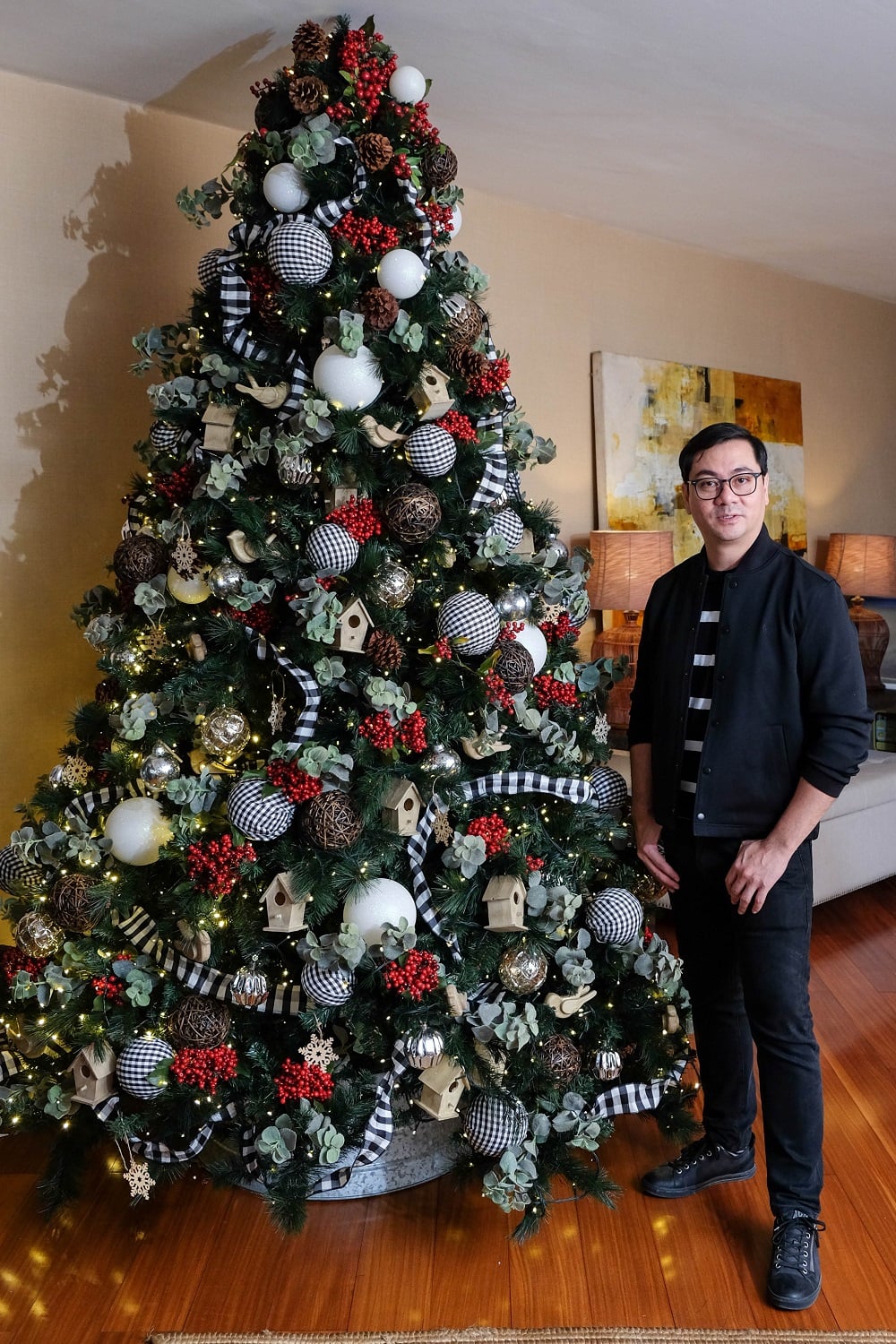 A rustic-themed Christmas tree made by Metro Home EIC and TV host, Anton Barretto | Giancarlo Escamillas
If you're still undecided, we suggest to keep it simple without taking out the festive vibe of your tree! To help you out, we turned to our resident Christmas tree expert and Metro Home & Entertaining magazine Editor-in-Chief and Metro Home TV host, Anton Barretto to create a tree that speaks of a merry rustic Yuletide. The threadbare design isn't overwhelming. It's the art of mixing both conventional elements with unexpected pieces that makes it a total stand out. Are you ready to get decorating? Watch this video and start mounting a Rustic-themed Christmas Tree for your home!
The Metro Channel host gave us a few more tips to guide you further in Christmas Tree decorating—from organizing the trinkets to where to get these items when you rush to the stores. Read on!

Easy access. A trick to make tree decorating uncomplicated is to arrange the ornaments beside your working space. "Put all the items beside you so they are within reach and it's not gonna be confusing to choose," Anton says.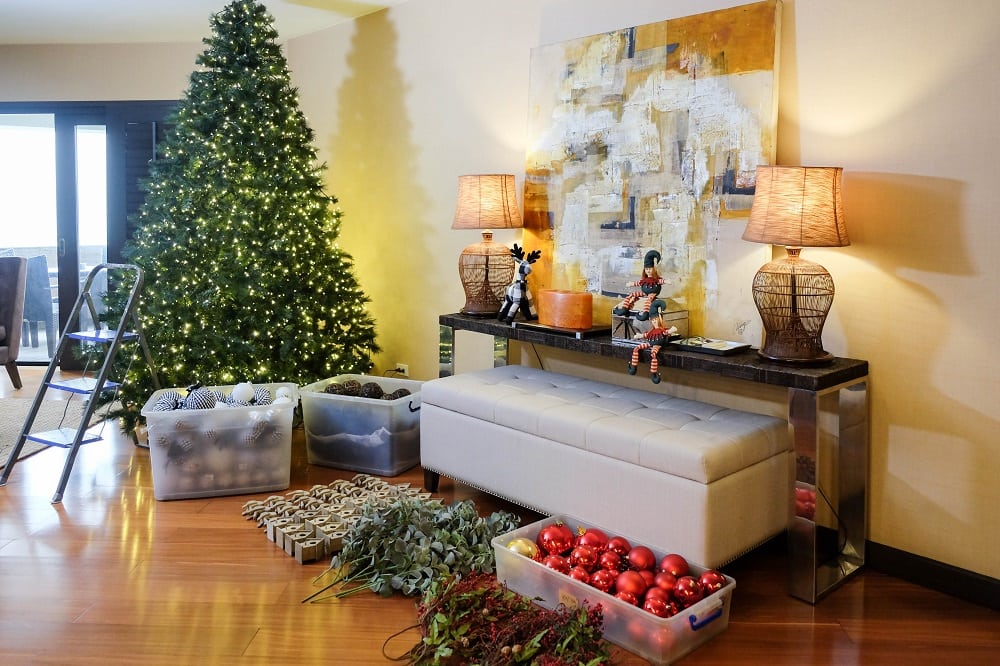 Anton stresses the importance of organizing your ornaments before getting started. | Giancarlo Escamillas
Make use of storage. He advises to place those Christmas balls in plastic bins not only to organize them, but also to protect them from deformation or breakage.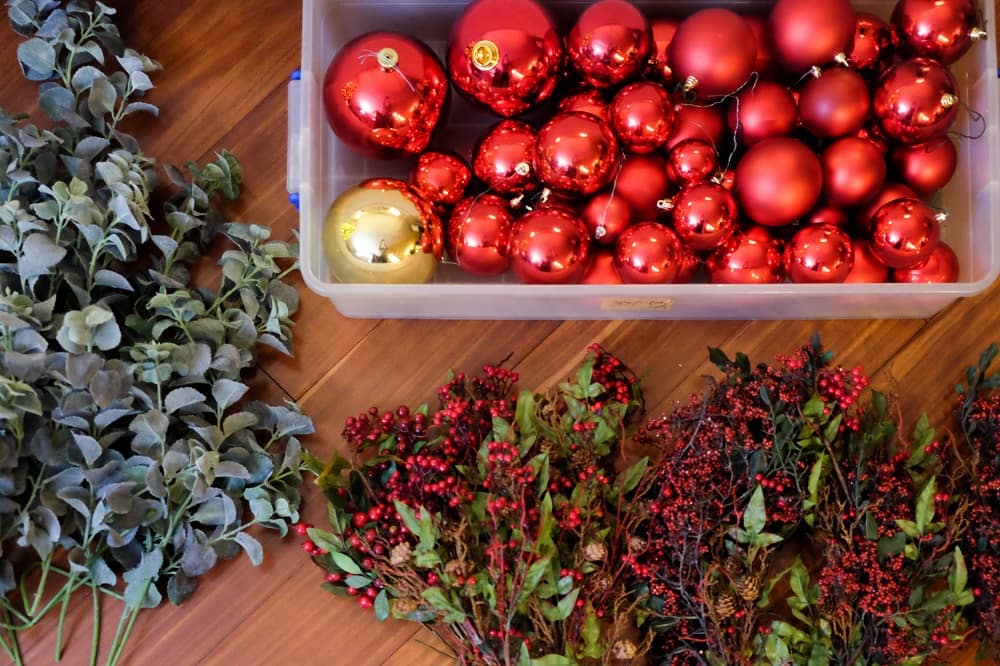 Store those Christmas balls in plastic bins. | Giancarlo Escamillas
On theme.
To make your home look more put together, he suggests to integrate the theme of the tree with other key parts of the house, too. "Decorate with throw pillows and other tabletop ornaments that will coordinate and complement the tree," he says.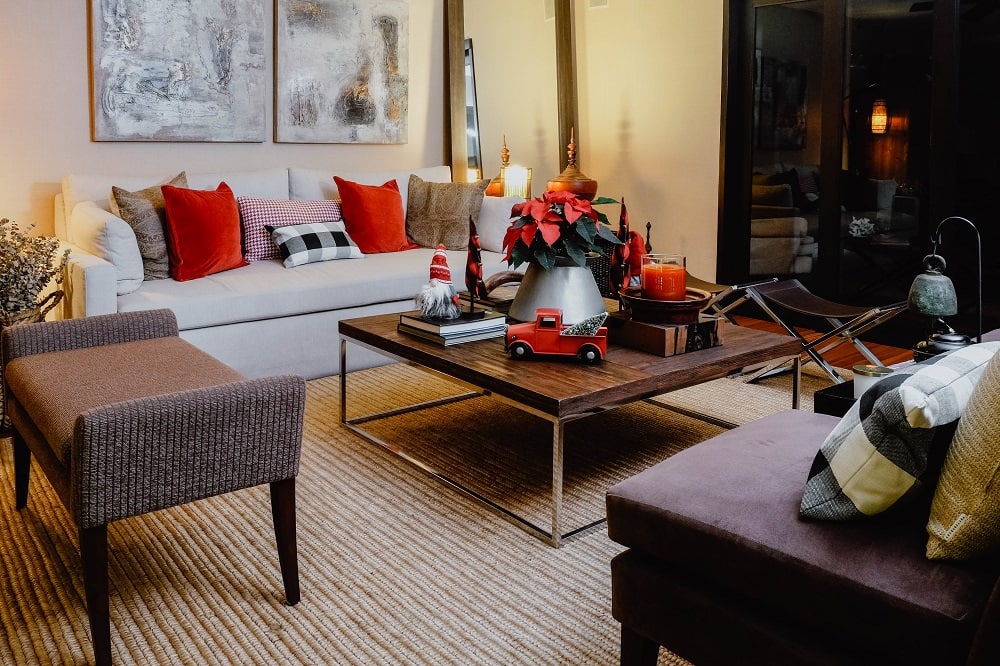 Cover your throw pillows in the same motif as your Christmas tree. | Giancarlo Escamillas
Go DIY.
The rustic-themed Christmas tree Anton spruced up also highlights buffalo check patterns, as seen in the ribbons and Christmas balls he placed all over the tree. To create these balls, the magazine editor went DIY—sourcing buffalo check fabric in fabric stores (he got his in Fabric Warehouse in Glorietta), wrapping it around styrofoam balls he got from National Bookstore, tying it with a black ribbon and securing with a pin to finish off.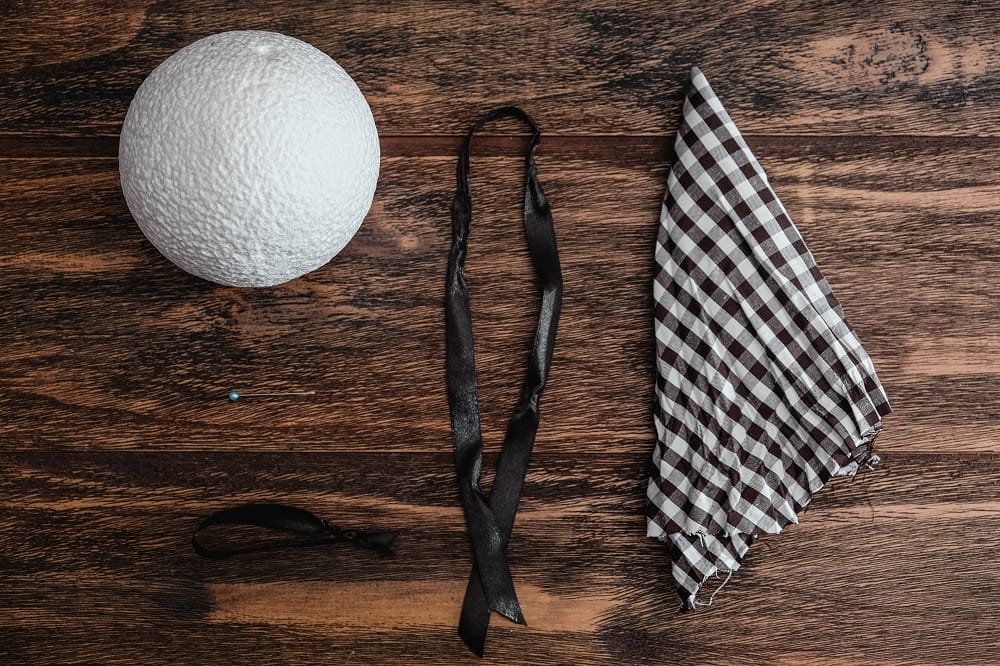 Make your own buffalo check Christmas balls using a styrofoam ball, buffalo check fabric, black ribbon and a pin. | Giancarlo Escamillas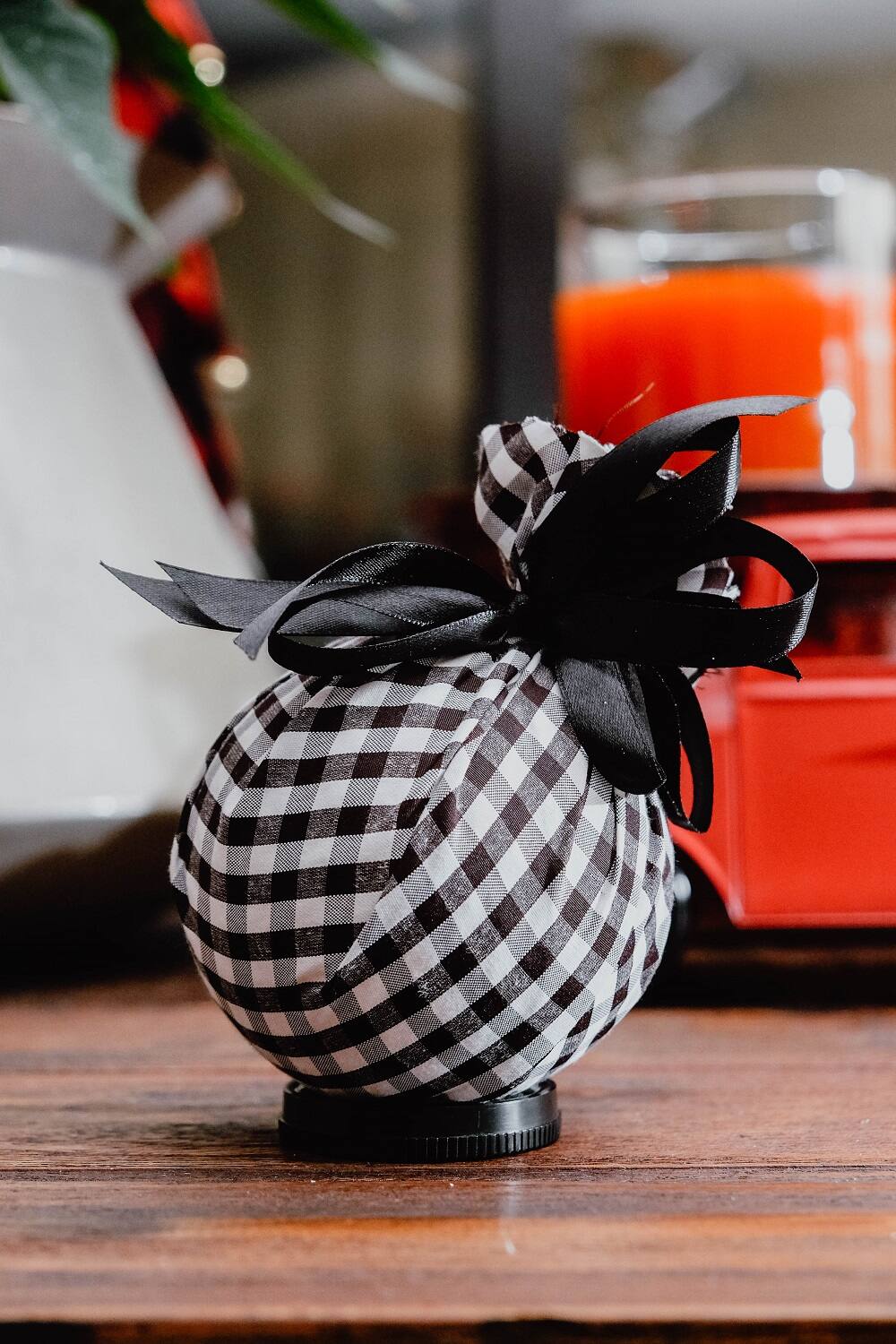 A unique ornament for your tree crafted by hand, using materials that are easily sourced. | Giancarlo Escamillas
Add texture. "When you decorate a tree, add different kinds of leaves and berries so it's just not the Christmas pine needles that you have. These supplemental elements make it look like it's naturally growing on the tree," Anton remarks. He brought frosted eucalyptus leaves and berries from Landmark and occasionally tied it around the tree.
Plant a twist. The unpredictable makes something unique, so the Metro Home EIC incorporated the tree with non-traditional holiday flair using quirky details like the buffalo check ribbon and rattan balls he sourced from Divisoria and Quiapo and the custom-made resin birds and bird cages.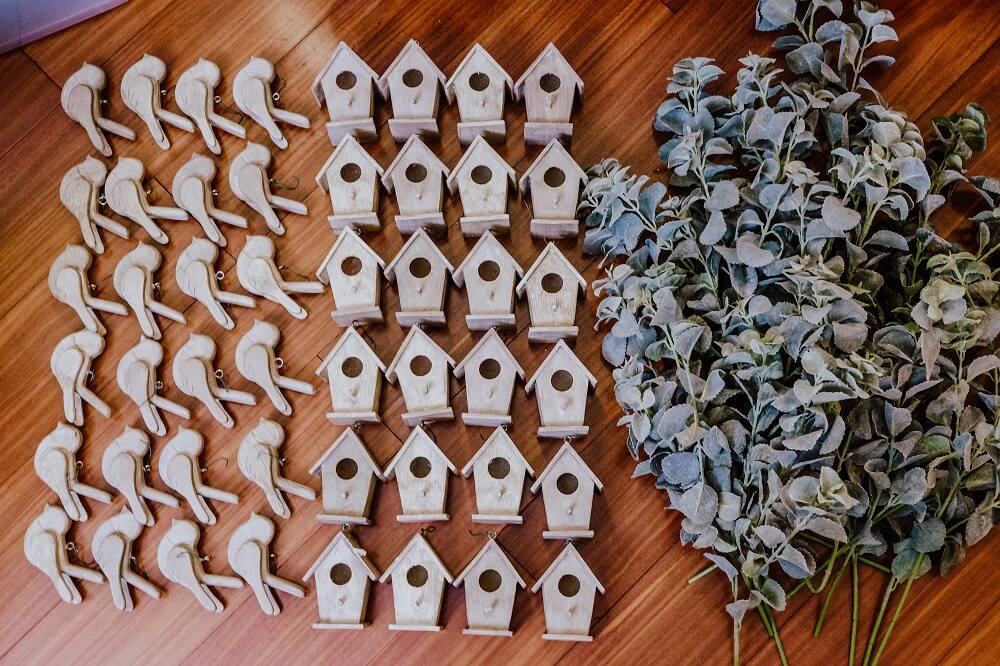 Birds and bird cages in a rustic finish lend this tree a vintage feel. Different leaves add texture. | Giancarlo Escamillas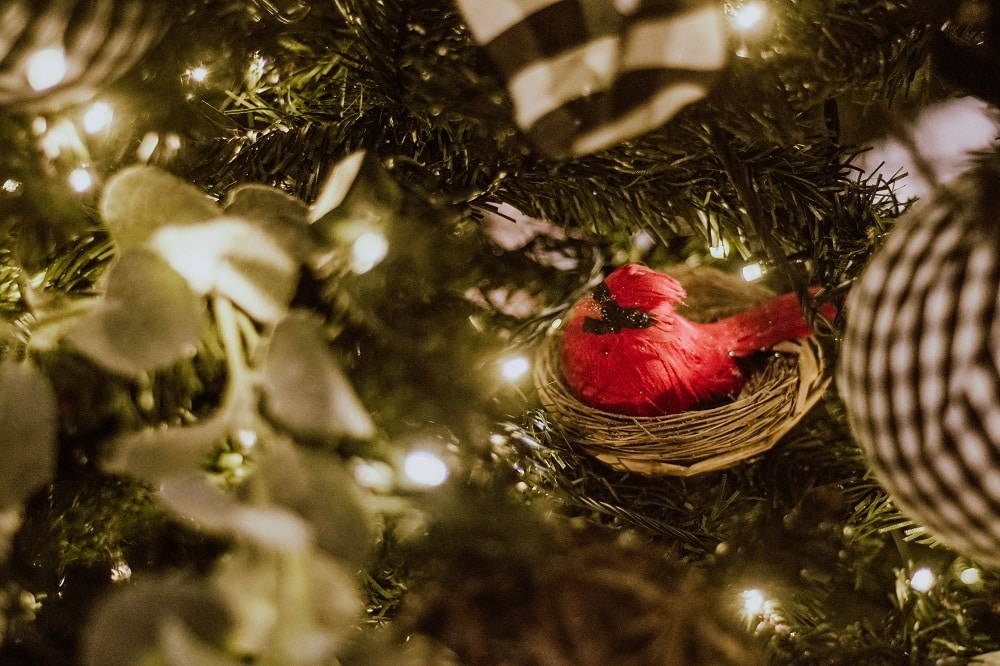 Place a bird's nest inside your tree as a symbol of prosperity. | Giancarlo Escamillas
Fill the gaps. It's always festive to have a Christmas tree that's full, and Anton makes sure to fill all the gaps correctly by hanging different sizes of Christmas balls. "Don't be scared of the size. It doesn't necessarily mean that small balls should be placed on top while the big balls go to the bottom. Mix them up—put big balls on top and spread the small balls throughout the tree as well for texture," he explains.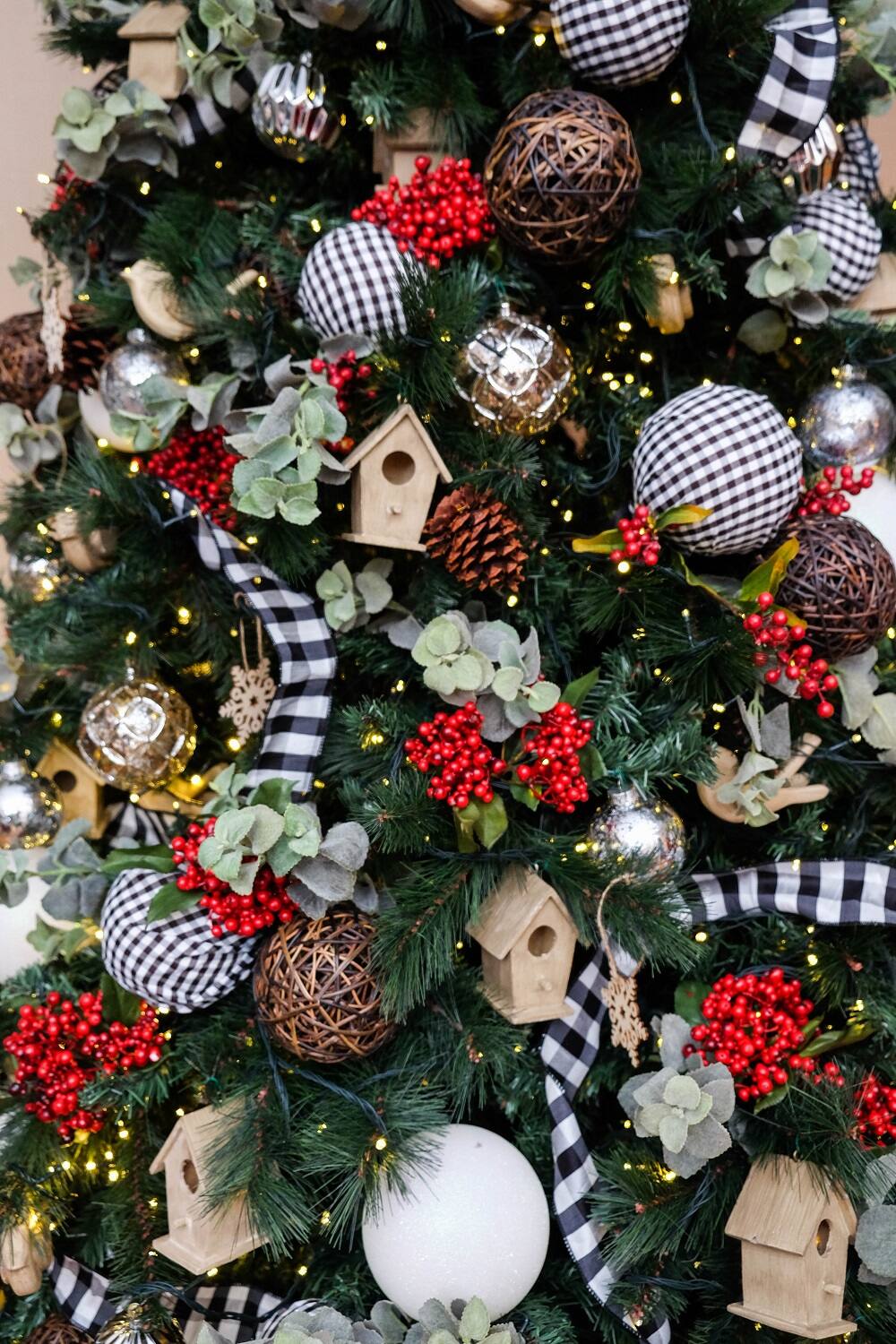 Don't be afraid to mix different sizes of balls! | Giancarlo Escamillas
The 'pine' things. And finally, he stresses, "If you're in Baguio before Christmas, get some pinecones!"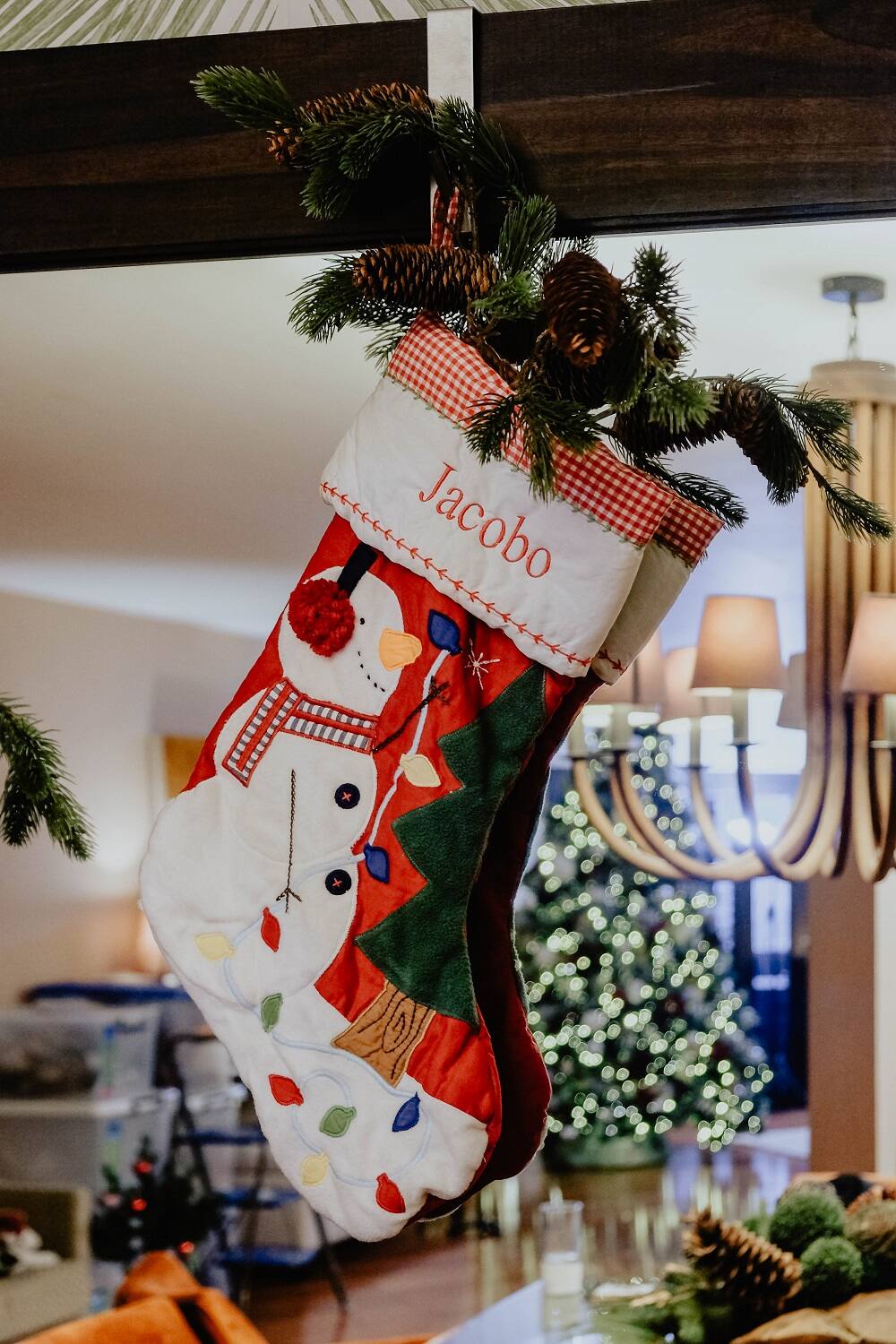 Place those pinecones in different areas of the house for an overall Christmas vibe. | Giancarlo Escamillas