5 Design Points To Cop From This Bill Bensley Chiang Mai Masterpiece
With summer on a roll, take inspiration to transform your home into a tropical paradise from Howie's Homestay
Our personal spaces are intended to be homey—but homey is subjective, and we seek true comfort with a style that perfectly suits our styles. For Howie Smith, who owns Howie's HomeStay—a huge property located in Chiang Mai, Thailand—his own piece of paradise is a tropical haven that he built with the help of renowned international landscape architect and interior designer Bill Bensley.
This creative genius is the brain behind the designs of some of the best hospitality establishments in Southeast Asia and beyond, with a clientele that includes luxury hotels like Four Seasons, Marriott, Hyatt, and Conrad. He introduced eco-friendly concepts in several of his works, putting special focus on sustainability for his entire collection of projects.
In Howie's HomeStay, every house is a separate room—with seven pavilions that carry different parts of the residence. Each part is uniquely furnished; but the overall theme is in sync with one another. "That's how every Asian society built every single house, each pavilion, for a specific use. The beauty of that is you're then allowed to bring air, light, and circulation to all sides of each room, which you would never have in the western context," Bill explains about the property in his website.
Outside, the flora and fauna wonderfully kept, arranged, and married to the large waterscape. Without disturbing these natural elements, the designer successfully incorporated stonework and sculptures into the terrain, resulting in perfect harmonious space.
Meanwhile, the interiors are peppered with furniture and accessories that exude bespoke and extravagant, but never intimidating. Each of the furnishings are standouts on its own, but these blended and complemented one another. Modern conveniences didn't get in the way of achieving a total equatorial vibe; in fact, it is used to highlight the more subdued areas.
The distinct property is inspirational in more ways than one, for sure. And while we can't totally have a carbon copy of this dream house, we can always take a few design pointers that we can apply in our own dwellings. No need to start from scratch—these details will allow you to bask in a tropical retreat with just a little tweaking around the house.
1. . Plants, plants, plants.
What's a tropical home without a touch of nature? Tend your green thumb and start digging up soil and planting your seeds—or simply bring together your plants for an instant nature backdrop.
2. Just add water.
The Chiang Mai property boasts of a lot of water elements—Howie even admitted his intention of having water everywhere around the property. For your own home, insert this detail through small fountains or even adding a small pond or aquarium, if you have the space!
3. Pile up on your antiques.
It's time to bring out your collection of Asian antique finds. This season, go for heirloom treasures and interesting objects to accessorize your home. If you can, customize your way with sculptures, stonework and architectural salvage that have the potential to be the focal points of your interiors.
4. Let there be light.
Match the scorching summer with warm lights to bathe your evenings with a relaxing atmosphere. During the day, make use of natural light by letting them in through your windows!
5. Play with colors.
If you're looking for a palette to play with, take it from this Bill Bensley project and ground yourself with earth hues. Go for burnt orange, dirty gray, copper, bronze, and green—then make it grander with dashes of gold here and there!
For more inspiration, look at the corners of this phenomenal piece of tropical design in the gallery below: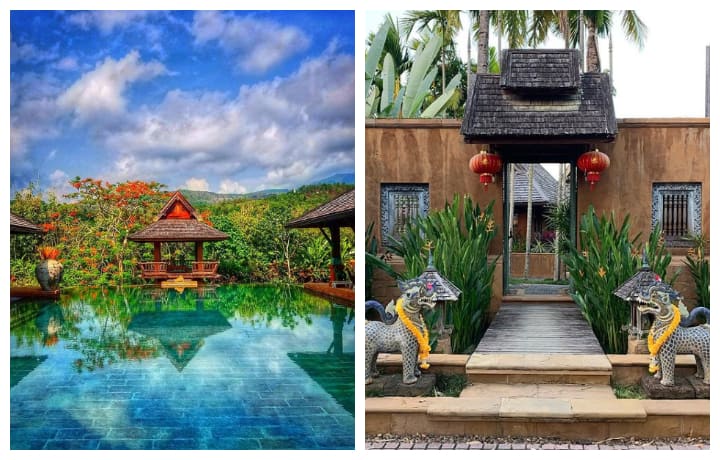 Photo Gallery
Photo Gallery