10 Adventures In Color At Home With Drew Barrymore's Home Line, Flower Home
Get inspired to brighten up your home with Drew Barrymore's home collection—a reflection of her own vibrant, colorful, and boho aesthetic
Get ready to splash some color and print in your home with Drew Barrymore's latest pieces from her home and design line, Flower Home.
Flower Home started out as a hobby for Drew, saying in an interview with Domino how it came together after years of dedicating her life to designing her own home: "I have always lived in hotel rooms and apartments and weird places all over the world for my job, and I never knew where I was going to be living next. But then I realized I didn't have a stable base. So I bought a house 20 years ago and refurbished it slowly. I created this wonderful home and fell in love with decorating. The more you get into interior design, the more you learn about different styles and read every magazine (I'm obsessed with them—that is my happy place), and discover designers who teach you things."
Drew took her journey slowly, and enjoyed every bit of the process. Along the way, she met Los Angeles interior designer Ruthie Sommers, who ended up helping her finish decorating her home over a period of 10 years.
"That's how I made sure each room had its own personality," Drew explains why it took her so long to finish her home. "Design has been something that I've dedicated myself to. It started out as a hobby but became a real passion—looking at the way things are made or wanting to make things myself, which is how I got into designing Flower Home."
Now, Flower Home is a full-blown home line that mirrors Drew's vibrant and boho aesthetic, showcasing bold colors and prints and lively textures. Pieces from Flower Home are available exclusively at Walmart.
Here are 10 adventures in color and prints that we've picked up from Drew's Flower Home pieces that we're applying in our own homes—from easy peel-and-stick wallpapers to full-on floral bed frames.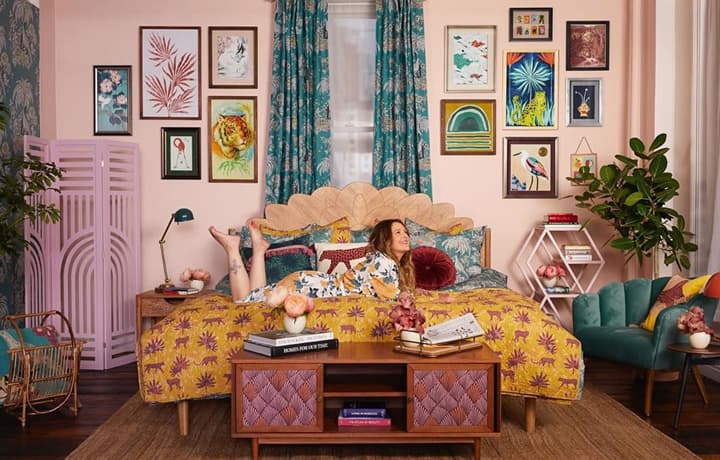 Photo Gallery
Photo Gallery