Editor's Picks: 15 Cheerful Must-Haves For The Home
Create your own decorative nirvana… This week's finds will brighten the mood in every corner of your home
Often, we perceive a chic room to be one that had been designed with rigor—none of its corners left for granted, with the classic standards of beauty observed: symmetry, balance, proportion, scale, line, rhythm, harmony and color. These spaces are indeed noteworthy for impeccably achieving the customary definition of "beautiful," yet, everything has its place and context.
Some people find this standard to be boring and stiff. The snobbery perceived to be behind the design can be intimidating for others. Where's the quirk? Where is the joie de vivre? To disarm the coldness of chic, don't forget to leave room for some fun! Jonathan Adler, the king of "Happy Chic" espouses the perfect formula for a room: "95% chic + 5% happy," equating to what he calls "decorative nirvana."
Here's a cheat sheet on how to achieve it:
1. Incorporate elements that are relatable. Is it an object that reminds you of childhood? A collection of quirky salt and pepper shakers? A recurring graphic motif? Words of affirmation? A bright color that reminds you of happy times?
2. Express yourself. Find your look, and commit to it.
3. Know the rules of decorating and bend them to serve your self-expression.
4. Play! The elements you can tinker with are scale, shape, color and context. The objects that you choose to surround yourself with communicate meaning. Highlight them in your vignettes.
5. Add some tension. Play up the rule of opposites: for example, pair large objects or art work with small ones, rustic pieces with sophisticated pieces.
It may just be a matter of adding some humor or an element of brightness to your space, to begin the process. To help you get started, here are some of our happiest décor picks: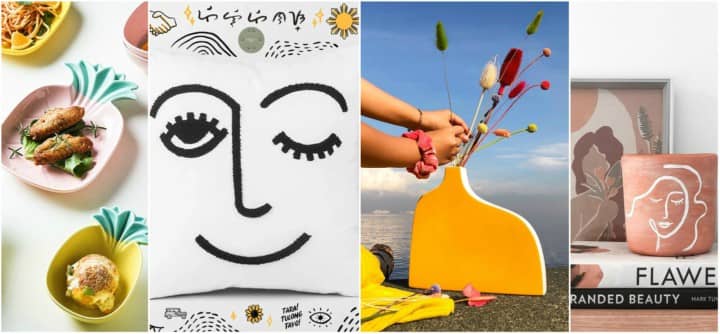 Bring "Happy Chic" Home
Bring "Happy Chic" Home