EDITOR'S PICKS: 20 Bright Study Area Ideas For Every Age And Style
Make your children's home schooling experience focused and enjoyable with these inspiring study area ideas and shop while you're at it
This year, we get to be creative with how children learn, as they are compelled to go for home schooling until physical classes can resume. Hence, as with so many activities like working, the home gets to be another venue for something additional this year: online school and learning!
In an Intercultural Development Research Association article, Dr. Alejandro Villareal, Ph.D. says, "Parents can either provide learning experiences haphazardly or unknowingly (with good intentions, but with little knowledge and no plan) or they can conscientiously plan for quality experiences to occur and exercise their obligation in a more responsible manner," improving learning at home by intentionally designing a conducive environment for it.
Just like your WFH space, children will benefit from learning in a dedicated space for them to thrive and grow this school year. Here are some things to keep in mind when setting up your children's study space at home:
1. Give them a specific space for studying. Just like your WFH space, it is best for your children's study space to be one consistent area that they can respect as a place for learning. Whether it's a nook within their rooms or away from it, this should be a separate space from where they do their extra-curriculars, hobbies and down-time activities. Keep in mind lighting when deciding which space suits this purpose best. As much as possible, situate it in a place that benefits from as much natural light as possible in order to keep them awake and on task.
2. Provide as many tools for them to keep this space well-zoned and uncluttered. Book shelves specifically dedicated to their school work, pen holders, paper file bins and magazine storage racks are all welcome in this area. These will help them keep disciplined about putting things away in their proper places after their school time, creating a favorable atmosphere for it the next day. You want this space to be an area that the kids will look forward to being everyday. Keeping it clutter-free and organized will help create a healthy environment for learning.
3. Use a white board, a cork board or a chalk board for important reminders. Prop up a calendar on the wall or on their desks while you're at it. Giving them a sense of progress and days to which they can look forward is key in keeping the momentum during quarantine. It can easily feel like the days bleed into each other in these extraordinary circumstances, giving the children a feeling of boredom and worse, complacency. Having reminders on the wall and a calendar will assure them of the progression of the days ahead. This will help them keep their optimism up.
4. Give access to their comfort in this space. Make sure that their study furniture has ergonomic qualities that will help keep them engaged and on-task for long periods of time.
5. Let them express their character in these spaces. For a child, taking ownership of their study spaces includes letting their interests and personalities shine in these areas. Whether it's doing a total room revamp by re-painting the walls with their preferred colors or enhancing it with wall decals, let them express themselves in these spaces so that it becomes a pleasant one for them to inhabit.
.
Below is a gallery of the best study areas we found on Instagram to give you inspiration: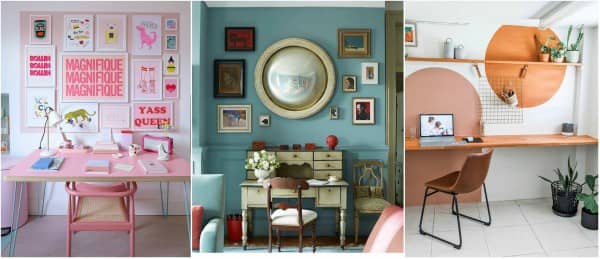 Photo Gallery
Photo Gallery
Shop for your children's study spaces here: