This School Produces Graduates Specializing In The Rehabilitation And Preservation Of The Philippines' Most Majestic Historical Sites
Escuela Taller de Filipinas elevates the status of vocational workers by training them to become in-demand artisans in charge of safeguarding our cultural heritage
Beautiful things are a reminder of the adage that there is more than meets the eye.
Whether it's a sculpture, painting, fresco, or magnificent specimen of architecture you're admiring, you can be sure that behind a single work of art, dozens and dozens of hands have come together to create, care for, restore, and preserve it. Picture everything that we as Filipinos treasure—our Amorsolos and Lunas, our colonial-era homes that remain, relics from times gone by, and of course, our cultural crowning glories of churches, basilicas, cathedrals, and mosques. Think about it for a second. How do you think they've maintained their luster, color, and structure all these years, maybe even centuries?
The latter is if particular interest in this article because of how it's so often forgotten that our places of worship, churches especially, have not withstood the test of time (and weather and changing landscapes) because of unexplainable magic; there are real people, a whole team of trained masons, painters, woodworkers, metalworkers, plumbers, and electricians, with very real tasks to keep these historical and cultural gems standing. Without these workers and those that train them, we'd hate to imagine that much of our most majestic structures might have turned into a rough mixture of pebble and dust long ago, all of it evidence of neglect and loss.
Theirs is an invisible, uncelebrated job, yet one whose results are visible, tangible and so deeply important to our cultural heritage as a nation. It's about time that we recognize all those who play a part in this unsung mission, and we do so by introducing Escuela Taller de Filipinas.
They're a community that leads in the Philippines' conservation projects while also uplifting the lives of their workers, many of whom are out of school youth seeking to be productive members of society.
Just as Escuela Taller de Filipinas teaches its students-turned heroes of culture to shape, mold, and re-build with their hands, their lives too are forever touched and changed by being given direction and meaning.
We talked to Escuela Taller's Communications Officer & Special Projects Officer Philip Paraan about what Escuela Taller has at its core.
"Escuela Taller de Filipinas Foundation trains out of school and marginalized youth in heritage conservation for them to be inserted in the heritage conservation sector as workers and artisans. From a government project between Spain and the Philippines, it's now a private foundation with the challenge to be always relevant, responsive, and sustainable," he explains.
The Intramuros-based foundation was established in 2013, four years after this joint government project was set into motion. It has since evolved to become a vocational school "whose goal is to further promote the protection, conservation and rehabilitation of the Philippines' tangible heritage through skills development and training of the economically challenged youth."
Their three-word slogan encapsulates much of what they stand for: Heritage Means Jobs. Through the process of teaching young people the ins and outs of physical conservation work, they not only increase their value in the trade market, but also develop a more meaningful and personal understanding of what it means to preserve culture—and perhaps what it means to be Filipino, too. It's an education that culminates with economic, emotional, mental, and skill-based gains.
This chance for Escuela Taller enrolles to find a sense of dignity by realizing that they're important players in this branch of cultural preservation is what sets them apart from other vocational school students.
"We make sure our trainees understand the values and particularities of the materials they work on (traditional stones like, adobe, bricks, or even lime or apog, types of wood), the methods they follow and, the sites they work on—that these sites are full of history in shaping our nation's past and present," Philip explains.
"We tell them that not all carpenters, even professionals, are capable of performing what they do and the skills that they practice are very rare and only a handful can do them. Their work as conservation workers and artisan has a certain premium to it," he continues.
Escuela Taller's admission process also helps ensure that it provides equal opportunities to youth. They periodically change the areas/neighborhoods to focus on so that potential students from different places all get a chance to be accepted. Escuela Taller canvases applicants with the help of local government units, parishes, and youth-focused organizations, all the while making sure that both the formal and informal training experiences students get in return will be more than what they need to better their lives.
Escuela Taller offers courses in masonry, carpentry and woodworks, painting and finishing, metalworks, plumbing and electrical work. While enrollees do get to choose which of these courses to take, trainers also assess them in terms of interest, aptitude and skillset and suggest the best fit for them. (Masonry is proving to be the most in-demand job these days).
A course usually lasts for a year and starts off with a heritage tour. Students are taken around culturally significant sites, usually to see iconic churches or other such structures, and it's there where they learn why those places are so important to us all. These trips are scheduled several times throughout their training, as they usually return to the sites that they visit to do actual work on them in the future.
Giving students a buddy system has also proven successful for their learning. New enrollees are paired with more senior students who act as second mentors next to their official teachers. Social connection is likewise just as important as on-the-job training and learning-by-doing for them to feel a sense of belongingness and shared purpose.
And then there is also the fact that Escuela Taller sets up venues for their students to join trade and product fairs and meet product designers, craftsmen and master artisans. It's all for them to widen their horizon; an Escuela Taller student is not tied to Escuela Taller forever, but rather, they're encouraged to bring the new skills they were equipped with to bigger, better job opportunities elsewhere.
And although Escuela Taller's focus is on teaching skilled labor work, something traditionally associated with men, it's an environment that welcomes both male and female students equally.
"In the end, our female graduates are just as talented and capable as their male peers. They thrive and some of them work as wood carvers, masons, painters, and carpenters. Some of them are already our trainers," Philip reveals.
"Mostly, what we have observed in the projects is that our female conservation workers are very patient and detail oriented as seen in the manner they carve stones or wood and in performing other conservation tasks. Women workers tend to be more polished in their output," he attests.
According to the Escuela Taller website, the school has staged seven graduations and produced 500 Escuela Taller alumni since 2009. Many of the school's graduates have become successful in their own right, proving the effectiveness of the program and attracting more enrollees at the same time.
There's the story of Ralph de Sagon, a jobless high school graduate from Baseco who turned to gang life but turned his life around via his Escuela Taller experiences. He now owns his own construction company.
Norhata Apra, a graduate of the first batch of students, went on to become a project head for a high-rise BGC building who is in charge of plumbing and sanitary work.
Jeric Sarmiento, upon his graduation, found himself a part of Escuela Taller's business incubation program that encourages students to make use of their skills in potential entrepreneurial endeavors.
Ralph, Norhata, and Jeric are but a few examples of the success stories Escuela Taller helped write.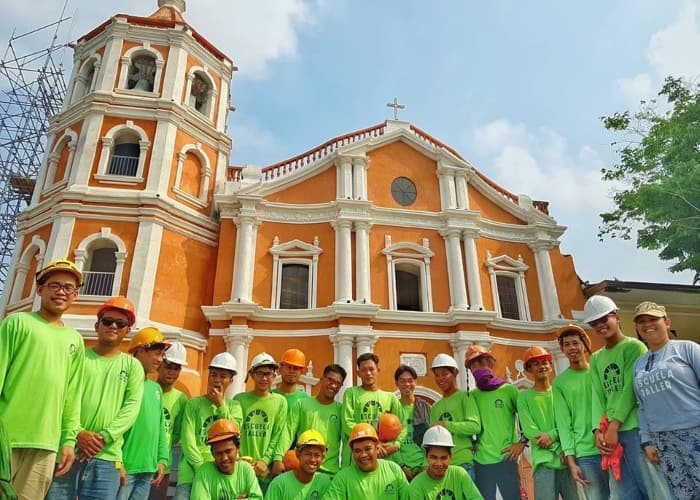 Scenes from Escuela Taller de Filipinas' student projects
Scenes from Escuela Taller de Filipinas' student projects
To date, three of Escuela Taller's most high-profile projects include the Malate Church (also known as Our Lady of Remedies Parish) that took four years to complete, the San Agustin Church choir loft, and the San Pablo cathedral. Much of the work on these projects had to do with rehabilitating the church's facades, wooden elements, and repairing a belfry.
Overall, Escula Taller has been involved in more than 20 heritage site restoration projects. These projects include "structures, including old churches, cemeteries, historical buildings and ancestral houses located in various parts of the archipelago, including Manila, Laguna, Pampanga, Batanes, Bohol, and Cebu. Among these is the recently completed rehabilitation of the Paco Park Ossuary that was executed collaboratively with the National Parks Development Committee and the Agencia Española de Cooperación Internacional Para el Desarrollo," Philip says.
Owners of heritage or ancestral homes looking for skilled workers to repair or rehabilitate the structure can rejoice, too. Escuela Taller offers services for private homeowners anywhere in the Philippines. More so, they restore furniture as well.
While they used to do site inspections for projects like these, the pandemic has severely limited what they can do for homeowners at the moment. Initial assessments are not done in person just yet; homeowners have to take photos of the areas of the home or the furniture or items that need restoration work. (The contact person for this is Ar. Carmen Bettina Bulaong, Escuela Taller's Executive Director, who can be reached through numbers 7971 9100 or 0945 1339920, or through email addresses info@escuelataller.org.ph / communications@escuelataller.org.ph / communications.escuelatallerph@gmail.com).
Never forget—beautiful things have so much going on underneath the surface.
They bring with them stories of their creation, the experiences that inspired them, and with their existence, a chance for many to uplift their lives by learning how to care for them for generations and generations to be able to enjoy them for years to come.
At Escuela Taller, beauty is not just something to behold and watch from a distance, but something that inspires and catalyzes lasting change in the lives of those who need it most.
Images courtesy of Philip Paraan of Escuela Taller de Filipinas