Fascinating Women: Meet Events & Floral Stylist Zenas Pineda, The Quarantine Home Guru
The design pro is tirelessly championing design—not being limited with the current situation, but instead making a way and thriving in it to fulfill the goal and dream
"I like transforming a place into something different," events and floral stylist Zenas Pineda tells Metro.Style. This fascinating woman, who has been into design for decades, is living proof that passion never wanes when you put effort and love into what your heart beats for.

Her venture into design and styling finds its roots in her alma mater, UP Diliman. The Interior Design graduate decided to pursue a career with Design Center Philippines after finishing university as an exhibition designer. She's tasked to design exhibits for exporters, to be used for both local and international fairs. Joy sparked from within as she busied herself in setting up and styling products for the job.
A few years later, Zenas joined Rustan's as their Visual Merchandising Designer—and stayed there for 15 years. The role exposed her further to the ropes of styling, and when the opportunity came to build her own empire, she knew she's up and more than ready for the challenge.
"When I resigned from Rustans, I thought I would be taking a leave from work. I really did not have any idea what my next step would be. I told myself to take a rest—but as soon as my friends found out that I was out and jobless, they started sending feelers to do events for them, style their homes, and so on," the stylist recalls. "Just by word of mouth and the previous works I have done, clients started hiring me for their personal events and institutional events."
Her experience in the industry cemented her name as one of the best—from fulfilling her ultimate dream project back when she was starting (Zenas was able to design and execute the Christmas decors for Ayala Avenue, saying, "I guess this was the unforgettable part of my career journey - to be able to get your dream project.") to transforming weddings, birthdays, holidays, and corporate events into magnificent works of art. "Schedule and work hours can be crazy," she offers. "But after seeing the end result, you end up being satisfied."
With a love for organic designs that aren't anything too contrived, Zenas takes inspiration mostly from nature—like a simple elegance of a hydrangea or a vibrance of berries from trees. She also likes listening to her client's story to help her come up with the best-suited arrangement for a specific project.
I am all for real things; never been a fan of fake flowers and fake greens. I like designing with nature in mind. I also don't go for the fad or what is trendy. I enjoy doing floral arrangements one centerpiece at a time, getting into details on where each and every flower/branch of leaf should go," she shares.
When the pandemic happened, however, this lady boss found the world in halt. But staying still isn't at her table anymore. While on break, Zenas took a tour of her house and discovered the endless possibilities of going online.
"I started styling our house. Even an ordinary lunch with my family would be like an event! I would bring out my plates, pick flowers from the garden, and style the table like I was going to have guests. My house staff was going crazy with my demands," she laughs. "I did 'theme for lunch', 'how to plate the dish', 'what linens to use' and it went like this—for days. Then my daughter had a bright idea to take videos of me styling our table. She took the lead; she was my videographer, director, and fashion stylist. I took care of the concept and design," the stylist adds.
Through her virtual tutorials, Zenas is able to mentor fellow ladies in coming up with their personal design setup at home. It's definitely time well spent, as this idea of sharing and giving back isn't just a helpful distraction for many, but a step towards one's growth, too.
At present, the stylist's hands are full, with events still lined up in her to-dos. But since gatherings are now small-scale and more intimate, it also means more time for other things on her agenda. This design pro is planning to spend her availability on going the tech route. "I would like to pursue my YouTube demo. I would like to reach out and help others when it comes to styling even if it's just for their homes. I launched this last year, and I would like to further pursue it. I have some projects already. I'm just taking things slowly because of the pandemic," Zenas says.
When asked about her advice to those who want to pursue her craft, she lists down three things one mustn't forget. One, to study the craft and keep on discovering and evolving. Two, be patient with clients. And three, to create your own brand and identity.
With all these projects and experience under her belt, is there anything else that Zenas dreams of doing? She giddily replies, "This has been my dream project ever since college. I don't know if it will ever happen, but I have not stopped dreaming. I would like to beautify Metro Manila. Starting with the bridges, then to have trees all over, perfectly manicured pocket gardens, bougainvillea galore. Just create a breathable space. Hey—why not?"
Revel in her creations through this gallery: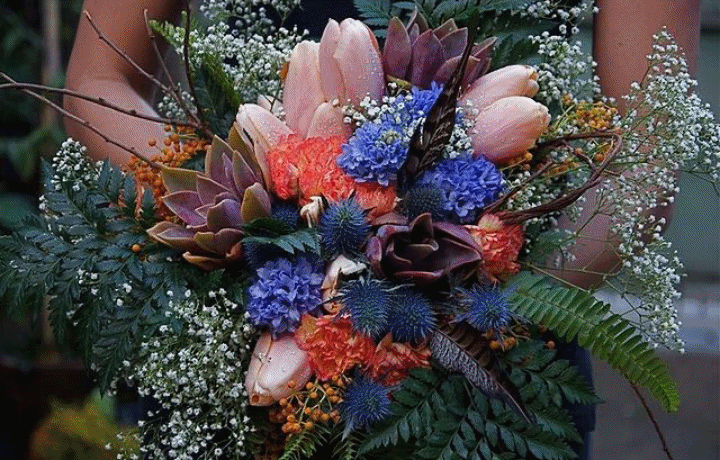 Events & Floral Stylist Zenas Pineda
SWIPE LEFT OR RIGHT
TO NAVIGATE BETWEEN PAGES