Fascinating Women: Rumples Miranda and Kat Pesigan
Visionaries behind kubo, the Brooklyn-based brand for all home things that are chic, stylish and handmade by Filipino artisans
It's no secret that a long list of international furniture brands such as Pottery Barn, Crate and Barrel, West Elm, Cost Plus World Market and Pier 1 source some of their wares in the Philippines. After all, the local crafts and artisanal industry has enjoyed a great international reputation for the handmade. As a Filipino, there's an undeniable pride felt upon seeing a basket, a tray or a capiz chandelier in a home store abroad. We can spot these items from aisles away.
In the past, it's been quite difficult for Filipinos in the US to source locally made homeware that are stylish and contemporary in a Filipino-owned enterprise. In a market where an increasing number of Filipino-Americans desire to stay connected to their origins and to gain an understanding of the Motherland's aesthetics, kubo, by sisters Rumples Miranda and Kat Pesigan, came to be. Born in Manila, the sisters moved to New York where they started their careers and families. Living abroad has impressed upon them a desire to stay in tune with their Filipino roots. Armed with environmental, ethical and philanthropic values, they created the kubo brand. kubo is a Brooklyn-based home accessories and lifestyle brand that offers handcrafted goods made by Filipino artisans.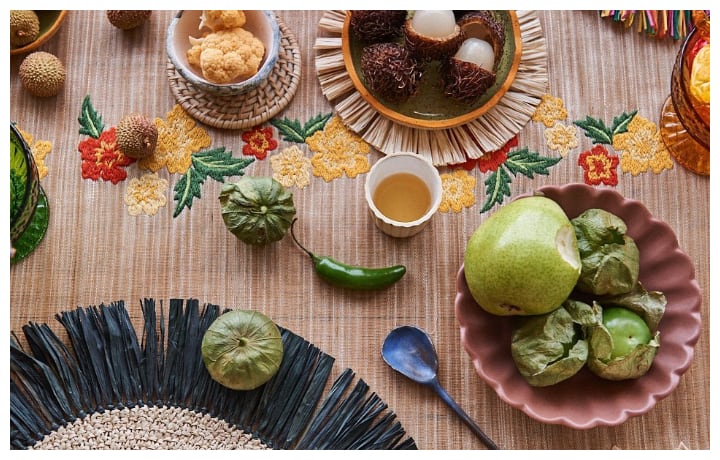 kubo
kubo
It's one thing to sell these wares. It's another to champion the lives that are behind each handmade item. kubo prides itself in partnering with specific Filipino indigenous groups and makers, underscoring the traditional techniques by which each home accessory is made. As a result, in all products are ingrained a sense of place, time, culture and purpose.
"kubo is our love letter to traditional methods of Filipino craftsmanship, and the communities that make them… We realise that home has an even deeper meaning to everyone now, and that the memories we create with our loved ones have become so much more precious to us," the sisters declare through kubo website, highlighting the brand's passion for bringing Filipino craftsmanship to each house that is graced by their items.
Metro.Style caught up with the fascinating women behind the kubo brand through this Q and A:
Who is an outstanding female that you look up to and why?
Kat: When I think of outstanding women, I think of people who are strong-willed, independent, know their value and are continuously working on being a better version of themselves. And with that notion, I am surrounded by outstanding women - my sister, my mom, my sister-in-law, my friends and my colleagues. It's a small circle of people I love and trust. All of them inspire me, knowing them and knowing their stories and how it has shaped them, their challenges and how they've triumphed over them, their successes and how they are defining it for themselves and their families.
Rumples: My sister and I share the same views on outstanding women. My mother, grandmother and sister are truly the most outstanding women I know.
What is one thing all men must understand about women?
Kat: Men should first rid themselves of assumptions about women that are based on gender stereotypes. Men should understand that women are their own person.
Rumples: Yes — women are capable of doing the same things as men.
What is your message of inspiration to all women?
Kat: You need to start seeing in yourself what others see in you. The people around you can encourage you and support you one hundred percent, but if you are unable to see your own worth and capabilities, then you hinder yourself from achieving your potential.
Rumples: You are worth it. You are powerful. You matter.
Every woman is fascinating in their own way. What can you tell the younger generations about embodying this trait? What was your journey like to being where you are now?
Kat: Follow your own path. If the path is not there, then create it for yourself. Take the time to understand who you are, define your values, and identify your purpose - and then let these guide you on your journey.
Rumples: It's funny how I never really understood the complexities of being a woman until I had a daughter of my own. Although she may only be 3 years old, her multi-faceted personality is already shining through. As parents, my husband and I do our best to celebrate her individuality, support her needs and encourage her interests. We do not categorize activities and/or toys based on traditional gender stereotypes, that gender does not define what they can or cannot do.
Has there been a moment in your life when your self doubt and other factors held you back from making your life choices? What did you do to overcome them?
Kat: Self-doubt creeps in all the time. But in these moments, instead of letting it overwhelm me, I take it as an opportunity to reflect and ask myself what it is that is really worrying me or what is causing the self-doubt. And ultimately it leads to a conversation about what we value and what we choose to prioritize in our lives.
Rumples: Yes, of course. As someone with anxiety and depression, self doubt has presented itself in different ways at different stages of my life. It is important that I am able to set boundaries and priorities as I know that I am still a work in progress.
What can you say about the participation of women in fields such as business and design, where success is typically associated with men? What can we do in our practices that would encourage women to break the glass ceiling?
Kat: First we need to redefine success. Success comes in many forms and it can look different in different situations and contexts. We need to start shifting away from these benchmarks of success, defined by men, that are not necessarily one-size fits all. The successes we aim for should be defined by us. In business, we should start by asking ourselves how we can develop our business in a way that would positively impact the lives of our customers and the business of our partners.
Rumples: We grew up in a family of women entrepreneurs, so I have always known women to be successful and capable of doing anything. I think a person is only limited by his or her own beliefs and concepts. Women should think of themselves capable and worthy to be able to achieve their true potential.
Who are your female idols in the field of design?
Rumples: Ilse Crawford and Li Edelkoort. I gush over the mere thought of their design philosophy, vision, and practice. The most amazing, brilliant minds!
If more women designed cities, we would see more _________.
Kat: places where people can sit, gather and connect with the community.
Rumples: intuitive and safe spaces that allow everyone to live their best.
Banner and thumb images courtesy of kubo.
All images by @kubohome.co.