WATCH: Jo Claravall's Favorite Space Is A Room That Tells Her Story
This fêted event stylist's" breathing space" is where she has collected 25 years' worth of objects and accessories that celebrate her personal narrative
"Everything I've put in [this space represent] snippets of my life," Jo Claravall says, as she takes viewers on a tour of what she calls her "breathing room."
A maximalist's haven, objects and accessories in this room pay homage to moments and characters in Jo's life, celebrating his personal narrative. On a console are a stack of three brief cases that used to belong to Jo's dad. On it, Jo arranges a grouping of accessories that hold meaning to her. "Everything I put [here ] has meaning, and I've collected over time," she says.
In a glass vitrine, Jo houses parts of her father's old cameras. In a vase are magnolia twigs used in an event. Other elements of the story are strewn around the room in thoughtfully- arranged vignettes. Foliage that he rescued from an event, for example, now act as a garland around a vase. "I actually gather leaves from events. Instead of throwing them, I've made an arrangement," she says, giving a tip on how to reuse elements from his floral arrangements. A recurring motif, visages of lions, figure in this setting. "I have a thing for them… they make me feel like I have a guardian in the house," the celebrated event stylist says.
In keeping with his metaphor for her space as a narrative, Jo makes clever use of books as pedestals for décor. "Books make perfect risers and warm up the room beautifully," she advises.
An organization center where Jo manages her affairs also figures in this room. Tools such as scissors, coins, and everything that she needs are kept there. Her portrait by artist Thirdy Bustamante holds court over her bar which completes the zoned areas of Caravall's "breathing space."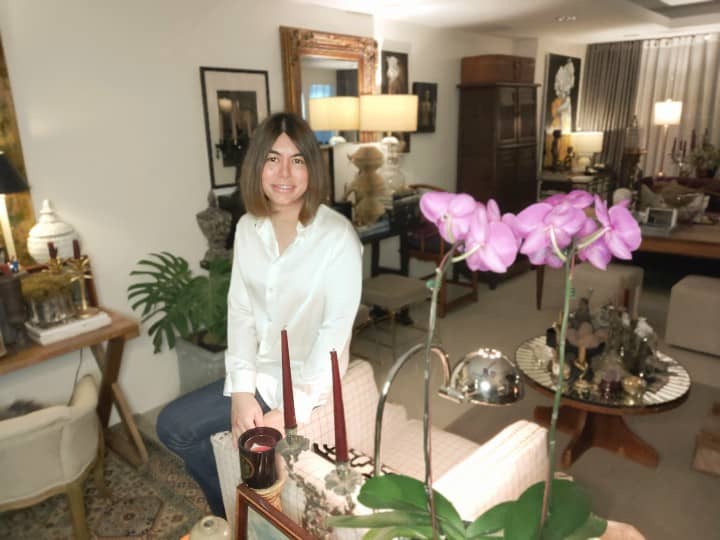 Jo Claravall's "Breathing Space"
Jo Claravall's "Breathing Space"
"I call my home a sanctuary. It's a place where I relax, I unwind. It's a place where I feel safe," Jo Claravall says, wrapping up the tour.
Watch the video below for an exclusive view of this maximalist retreat: