This Carbon-Neutral Interior Finish Will Stay New With Simple, Everyday Care
Fenix's thermal healing properties that will also outlast micro-scratches, fingerprints, abrasions and acid-based solvents
Our home's surfaces get their fair share of wear and tear everyday. Enter the curious toddler and the furbaby… everyone who lives any of these can confirm that their cabinet doors, walls and countertops lose their luster from scratches and the occasional crayon marking by the emerging Matisse.
Recognizing the many challenges our home's finishes take on a daily basis, Fenix Innovative Surface Mateirals has quickly risen to the top by satisfying the needs of two interior design trends: smart materials that deliver on-trend Italian design; and a surface that is extremely matte, soft to the touch and resists finger prints.
The FENIX® products are created by a pressing process in which heat and pressure are applied simultaneously in order to obtain a homogeneous non-porous product. First introduced in 2013, FENIX® was developed after years of research and development by an international team of scientists and engineers. Thanks to proprietary technology, FENIX® is able to achieve its incredible surface properties by undergoing a series of processes, including a multilayer coating and use of next-gen acrylic resins, which are then hardened and fixed through an Electron Beam Curing process.
With its newest color ways, you can use this in your kitchen, your work area, and your closets. The possibilities are plenty!
When you use FENIX® for your interiors, you get surfaces that are soft to the touch, extremely matte and resistant to fingerprints, scratches, abrasions, acid-based solvents and household cleaners. Its unique, non-porous external layer allows it to stay new with simple everyday care.
In the gallery below, see the many applications of Fenix: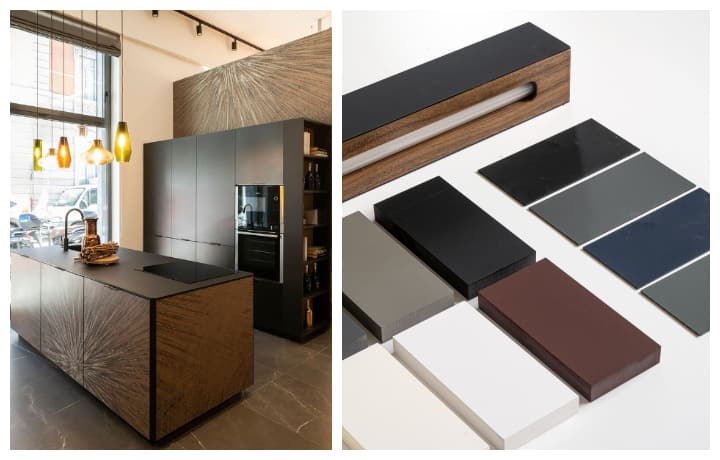 Photo Gallery
Photo Gallery