This Florist Specializes In Dainty Flower Arrangements For The Dearly Departed
Gloom. is a fashionable option for commemorating your loved ones' memory this time of the year
Expressing sympathy to a family that has lost a beloved member or remembering a loved one with flowers are just some of the ways to show support, love and friendship on the passing of a person.
Traditionally, flowers have been used to convey heartfelt sentiments. Along with candles, they are also the most commonly-offered tokens for visiting dearly departed family members during All Souls Day. In Mexico, where this occasion is known as Dia De Los Muertos, a 2-day festival that celebrates life and death. It is believed that during this time, dead family members are allowed to visit the living. Thus, a reunion occurs. Families mark the occasion by creating ofrendas or offerings to their dead loved ones. Vibrant decorations and flowers such as marigold, cockscomb, chrysanthemum, gladiolas, white hoary stock, and baby's breath; food; candles; and anything that symbolizes their dead family members are placed on an altar in order to honor their lives, as well as to provide nourishment for the long journey back to the after life.
The Filipino All Souls Day and All Saints Day celebrations are traditionally not far from this concept. Today, flowers still take front and center stage in these festivities. Their arrangements even adjust to the trends.
Gloom., an online florist, offers picture perfect "blooms in times of gloom." With poetic names such as "Once upon a memory," "Garden of hope" and "Peaceful Memoir," these are sure to complete your All Souls Day flower shopping, saving you last minute preparations and the trouble of having to DIY.
Shop our picks below: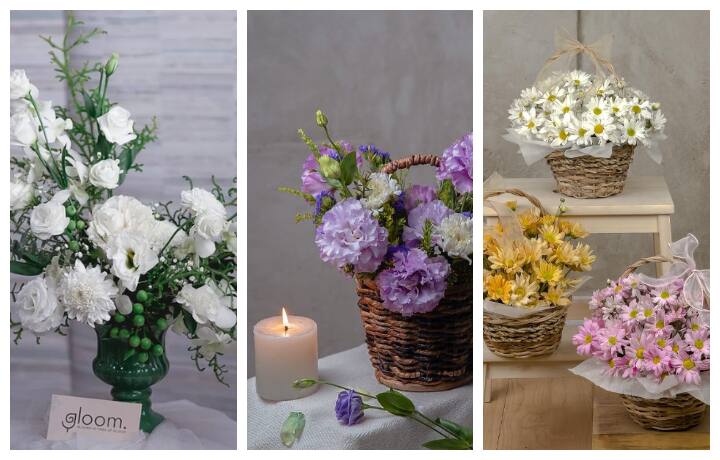 Photo Gallery
Photo Gallery