Pet Of The Week: Meet Fozzi, the Lovable Malti-Poo Of Lady Gaga's Hairstylist, Frederic Aspiras
This cute four-legged buddy is also a close buddy of the American superstar
Lady Gaga is a known statement-maker. From the beginnings of her career with hits "Poker Face" and "Bad Romance" to her present success more than a decade after, she's become an inspiration for her bold and tasteful persona and self-expression.
Since she launched as a singer, there's one person who stayed beside her, creating her iconic looks whether she's performing onstage or shooting in front of the camera. Frederic Aspiras aka "Lady Gaga's hairstylist" is her partner-in-crime in this department—lending his flair to her tresses, achieving her signature looks that are purely 'gaga'. And since it's Beauty Month at Metro.Style, we celebrate all things beautiful plus the people (and pets!) behind the scenes who make celebrities' looks picture perfect.
With Aspiras on his mission to create Gaga's fantastical looks is the perfect furry companion that's also grown close to the superstar. Fozzi, also known as Fozzi Bear, is Frederic's lovable apricot maltipoo (maltese and poodle mix) who doesn't shy away from the spotlight that's rightfully his.
Accompanying Frederic since 2012, this nine-year-old paw buddy fits his part. With fabulously lush curly tresses, a smile that snatches hearts, and an undeniable star power, Fozzi is truly born to shine!
The hairstylist has adopted his dog, and advocates for others to do the same. In fact, he had partnered with a number of non-profit organizations to promote taking in rescues and finding them forever homes.
Fozzi has appeared in several of his dad's Instagram posts, whether it's a cause or just a random pawther-and-son selca moment.
Can't get enough of this cutie? Find more photos of Fozzi in the gallery below: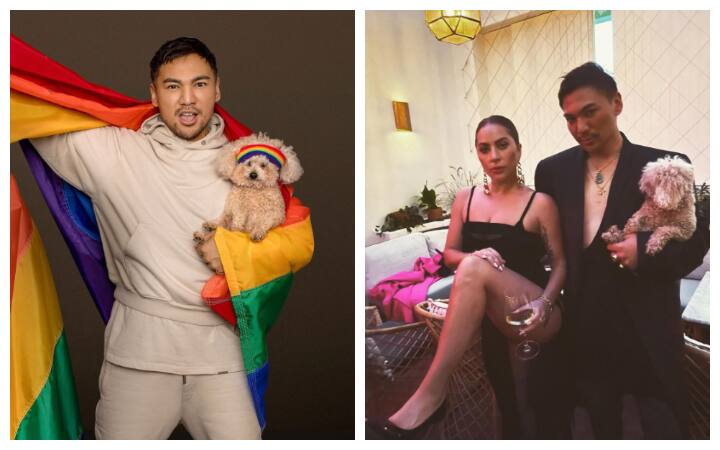 It's Fozzi!
It's Fozzi!
What's a maltipoo?
A cross between a toy poodle and a maltese, these dogs are known to be highly affectionate and fun-loving. Very charming and on the active side, they could easily be the life of the party. They are ideal for all types of homes, from single family dwellings to condos, and are equally loved by kids and the elderly.
Maltipoos tend to be attached to their humans, so do adopt one if you are ready for the commitment of consistently showering your furbaby with lots of time together. Be prepared for many playful years with them. When cared for well, they can live up to 13 years.
Banner And Thumb Images by @fredericaspiras @ladygaga
All images by @fredericaspiras