Fritz Hansen Manila Lounge Reopens With a Playful Design by Jaime Hayon
The furniture showroom that took 3 years to design is an immersion in color and form
Part of its extensive festivities to celebrate the brand's 150th anniversary, Fritz Hansen reopened its new Manila lounge at Studio Dimensione in BGC. Aiming to be a "cradle where local architects, designers, and design enthusiasts can congregate", the store looked to long-time Fritz Hansen collaboraor Jaime Hayon to create a space that's playful and reminiscent of a fiesta in the Philippines.
Fritz Hansen's CEO for Asia, Dario Reicherl shares, "Uusally a project like this takes about 9 months to design. but this one took 3 years. We started Sept 2019. But thanks to COVID we had time to think and rethink and look at the details and be very sure of what we were doing. And we became even more brave. Other stores had gone with colors that are normal. For this one, we thought, let's go all the way and respect the Philippine heritage and blend it with Fritz Hansen Danish history."
The lounge wastes no time immersing its guests with color - the floor is yellow and a long counter with matching shelving in a striking powder blue. The Egg chair designed by Arne Jacobsen in red leather plays with a nice contrast against the blue-grey wall. "It's the way each room influences your mood - and even physically. The past few days, I've been spending a lot of time in each room. The colors play a really strong factor," Reicherl adds.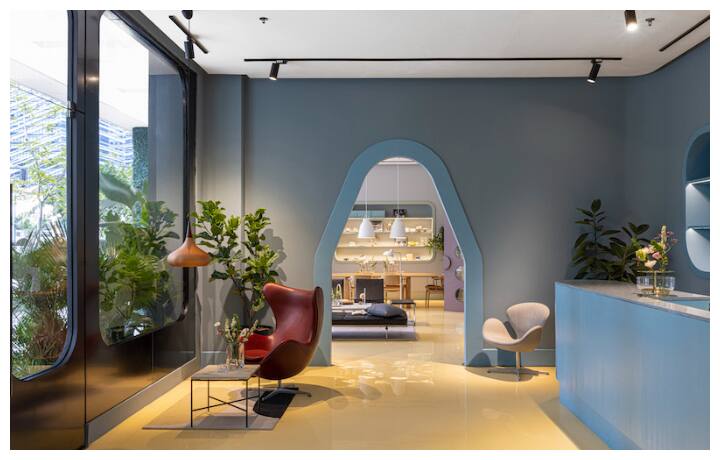 Photo Gallery
Photo Gallery
A distinct feature of Hayon's design of the lounge are the portals in unexpected curves - some with doors in a lush eggplant color. "Jaime uses many of these shapes and curves in his sculptures and paintings. In this case they become reality. They're not just an art piece - they become functional such as these doors," Reicherl mentions.
The next room is full of natural light and leads your eye to the Essay table and Caravaggio pendant lights both designed by Cecile Manz. On the center of the table are the Ikebana vases designed by Hayon.
"Then you go into a room that is more rose. It reminds you of your mom - it's very feminine and very gentle. It's serious but sweet. It's my favorite room," Reicherl reveals. As some rooms use their colors to invigorate, this room definitely relaxes. The Drop Chair by Jacobsen perfectly accents the room's calming energy. This vignette tells a story of a sophisticated home office surrounding a PK51 table designed by Poul Kjærholm. The opposite side is a living area with a Lune sofa designed by Hayon and strategically placed Kaiser idell lights.
"Then you go to another room that energizes you with a blue and green. I can imagine you can spend a night there with a glass of whisky. Then you go to a room with amber it's like a breakfast or an afternoon place. Each room is a complete different world. It's like 7 showrooms in one," Reicherl says of the lounge. "I respect the designer and artist and don't think we should tell them what to do and how to do it. Also on the other hand, the designer or artist needs to understand the DNA of the brand especially if the brand is so old and so famous and represents more than its products. It represents he Danish culture. So this lounge is a good representation of the artist's side and the Danish side."
According to Hayon, good design provokes. "Good design is primarily design that lasts. Design must have something to say. It must be able to improve our quality of life, and it must be meaningful. But for me, design is not just about function. It is also about feelings, and I like if it provokes a little and can challenge our way of life." If walking through the showroom gave you different feelings - if it stopped you in your tracks - then you were treading through good design.
Visit the Fritz Hansen Lounge at Studio Dimensione, One Parkade, 28th St. Cor. 7th Ave., Bonifacio Global City, Taguig.
Photographs by Jar Concengco