Inside This Tiny Green House Lies A Big Promise Of Ease And Comfort
GAAN, a Quezon City start-up sprouted from values of connectedness, care and community
Plants have long mastered the art of give and take.
As they take in the carbon dioxide we release, they return this source of life to hundredfold, transformed; millions of life forms are granted survival with the oxygen they give back in change, allowing folks like you and me to breathe and breathe out, effortlessly.
This is one of nature's perfectly balanced processes that adds kaginhawaan and kagaanan to the way we live—and a philosophy that Prim Paypon, co-founder of Gaan, hopes to capture in every plant and carefully curated ceramic garden piece he offers to a clientele looking to incorporate this brand of harmony their lives.
"Gaan was created from its beautiful definition in Hiligaynon which means to give, and [from the Tagalog word] which means ease and comfort," Prim begins.
"In the face of what is considered by many as the most devastating calamity in modern human history, people continuously thrive to make their isolated lives more livable and harmonious against all odds… Many started finding natural comfort from different kinds of plants—from growing them in their private spaces to gifting them to friends. More than a simple act of generosity, the idea of plant gifting evolved into a profound tool that impacted people's mental and physical health," he continues.
The Quezon City-based start-up sprouted its roots in 2020, growing alongside the budding interest of Filipinos in plant care. Prim, with his friends and business partners ophthalmologist Glenn Angeles, civil engineer Dan Quiaoit, and technology builder Ariel Silva, were quick to address this niche opportunity in a pandemic-born market. Just as young sprigs find their way through the gaps between boulders ready to grow into lushness , this gang of four pushed forward with plans that unfolded beautifully.
Prim explains, " Since we opened [in] April, [we've seen] that most of our Gaan people favor three types of plants—tree plants that are good for corners, caudex plants for their shelves and work-from-home tables, and rare exotic plants like carnivorous plants. For our pots, we always go for natural materials that are locally made because they easily blend in with different kinds of interiors."
Looking forward to Gaan's first anniversary, Prim proudly says, "Gaan is now a startup driven by care, connectedness, and community." Its brick and mortar store, curated plant and pot offerings and the rooms that have hosted finds from Gaan are a testament to this: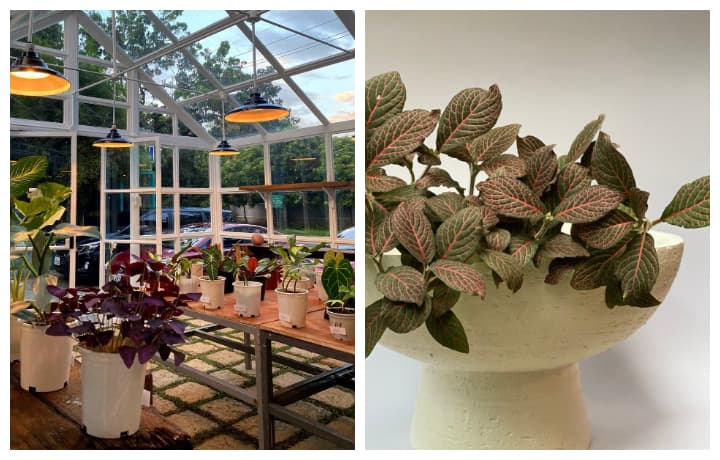 Photo Gallery
Photo Gallery
Several plant and gardening-centric ventures have popped up since the pandemic has forced us to accept living life under varying degrees of quarantine; we've seen urban landscapers thrive, artists and gardening enthusiasts combine their passions, and exotic plant breeders gain newfound attention. Online stores are aplenty as well, with gardeners of differing levels of expertise and interests able to find something they like. But with Gaan becoming the newest addition to this verdant mix of local plant businesses, a unique and immersive plant buying experience is now offered to local gardening aficionados.
"At the height of COVID-19 pandemic [in 2020], Dan, Glenn, and I were part of the EQF (Emergency Quarantine Facility) team that built 75 emergency quarantine facilities that served hundreds and thousands of patients and frontliners across the Philippines," Prim recalls.
He adds, "An architecturally innovative structure, EQFs were designed using readily available materials that can be assembled in five days."
The speed at which these structures were built was fueled by more than just efficiency, urgency, and yes, even tragedy. Holding them together was something much warmer and closer to the Filipino heart—the deeply rooted values of aruga and malasakit, sentiments that signal only the deepest care for each other and society at large.
After building with these values in mind and seeing their contributions materialize, Prim and his Gaan associates wished to recreate this, albeit in a much more nurturing and loving space. Hence, the Gaan greenhouse was born, giving their business a physical home that encapsulates what it means for them to launch a life-giving business during one of modern human history's most trying times.
The Gaan greenhouse that stands in Katipunan's White Plains Avenue is there to "celebrate and grow the impact of plants on our physical and mental health," Prim describes.
The space also includes "a small wooden cabin [that serves] as a sanctuary dedicated to elevating plant appreciation through space curation with a selection of our carefully designed and curated pots and planters made from natural materials," he continues.
Prim's background in design, compassionate spirit, and eye for all things beautiful has added a second layer to the Gaan greenhouse experience; more than just a repository of interesting plants, the space also shares the spotlight with talented potters and ceramic artisans while giving full credit to the workers that are the backbone of businesses like his.
"For our special pot selection which we hope to do as frequently as possible, we collaborate with celebrated and coveted potters and ceramicists. To create each unique selection, we do our own design research, from form and shape to color and texture, while studying and immersing ourselves in the artist's portfolio. It is a good thing we are art collectors as ourselves, because we want each pot to be a collector's piece, too," Prim tells us.
"For non-specific endemic plants, we work with different communities of plant growers and soil farmers in Luzon. For our non-collaboration artisanal pots, we work with communities of terracotta and concrete potters in Pampanga and Bulacan," he states.
As a result, Gaan clients can expect to be treated to a collection of the best in local gardening products that serve a dual purpose. As you beautify your chosen space with Gaan, you uplift the lives of others and give them dignity in their trade. (Remember the template of nature's beautiful give and take that Gaan borrows from).
The Gaan shopper fortunate enough to share a conversation with Prim at the greenhouse will likewise be happy to learn that personal experience is factored into their business plan. That is, Gaan plants are plants that Prim himself owns and cares for; if a plant is for sale at the greenhouse, it's likely he can tell you about its particular likes and dislikes, increasing your chances of successfully sustaining the life of your new green friend.
"While we significantly consider regional trends from the perspectives of both plant growers and plant hobbyists, we usually get the 'in' of 'inspiration' from our own personal and collective plant interests," he says.
Prim envisions more for Gaan come 2022. Pandemic or no pandemic, his intentions of helping more local communities, farmers, plant breeders, and artisans remain unchanged. To name a few things in store for the Gaan tribe, Prim and his partners have plans of creating community nurseries, organizing workshops that teach participants how to maximize the healing power of plants, and increasing the reach of their collaborative efforts.
"As an enabler of connectedness, empowered by the impact of plants on people, Gaan hopes to be a gift of comfort that people give to stay connected to family and friends and share positivity and care…As a builder of community driven by people's varied passions, Gaan aims to be a thriving and progressive community of farmers, enthusiasts, artisans, artists, and entrepreneurs," Prim reflects.
"At Gaan, we hope to encourage and empower more people with something to give that they may help others live life with harmony and comfort," he ends.
Photographs by @gaanph