Calling All Confident Collectors: Reimagine Your Interiors With This Online Auction
Gavel & Block by Salcedo Auctions presents another opportunity to add to your collection of curated experiences at home
With the pandemic making home quarantine essential, our homes have become THE venue for most everything, including work, learning, online meetings and even e-numan with our buddies over Zoom and other online apps. Perhaps it is safe to say that never before have we bonded with the home as intimately as now, turning our attention to its every corner. If we hurriedly ran past some nooks of our homes before without noticing them, now, every detail has become salient. Thus, the boom in decorating and renovations. What accompanies this journey are the fascination with creating interior-inspiration Pinterest boards and following home decor accounts online. If most of us aspire for refreshed spaces at home, some have even turned into their own designers and art curators. It's these savvy collectors and enthusiasts who have the most to look forward to at Gavel&Block's upcoming 'The Great Indoors' online auction on Saturday 22 May, 10am at salcedoauctions.com.
"We love the idea of people curating their own spaces. Whether you have a background in interior design or simply enjoy looking at well-curated spaces, the fact is that everyone knows how they want to feel when they're at home." says Salcedo Auctions Managing Director, Victor Silvino. "Depending on what experience you want to have while working, studying, or even just relaxing, that will determine what pieces you surround yourself with."
True enough, the sale, featuring over 500 lots across different categories like decor, tribal art & furniture, modern & contemporary art, and prints, maps & books, caters to all types of interests. These are presented alongside fixtures in great art and design, with artworks works by National Artist Vicente Manansala and Arturo Luz, as well as modern artists Fernando Zobel, Nena Saguil, Macario Vitalis, Norma Belleza, Gus Albor, Mauro 'Malang' Santos, and contemporary artists Ronald Ventura, Joseph Tecson, and Jonathan Olazo.
Provenance from the 19th Century To Current and Colorful
Other lots of interest include a refreshing selection of prints and maps including 18th and 19th century engravings depicting the inhabitants of Manila as well as a vintage Maritime Quartz chronometer. In colorful contrast, are hard hitting contemporary works like Joseph Tecon's 6x8 foot acrylic on canvas, a statement piece for any living room or foyer--and Jonathan Olazo's 2014 Squator Sessions: The Jacksons - Pablo Debates. Collectors will find several quirky combinations of modern and contemporary works with tribal & ethnographic art at the showroom at NEX Tower along Ayala Avenue.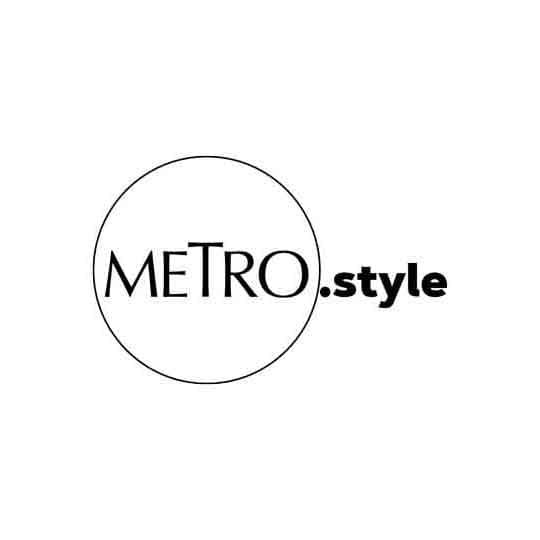 JONATHAN OLAZO 'Squator Sessions: The Jacksons - Pablo Debates,' 2014, Mixed media on canvas and carpet
Of Diverse Cultures and Styles
Collectors will also find great furniture and crafts works in the sale, from vintage pieces like a charming mini Batangas altar table, and a two-segment Chinese 'cracked ice' cupboard to contemporary pieces in the finest hardwoods like a set of 6 kamagong and burl wood dining chairs, and a massive three-segment Bohol aparador.
See the gallery below for a sampling: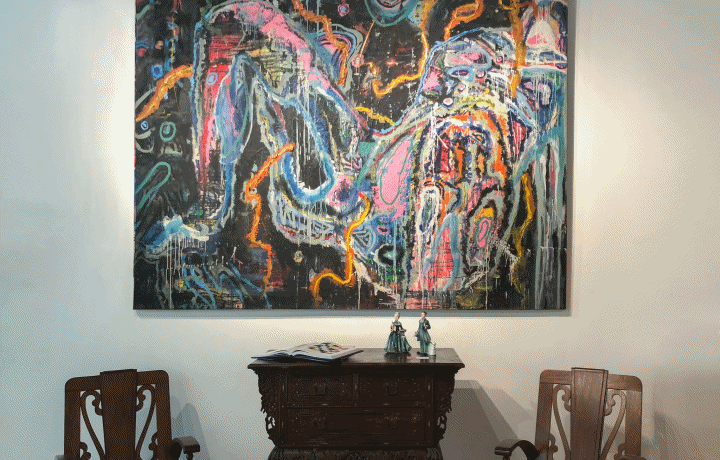 Gavel&Block The Great Indoors
Gavel&Block The Great Indoors
5 Things To Remember When Decorating The Home With Auction Finds
Now that we've managed to whet your appetite with a peek of what's being offered by Gavel & Block, here are tips to remember when sprucing up with your auction splurges:
1. Mix and match periods and styles.
Your spaces tell your personal narrative. To make it memorable, don't be afraid to mix and match time periods and styles. Matching everything can be boring, and a confluence of design styles makes the home authentically speak of your personal taste. Think of the grandmillennial appeal. What makes this look a success is its edited unpredictability. Achieve this by mixing periods and styles.
2. Pair the new with the old.
This tried and true layering technique brings texture to your space. It's always good to see a dose of irony in your home's corners. This a way to achieve that.
3. Upcycle!
Sometimes, our best pieces didn't come that way. It took a bit of imagination to make them. Reinvent pieces that you find in auctions and give them your own spin. A fresh coat of paint, a new fabric on them may do wonders.
4. Invest in the basics
We hear some elders say, "They don't make them like they used to" for good reason. Auctions are great resources for silver, fine bone china and crystal just to name a few. These are some of the "basics" of fine living. Keep your eyes open for these at auctions.
5. Go for the show stoppers
The auction is a great place to splurge on that accent piece that you just won't be able to find anywhere else. That large contemporary painting for your entrance; a pair of art deco ambassador chairs or that rococo-style narra console table all make a space memorable.
The Gavel&Block The Great Indoors online catalogue is available at salcedoauctions.com. The online auction will be held on Saturday 22 May 2021 at 10am. The collection is on-view daily at NEX Tower. Contact us if you wish to arrange for a private viewing.
The Great Indoors builds up to the upcoming Salcedo Private View mini-retrospective of modern artist Norberto 'Lito' Carating's works which will run from May 29 to June 19, as well as the Salcedo Auctions online auction 'Finer Pursuits' on June 26.