Thom Felicia and Carson Kressley Are Making America Chic Again, One Room At A Time
"Get A Room With Carson and Thom" on the Metro Channel is your new interior design reality show habit
Queer Eye alum, Carson Kressley and Thom Felicia offer up their fabulous design expertise in BravoTV's Get a Room with Carson and Thom, airing on the Metro Channel. With the motivation to "make America chic again," the duo introduces personality, style, wit and even nostalgia to the American home. With their flair, these tastemakers work together to create stylish spaces in their signature fun, playful way. Sure, like every design team, they sometimes argue about important design decisions, but both always manage to come up with an uncompromisingly stellar design scheme, satisfying one American family at a time.
Bravo TV gives some design tips from this fabulous interior design tandem:
1. Decorate your space to reflect your personality. "It's all about bringing personality, style, curation, and creating a mixture of high, medium and low… Interior design styles that are definitely out are [those that are] aspirational, one-note, lifeless interiors."
2. Don't be afraid to tell your story with heirlooms, vintage and even heirloom pieces. Carson says, "Homes tell your story." "So I think not decorating with everything that is brand new and out of the box," he advises, encouraging homeowners to achieve a layered look by incorporating bohemian and vintage pieces in their decorating scheme.
3. It's perfectly okay to go eclectic! Good news for those who dare: "Everything 70s is back!" says Carson. "If it looks like the living room on Three's Company, it's on trend."
Soak in some interior design inspiration from this fantastic duo. See the rooms brought to life by Carson and Thom in previous seasons of Get a Room with Carson and Thom: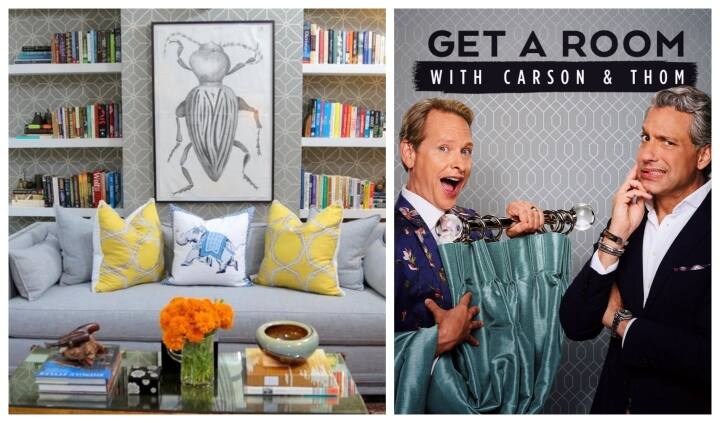 Photo Gallery
Photo Gallery
Tune into the Metro Channel to make Get A Room With Carson and Thom your next interior design reality viewing habit with this schedule:
Sunday 1:00 AM, 7:00 AM; Monday 8:00 PM; Tuesday 2:00 AM, 12:00 NN, 11:00 PM Thursday 4:00 AM, 4:00 PM; Friday 9:00 PM