This Year, Go Sleek And Minimalist With These Premium Home Picks
CATO brings together contemporary brands that offer artisan and conversation pieces that are simple but never boring
In this consumer-driven society, where we are bombarded by so many items one swipe after another, a new brand has emerged to encourage slow-living and being more intentional about the things that you welcome into your home.
Enter: CATO (pronounced as KAH-TOE), a Manila-based, digital concept store that houses select objects for the home and everyday life, encourages people to find beauty in simplicity, and prioritize quality items with history and character.
"My sister––Bettina––and I have always been rather keen on homeware and interiors. CATO is very simply the output of that longstanding appreciation for well-made things. This habit of mindful selection was learned from our mom, who continues to thoroughly think through each and every single item that enters," says Nina Capistrano, co-founder of CATO.
Simple, but never boring
Walking the fine line of minimalism is quite challenging: it's easy to fall flat because of the simplicity in design and function. But Nina says that while minimalism is what ties all of their items together, there is character, history, craftsmanship, and quality that goes into each piece. So it goes more than just minimalism as an aesthetic, but rather, embracing minimalism as a lifestyle. They hope that each piece is a step into a more sustainable and slower lifestyle, where you are always intentional with the things that you welcome into your space.
"Beyond functionality, we like to think of objects as expressions of character or as conversation starters. And so, we also hope to make available a range of pieces that add that bit of personality into your space or day-to-day or that reflect your individual tastes," says Nina. "For the most part, we were inspired by concept stores from our travels. We resonated in particular with the way that they created and used their space––bringing labels and artisans together; valuing quality over quantity; building a lifestyle, a community."
This is why they partnered up only with a handful of brands that they fully trust and believe in, and whose vision and aesthetics align with theirs. Currently, they carry four brands on Cato: Loveramics, a premium ceramics creator from Hong Kong; Kinto, a Japanese tableware and lifestyle brand with a commitment to slow living; W&P, a New York-based brand working to reduce single-use plastics with portable wares; and Lamana, the Philippine-based manufacturer and co-creator of Japanese furniture label, Ishinomaki Laboratory.
They are, however, expanding their collection and will be adding at least 2 new brands on the first half of the year. These brands will debut exclusively on Cato.
Nina says, "Each of the brands that we currently carry are those that we've interacted with on a personal level. That is to say, we've owned pieces from these brands ourselves and have appreciated their designs for quite some time now. You'll find that most, if not all, of them are dedicated to slow, intentional living––something that we try to live out ourselves. It brings us joy to be able to work with people who share in our vision."
In the near future, CATO hopes they can also design and come up with their own smaller objects and pieces.
In such a materially-saturated market, our long-term goal is to be able deliver more meaningful experiences surrounding the home.
A minimalist lifestyle
CATO's digital store offers a range of specialty tools for coffee and tea such as cups, saucers, cutlery, and trays. They also have lightweight furniture like stools, shelves, storage, and mirrors, made with a variety of porcelain and wood raw materials.
All items are displayed on their digital store and ships nationwide, but CATO has been experimenting with on-ground showcases after inquiries from potential customers to see the items in person. In November, they mounted an appointment-only showroom with stringent protocols in place.
Check out some of our favorites from CATO's digital store in the gallery below.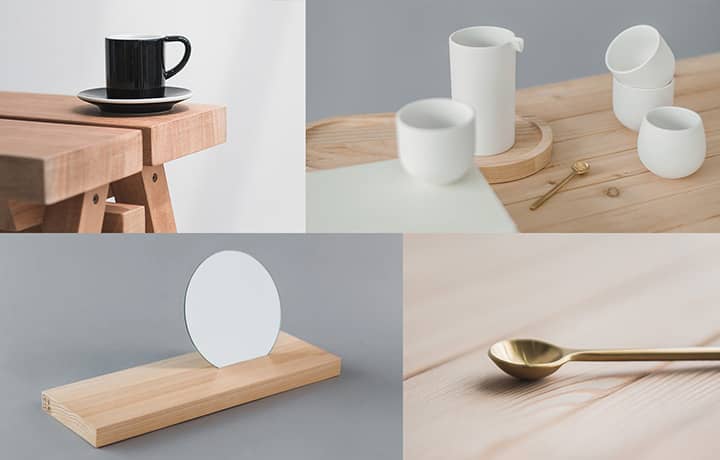 Photo Gallery
Photo Gallery