July Birthday Boys, Ji Chang Wook And Gong Yoo Make Proud Pawthers
Just like us, they have been comforted by the company of their pets
One of the self-care measures many took to during the COVID-19 quarantine was blessing themselves with the companion of a pet. As communities all over the world faced varying degrees of lock down, lifestyles changed, but those with pets remained reassured of companionship in this otherwise isolating time. In a survey conducted by the Human Animal Bond Research Institute (HABRI) and Mars Petcare, the following was established:
- 85% of respondents agree interaction with pets can help reduce loneliness
- 76% agree human-pet interactions can help address social isolation
- 72% believe human-animal interaction is good for their community
- 80% of pet owners say their pet makes them feel less lonely
These have been proven by the relationship our K-Drama idols have with their pets. Take, for example, two July birthday boys, Ji Chang Wook and Gong Yoo.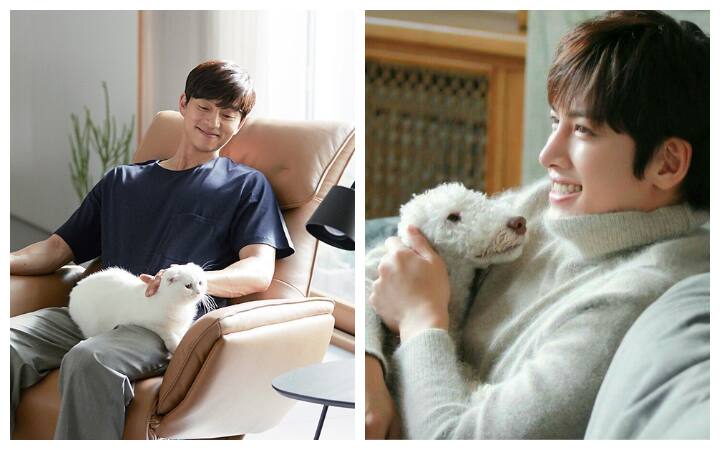 Photo Gallery
Photo Gallery
Ji Chang Wook and Ggoma
Ji Chang Wook ended 2020 with this letter to his fans announcing the passing of his dog, Ggoma in Daum Cafe:
"Goodbye 2020. Hello everyone :) It is the last day of 2020. It is also the day before the arrival of the new year. It's a stranger day than ever. 2020 has been a very busy day for me. I started it with Backstreet Rookie and I am now enjoying Lovestruck in the City. It was a year of bravery and anxiety with Covid-19. And I didn't mention it but it's a year that Ggoma that I loved left me. She left my family because of a kidney problem while filming Lovestruck in the City. She left quietly with my mother and me and I decided not to talk about it but now I am telling you all about it. I think she's in a good place and having fun. Let's not talk about depressing and painful things anymore, I wonder how you all are doing :) Hope you stay strong even if you are tired of Covid-19 !! These days as an actor I try a lot of things and challenge myself. Thanks to Dayrock, the staff who watch over me during my activities, and the fans who support me, I am always very grateful 💕"
To underscore the Lovestruck In The City actor's fondness for his Bedlington Terrier, he often talked about Ggoma in interviews. In a 2019 interview, he tells Philippine media, "Things that make me happy are my family, friends and my dog, Ggoma. There are also little things, like eating delicious food."
The bond between Ggoma and Ji chang wook can be seen in this IG post:
About the Bedlington Terrier
Described as "genial housemates, alert watchdogs, versatile athletes, and irresistibly cuddly TV-time companions" by the American Kennel Club, the Bedlington Terrier is indeed the perfect companion for an on-screen idol such as Ji Chang-Wook. They are known to be their family's center of attention as they are active and fun-loving. Those looking for a non-shedding furbaby will surely enjoy this breed.
They are hard workers, bred to do the dirty work in the mines of 1800s Northumberland. Hunting for rats, pit fighting and varmint killers were the job description of this lamb-like breed. Thanks to its charms, Bedlingtons rose from the mines and nail factories to English manors where they were deemed as stylish pets.
When cared for by owners who are conscientious about their responsibility as pawthers and fur-parents, the Bedlington terrier can live up to 14 years.

Gong Yoo and Kong Kong
Known to have said that his ideal type is a woman who has the qualities of a cat, implying that he is attracted to women who are proactive who can do things for herself, everybody's favorite Goblin actually owns cats as pets. Gong Yoo keeps two Scottish Fold cats for company. One of them, called "Kongkong," stars with him in Iloom ad campaigns. Iloom is a brand of furniture from South Korea.
About the Scottish Fold
Scottish Fold cats have been compared to owls because of their tucked ears, big, round eyes, and round faces. These cats have a very sweet disposition. They are known to be very affectionate.
The breed's roots is traced to Susie, the barn cat from Scotland whose ears were flat. She also gave birth to kittens who had flat ears like hers. Aided by a geneticist, a farmer by the name of William Ross decided to breed Susie. The breed gained popularity in 1976.
Cat associations warn of the dangers of breeding the Scottish Fold further because the genetic condition that causes their unique trait, their flat ears, also leads to other complications such as arthritis and degenerative joint disease. It is advised to handle their tails carefully, as they may have developed arthritis at an early age. However, a healthy Scottish Fold can live to an average of 15 years.
Lead photos from Pinterest and @iloom_official