Jung Hae-In And BLACKPINK's Jisoo Are The Cutest Pair Of Dog Lovers
We've all fallen head over heels over their pairing, but it's double the cuteness when they're with their lovable furry friends
Snowdrop, starring Jung Hae-In and BLACKPINK's Jisoo, has come to an end—but we still can't get over their incredible chemistry in the show! Prior to its airing, this project had been surrounded by a lot of controversies, and more so during its initial airings last December. However, with such a strong team up, together with a moving storyline and a lineup of equally wonderful cast, the drama achieved the success it deserved to receive.
Not to mention, fans are still eager for more HaeSoo moments—and how can we not? Apart from appearing in the show together, we get so kilig over photos they post on their personal social media accounts!
While we wonder what the real score between these two actors are, however, there's one thing that we're sure of. If there's another line that connects these two artists together, it's their choice in furry companions, both being dog lovers.
Hae-in and Jisoo sharing a frame with paw friends offers double the cuteness. So for this week's Pet Of The Week, as our hearts remain flutter from the onscreen couple, we'll keep them beating fast with adorable moments of the tandem with their fur baby match.
Jung Hae-In's Four-Legged Sidekick, Robin
While there are no reports of Hae-In living with a furbaby for now, his iconic four-legged sidekick, Robin, in the 2017 Korean drama While You Were Sleeping will always have a special place in his heart (and ours!). The bouncy and lovable Welsh Corgi, who kept the actor's character Officer Han Woo-tak company, stole the show with a playfulness and a smile that's too cute to handle! Everyone is so moved by their pairing that they even had their own photoshoot together.
BLACKPINK Jisoo's Dalgom
Meanwhile, Jisoo is a proud dog mom to her little white maltese named Dalgom. Born on a spring day in May, the royal pup literally lives an extravagant life. Apart from being BFFs with fellow BLACKPINK pet Kuma, owned by Jennie, Dalgom also owns luxury items like a pink and cream Dior bag as well as a patterned Burberry collar. Talk about spoiling your furry friend!
But frills aside, Dalgom is most content being chill and laidback by Jisoo's side. Often, they're spotted all cuddly on the BLACKPINK member's social media—now we're green with envy!
For your dose of happy pills, find more photos of Robin and Dalgom with Hae-in and Jisoo themselves in the gallery below. It's guaranteed to add sunshine to your day, trust us!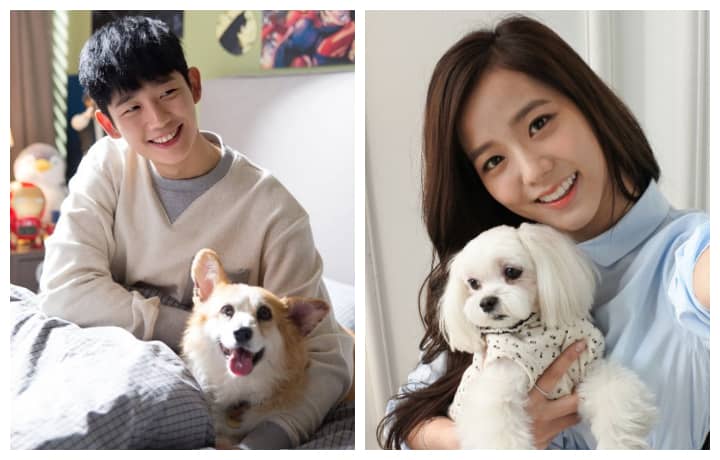 HaeSoo As Pawrents
HaeSoo As Pawrents
Banner and Thumb Images by @holyhaein