Step Inside A Café Whose Peaks And Curves Are All About Its Owners' Female Energy
The restaurant just got bigger with a divine white extension where you can watch their bakers make pastries all day
The original space of Half Saints - a restaurant that's a stone's throw away from the ABS-CBN tower - was 75 square meters big and can seat 35 people comfortably. Its founders Christine Roque and Jo Arciaga worked closely with architect Arts Serrano of One/Zero Design to somehow bring to life their story through this space.
"We wanted a space that would symbolize our femininity - there are peaks, there are curvatures. At the same time it looks soft and delicate. It's complex and represents our journey," says Roque. The restaurant's most arresting feature is the geometric ceiling installation made of 1000 linear meters of rope. It occupies the whole ceiling and trails to the end of the restaurant to a view of the busy kitchen.
It's a tall order for any architect to be able to succinctly translate one's story into an actual space, and Serrano's approach is comprehensive and holistic. "Our process when we design spaces is we try to establish a specific language that a space would speak. So when we developed the Half Saints restaurant, we started with the ceiling installation," Serrano explains. "Christine and Jo see themselves as rough around the edges with a strong, independent woman energy. But they can also be gentle, warm and welcoming when they relate to the community they want to serve. That duality showing this sharp side of their personality and that very slender and curved side is translated into the ceiling installation."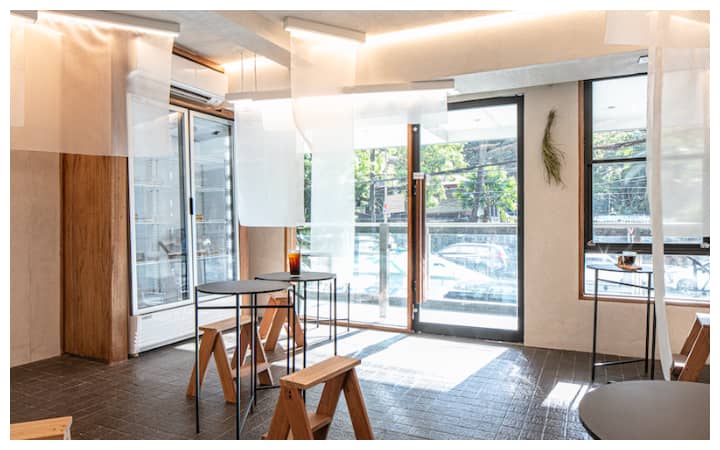 Inside Half Saints Café
Inside Half Saints Café
The geometry of the ceiling installation informed the look of the furniture which Serrano designed. He used rebar as legs for the tables and sourced local wood with minimal surface treatment to highlight that humble but quality materials can evoke the values of its owners.
Pre-pandemic, Half Saints had a full house every night and it came to the point you had to make reservations a month in advance to get a table. The thought of expanding into more branches across the metro was always on their mind, but the pandemic showed them a different growth strategy. "When the pandemic hit, we had to go back to R&D and we had to experiment. We noticed that people wanted pastries more. People wanted to order our brioche which was part of our Eggs Benedict," Roque recalls. "It sounds ludicrous to invest millions and expand in the middle of a pandemic. However I think there were a lot of little successes that led us to make that decision and to commit."
Acquiring the space next to the restaurant earlier this year, Roque and Arciaga called on architect Serrano once again to design a bakery expansion to Half Saints. Serrano says, "When they approached us in February we got really excited because the whole idea of designing a space that reacts to the different parameters that the pandemic imposes is an interesting challenge to answer to. So when we were designing the bakery, we wanted to create the same energy but not the same thing. We wanted it to be a nod to the other half but be able to stand on its own."
The bakery is a bright and dreamy space with an open kitchen and a bar area where customers can watch the bakers. This space is also not without a ceiling installation. "In the same way we created the ceiling installation using ropes for the [restaurant], we looked at the different parts of the ingredients and baking process and thought of a material that could represent the bakery as a space," Serrano explains. White organdy silk hang from the lighting fixtures which reminds Serrano of dough that's been rolled out so thin it becomes translucent. "It ended up looking very light. We found it very interesting that it sways with how the air flows within the space. It is a collaboration between us as architects, them as bakers, and we worked also with a local fashion designer JJ Aquino of Vilquin."
One of the windows in the corner of the bakery can double up as a takeout counter in case dine-in gets restricted again in the future. The spacious bar with a marble countertop sits on caster wheels and can be moved into the dining area if the bakers need more space or into the kitchen area if there are more customers dining in. The small tables on the bar can be tucked away when not in use. AA Step Stools from Ishinomaki Laboratory made locally by Lamana act as chairs and can neatly nestle into each other into a bench when in storage.
"Ishinomaki Lab and Half Saints have a lot in common in terms of how they see the power of local community and involving the community in developing furniture or developing food. We found it powerful when Ishinomaki Lab founder Keiji Ashizawa involved the local community here to build furniture instead of having the pieces imported from Japan. In the same way how Half Saints involves a lot of people in their own immediate community. That parallel is very important and should speak a lot about how Filipinos should look at design and look at our own ability to create for ourselves," says Serrano.
Half Saints is known for sourcing small food producers from around the country. Their Chicharron Terriyaki uses chicharron Camiling from Tarlac (Roque's hometown). The Merci Buko Cream Puff (an oversized choux au craquelin filled with young coconut meat) uses coconut from a street vendor that passes by the restaurant daily, and its pili nuts from Albay, Bicol. Roque reminisces, "At the time when we were building the restaurant, a number of international franchises were coming in and we felt a little bit rebellious. We thought, 'Why can't Filipino brands be appreciated and given a platform?'"
Photographs by Jar Concengco