This South Korean Studio That Offers DIY Ceramicware Classes Is Now In Manila!
Calm your mind and let your creativity run wild as you hand-sculpt your very own dainty ceramicware at MWM Manila
The act of using your hands to discover a new material for the first time, activating your creativity to come up with colors and patterns and shapes, and putting all of that together to create something new and beautiful out of what started out as a slab of earth—this is the transformative therapy of ceramics.
In these times, art therapy has become more than welcome to give both kids and adults a creative outlet that can to transform negative emotions into more positive ones. This was also recently studied by Hong Kong-based art psychotherapist Joshua K.M. Nan, who found that clay art therapy can help people with major depressive disorders by improving their mood, decision-making, and motivation.
"The experience of witnessing how clay transcends into a beautifully glazed ceramic art piece after firing is parallel to the transformative process of discovering an artist's identity after carrying a stigma of mental illness," says Nan.
This transformative experience of giving birth to something beautiful and practical inspired Sunshine Arcilla to bring South Korean ceramics studio Mess We Made (MWM) to Westgate Center, Alabang, to share this healing beauty of hand-sculpted ceramics to more people.
Mess We Made
MWM Manila is a franchise of MWM Seoul, a ceramics workshop and café in South Korea.
Sunshine shares that she has always been fond of ceramics, and she would make sure to take home a ceramic item or two from her trips. Among her many travel destinations, South Korea has always been closest to her heart, which, eventually, led her to the MWM Seoul studio.
"During one of my trips, I found MWM Seoul and booked for a special class with the studio owner. Since then, at every succeeding trip to Korea, I made sure to visit and book a class with MWM Seoul. Eventually, I got to befriend the owner of the studio there," shares Sunshine. "My decision to bring MWM here to Manila was from my then long-overdue yearning to get out of the busy life of corporate and do something that I love more."
If you browse through the website and Instagram page of MWM Seoul, you'll notice that Sunshine was really able to recreate the vibe of the ceramics and the studio at MWM Manila. And in these times of pandemic, where we can only dream about traveling abroad, having a piece of South Korea closer to home has given Sunshine and the growing patrons of MWM Manila a piece of South Korean heaven that we miss and love.
Ceramic classes
The ceramics classes at MWM Manila is open to all ages, both beginners and ceramic enthusiasts. What's great about hand-sculpted ceramic classes is that it's beginner-friendly and doesn't use a pottery wheel, which can take a bit of time to get used to. In fact, Sunshine says it's easy enough for kids to understand, since her own children—ages 8, 5, and 3—have all made plates of their own.
MWM Manila teaches a variety of techniques so students can experiment and discover what works best for then. "The most popular one is the marbling technique, [called Yeonrimun in Korea]. We also have the camouflage, confetti, drawing, paintbrush, gradient technique, and a whole lot more," says Sunshine. "We ask our students what they have in mind and we try to help them translate it into making pretty and functional dishes."
A class at MWM Manila takes around 2 hours, where the student will be able to make a plate, bowl, and saucer. The class also includes drinks and light snacks from Southbank Café + Lounge, which is also owned by Sunshine.
Since the wares will still have to be baked in a kiln, it takes 3-4 weeks for the items to be ready. Once they are done, they can be picked up at the café or delivered to the student for a fee.
Pandemic safety
Even before the pandemic, Sunshine says she has been a huge advocate of personal hygiene, cleanliness, and sanitation. At the MWM Manila studio, they make sure to use Hygiene Pro to mist over all surfaces and tools, which works by creating a protective layer that kills viruses and protects against viruses and bacteria for up to 30 days. On top of this, they also make sure to disinfect before and after every class.
For the safety of everyone, a maximum of 4 students will be accommodated per class. There are air purifiers installed throughout the workshop, and proper ventilation.
Despite launching in pandemic time, Sunshine is beyond grateful for the support and response of people to MWM Manila. Although they encountered challenges when it came to importing the raw materials and equipment they needed for the studio from South Korea, all the effort was worth it in the end since classes are now being booked so fast and their items for sale are selling out quick.
Ceramic Shop
If you're just browsing around for unique marbled ceramics, MWM Manila also has a beautiful collection of already made wares, all unique and one of a kind. Each piece comes with all the charming imperfections from the manual crafting and natural effects of the kiln, which says a lot about letting go of our constant obsession about perfection.
The aesthetics of MWM ceramics is very unique and dainty, the pastel colors and the imperfection of the shapes a fresh approach to the cookie-cutter commercial ceramics that we're used to. Sunshine believes that every ceramicware that comes out of MWM Manila is an expression of the feelings and personality of the maker, which makes each piece truly a work of art.
Check out the gallery below for some marbled ceramic ware inspirations from MWM Manila.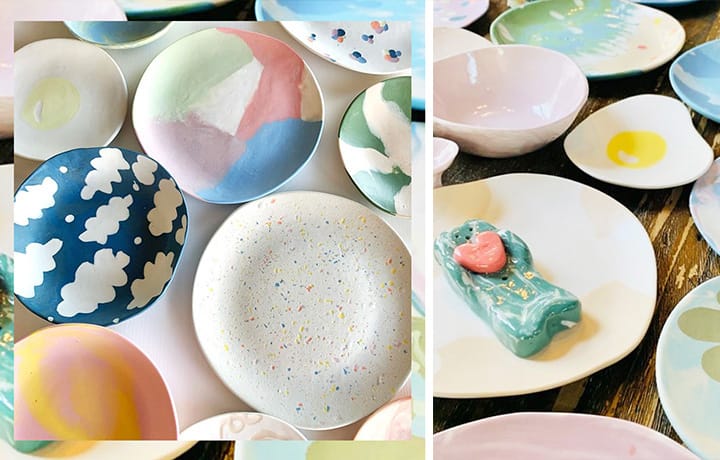 Photo Gallery
Photo Gallery