House Of Fun Offers A Carefree And Tongue-In-Cheek Way Of Furnishing Your Home
Rita Nazareno and Gabby Lichauco lead a contingent that advocates design synergy and a sense of community through this pop-up
House of Fun is on its second and last week with a trove of new items to showcase. Located at the 5th floor of the Joya South Tower at Rockwell (not to be confused with The Fifth at Rockwell), designers Rita Nazarano, Creative Director of Zacarias 1925, Gabby Lichauco, Founder of Open Studio and Tisha de Borja-Samson, Creative Director of E. Murio, have crashed in on what is halohalo's office and showroom creating an undeniable synergy.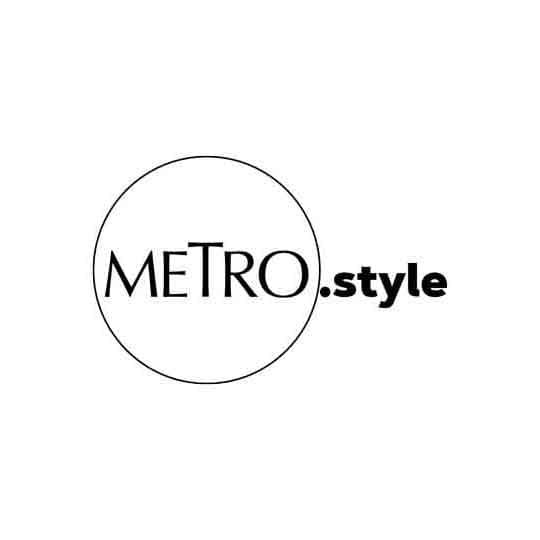 Gabby Lichauco, Rita Nazareno, Rocco Sumabat, Cara Sumabat- Limjap | Jar Concengco
The group's chemistry is felt through the pieces that their showcasing and also illustrate a carefree and tongue-in-cheek way of furnishing your home. halohalo co-founder Rocco Sumabat recalls how they met Nazareno and Lichauco, "We were together for a while at Maison&Objet 2019 and Rita just said to me it was easy for all of us to get along. The spirit of all of us together was just fun. The location of the event was about an hour away from the city center of Paris so we shared long Uber rides together. We wanted to do popups the year after and then the pandemic happened."
Nazareno chimes in, "Especially since Gabby and I were kind of leading that contingent, we really wanted to make sure that it wasn't like how it used to be where everyone had their own space and their own thing going on. We wanted to be very communal and very really helpful to each other and generous. That's how we want this new generation, this new design community to be - to have fun and to share and be a part of each other. There's room for everyone. That's how it should be!"
The Maya Stand birdhouse designed by Gabby Lichauco which exhibited at the Emerge @ Find Design Fair held earlier this year at Singapore stands at the center. The never before exhibited Nazareno/Lichauco collection from the cancelled Salone de Mobile back in 2020 is also on display such as the black and white blocks with details of a column carved out on one corner. A quick look around the House of Fun and you'll have your interest piqued at the quirky and contemporary takes of traditional craft.
Rocco's sibling and halohalo co-founder Cara Sumabat-Limjap is credited for naming this space House of Fun. "When people mention a home collection, it just brings me back to super pandemic days when everyone was doing home. I wanted to remove that stigma in that sense that you don't have to remember those days when we were forced to stay home. We wanted to make it sound like it's fun to be at home if you're home has these things. So that's the whole spirit of it."
A teal coffee table with a salagubang carved in wood hanging from the side, or an abaca rug with a baseball stitch design, and even a sculpture of a sewing machine made in bright yellow wicker all have something in common: different references to the craft of stitching.This became the theme for Nazareno and Lichauco's collection called Stitch. "Basically Stitch is the different iterations and forms of the craft. Whether it is the sashiko stitch, or the peklat stitch, the baseball virgule stitch. We wanted to bring it all here together - the historical importance or gender significance, and the different tools we use in stitching." Nazareno explains. "We were looking at female dada artists specifically who worked on textile and we wanted to kind of acknowledge the fact that women artists during the dada period were not as acknowledged because they were women. Because stitch, sewing and embroidery was this "female craft", domestic whatever. That's why we used subversive stitching. Subversive because they have these charged sentiments in cross stitching like Ugh wait lang or The Future Is Female."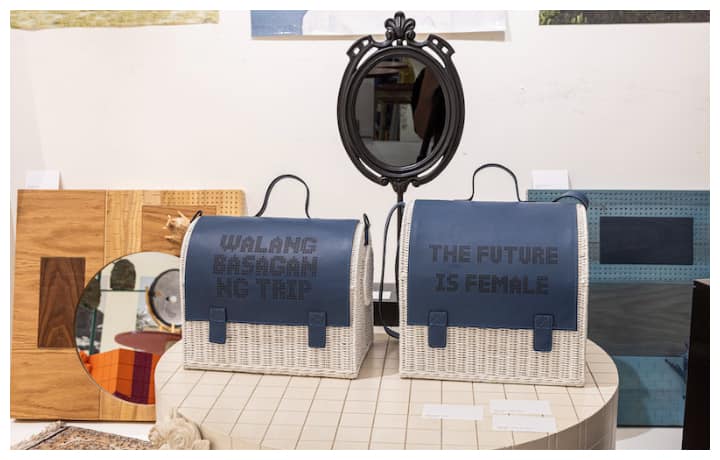 Photo Gallery
Photo Gallery
Illustrating fun altogether is the Happy Ping Pong table by E. Murio which Lichauco says de Borja-Samson built originally for her kids during the pandemic. Lichauco lauds de Borja- Samson's contribution to the design process, "She's an architect by craft. So she has that functional but very analog way. She's more concerned with construction. She always thinks about how something works? That's why we like working with her."
halohalo's furniture comes in their fun curves and signature banig textiles and blend quite well with the other pieces. They not only share the same design language but they also share the same values. Cara says of Nazareno and Lichauco, "It's easy working together because it doesn't feel like we are competing with each other. It's more like we could ask each other anything that we couldn't ask others and they understand where you are coming from."
Maybe halohalo's Cara is right. Your home may be more fun with a piece, two or three from the House of Fun. A colorful wicker lamp in an organic form that Nazareno is known for can definitely make staying at home (or coming home to) a lot more bright. "It's less now about what other countries expect of us - ethnic and tribal. It's really now about this contemporary thrust. It's contemporary craft."
Visit House of Fun at The Joya, Rockwell, 5th Floor through October 29.
Photographs by Jar Concengco