IKEA Makes The Gaming Experience A Level Playing Field
Known to be the purveyor of affordable style, the mass-produced Swedish furniture and home accessories brand responds to the gaming community's needs
Tried and tested purveyor of democratized style, IKEA, is now setting its sights on the gaming demographic, one that boasts of a 2.5 billion population worldwide . Released in China this month, in Japan in May 2021, and worldwide in October 2021 is its line of furniture designed in partnership with ASUS Republic of Gamers.
Gaming is not just a source of relief or diversion. For many, it is also a career, making the rapidly growing gaming market an attractive one for the Swedish furniture brand.
The result is a functional, ergonomic and stylish product line that combines the best of both worlds: ASUS ROG's gaming expertise and IKEA's command of affordable and fashionable furniture.
"The needs of billions of gamers around the globe are very diverse, whereas the existing offer is rather technical and often perceived as masculine design-wise, despite around 46 per cent of gamers being female," says Ewa Rychert, global business leader of workspace at IKEA.
"We believe there's a lot to be done to democratize the gaming experience," she continued. "Now we take the first step on our gaming journey and we do it by presenting affordable, high-performing gaming products and complete solutions that we hope reflect people's personality and taste," Rychert concludes.
At friendly price points, the suite comprises of four desks, matching chairs and desk accessories. Soft goods such as pillows and blankets are also included in the 30-piece collection.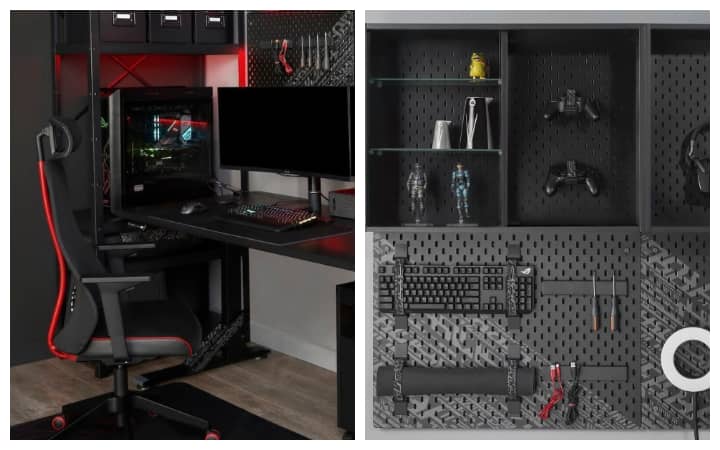 Photo Gallery
Photo Gallery
Visit IKEA for more information.