This IKEA x Marimekko Collaboration Will Turn Your Rooms Into A Spa Experience
Inspired by the rituals of sauna, the Bastua Collection, IKEA and Marimekko's first collaboration, inspires joy, self-care and wellness
When two Scandinavian design icons come together in a special collaboration, you know you're in for a treat! In a match made in homeware heaven, IKEA and Marimekko have finally come up with a collection that will be gracing homes come March.
Metro.Style was treated to the line's Asian media launch by IKEA Philippines yesterday, February 21, in Tokyo, where we met with IKEA of Sweden's creative leader, Henrik Most and Marimekko's creative leader, Rebekka Bay.
"It was just the right opportunity and the right time. This is a topic we have a lot of passion for, and it felt that this is it. This is now," Most shared, when asked what took the collaboration so long.
Certainly, design fans have been anticipating what feels like a natural pairing, for a long time. "I think that what Henrik is saying, the time, the people, the opportunity, it felt like this was a very natural moment to bring the two brands together," Bay agreed.
Inspired by the rituals of sauna, the collection is focused on wellness and self-care. It's all about taking the time to give oneself that extra few minutes or hours in a day, whatever it takes, to get centered and capture a feeling of joy.
"It's more concerned with the idea of creating wellness for one's self. It's [not just] about the sauna experience, but it can also be a bath experience or going to the bath so I think this is equally relevant in all sorts of climates," Bay reveals.
For the Philippine market and climate, Most highlights the vision behind the collection with this reminder, "From the beginning, we discussed not just about you needed to have a sauna to enjoy the products. It's about self-care rituals, and that goes beyond if you live in a tropical climate or you live in, as we do in Scandinavia, with very straight four seasons. So hopefully the products that you see around are versatile enough to be used even if you have a very humid and warm climate like the Philippines."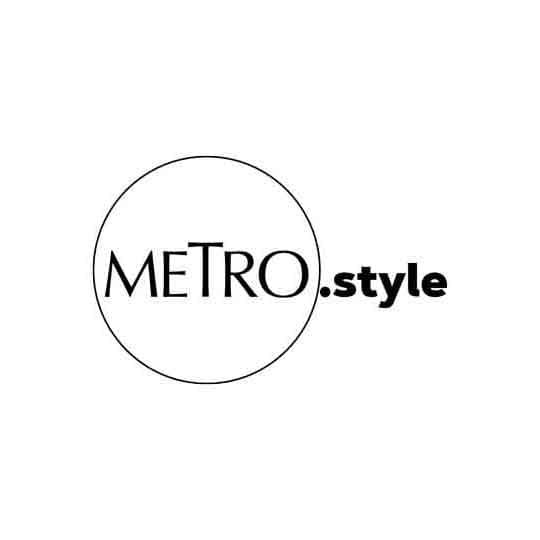 Bastua Sauna Bucket | IKEA
With Marimekko's expertise in surface design, an iconic print anchors the collection. In a surprising twist during the collection's design process, the humble rhubarb (known as a hardy perennial plant with thick green leaves and fleshy pink stalks), particularly its large fronds, is thrust front and center as the hero print. "One of our designers shared this insight that the rhubarb plant very often grows along the walls of the sauna. It then became the rhubarb print," Most stated.
Designed during the lockdown, it is perfect that the collection emphasizes self-care and wellness.
"Because of the topic (we were doing a collection that was to be launched during the springtime), and so much linked to the outdoors. Sitting at home, it was a bit of a funny experience where it was almost an escapist moment where you can kind of dream about being outside. If fueled the creativity in a way. You can actually say that being at home, despite being in a locked down situation, you actually see your imagination as a friend. That's the most important tool you have and I felt that situation triggered some energy… You have the bag, relaxing in the sauna, and then we talked about doing the tray. One idea gave birth to another product. [The prodcucts] start living [their] own life." Most shared.
In the gallery below, see a preview of this collection: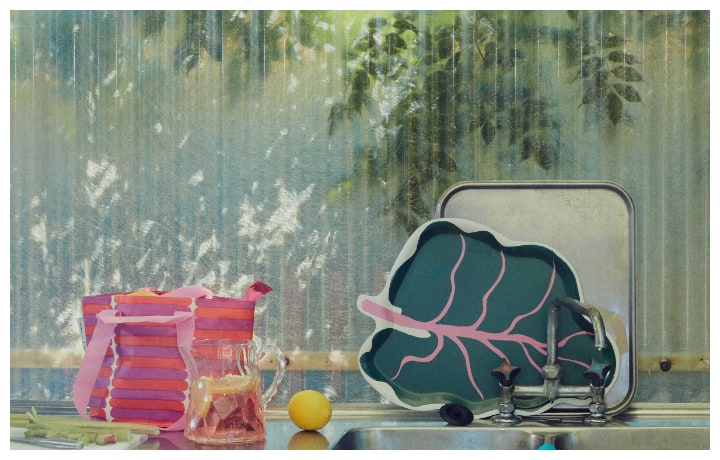 Photo Gallery
Photo Gallery
Whether or not one likes the sauna, one thing is certain: self-care and its rituals are essential. With the power of happy prints by Marimekko and IKEA's democratic design, characterized by clean lines, simple construction and a focus on function, the Bastua collection will be enjoyed well beyond the bathroom, and into any living space.