Inside The Art Caravan, A Creative Space Where Art Is For Everyone
Offering a wide range of products, this store is also where you can tap into your artistic side in a safe place where you are free to create
During the height of the pandemic, many sought emotional refuge in hobbies. There was a sudden surge in interest for baking, plant-tending and even art. They look back at those times fondly, as hobbyists turned serious about pursuing what they once dreamed of having the time to do. The creative process is indeed a healing one, and through this, a lot of people learned to cope. Art Caravan's founders took notice of these aspiring artists, supplying them with art materials: paints, canvases and sketch sheets. Initially, their members were made up of family and close friends, but soon enough, it grew to include everyone they were able to reach through their Viber group, a venue that became a safe space for sharing the members' finished artworks. This inspired the concept behind the Art Caravan.
What was born then is now a physical space that nurtures the artist's desire to create. Principles of architecture dictate that certain elements, such as balance, rhythm, scale, proportion and line make an aesthetic space that is inspiring to behold.
For Art Caravan, the space, the founders enlisted interior designer Cecil Ravelas to realize their vision. "We wanted to build a cozy space that would make everyone feel at home. When you walk into ART CARAVAN it's like someone's giving you a hug. It's warm, engaging, and friendly. It was also important for us that our visitors are welcomed into a feel good kind of space that makes them smile when they walk in."
The brightly lit 128-square-meter space was designed to convey just that. Instead of utilizing the usual shelves and racks, custom alcoves were built to showcase a wide range of premium, hard-to-find art supplies. They were built not only for display, but clever storage of high quality inventory as well. Island display tables at the center feature sculptural details that ring in a sense of flow and movement.
Empty tubes painted in white hang overhead like grand chandeliers. They follow a wave-like pattern, enticing visitors to walk towards the back where the creative workshop area lies. Cecil explains: "The paint tubes are like notes to music. You can create different movements and music. Everyone can express themselves differently so I think each of us can have a paint tube and produce beautiful works…That's what this space is all about." The installation overhead is regarded as the piece de resistance that mirrors ART CARAVAN's ethos for bringing the art experience to everyone. Francis explains, "We'd like to be the Starbucks for artists where there is space for everyone to meet up, connect, create art, share ideas. It's a safe space and everyone is welcome to linger for free."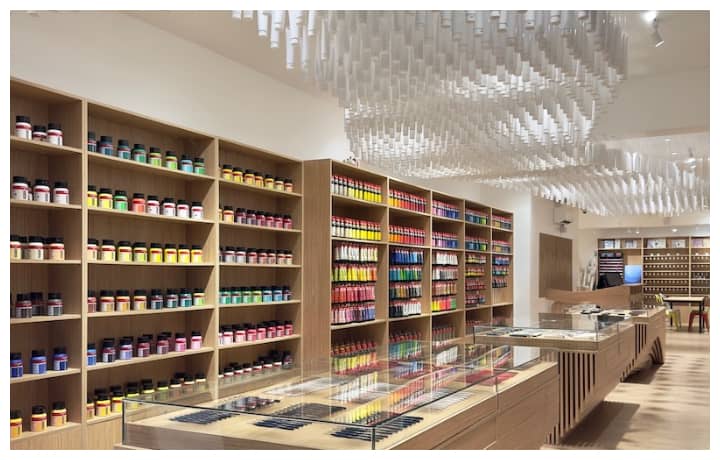 Photo Gallery
Photo Gallery
The Art Caravan is a venue for those who are interested to indulge his or her creativity. "We don't charge for use of our space. Guests can even bring their own materials and are not required to buy from the store," clarifies Francis. The Philippine Guild of Watercolorists and the Philippine Pastel Association were among the first groups of artists who have experienced using the space.
Most guests have also enjoyed the pleasure of shopping and browsing through ART CARAVAN's impressive selection of quality art supplies. That they are showcased like artworks themselves immediately elevates the entire shopping experience. The product range includes paints, pastels, papers, canvases, just to name a few. Curating of products and brands, says Francis, are informed by one guiding principle: archival quality.
The synergistic movement between the online and physical platforms of the Art Caravan allows the community to grow, fostering meaningful connections, which was part of the founders' vision from the very start.
"From the get go, the goal has always been to bind the community. To get everyone–hobbyists, enthusiasts, and artists–together through a platform or space that upholds and uplifts," Francis reveals.
Beyond the walls of this studio cum art supply store and its online communities, the Art Caravan offers the healing experience of art through various initiatives. "We believe in giving back in our small little way by supporting initiatives on sustainability, tree planting, feeding, and women's empowerment. Every step–big or small–is a start," continues Lim.
Visit the Art Caravan at the 2nd Floor, The Forum, 7th Avenue, Federacion Drive, Bonificatio Global City, Taguig. Follow on IG @artcaravan.ph.