Single Or Attached, Creating A Space For Self-Love Is Always A Good Idea
This Valentine's Day, splurge on sprucing up your home and establishing self-love rituals for yourself
Who says Valentine's Day is just for couples? Valentine's Day is all about celebrating love—and never ever forget the most important kind of love above all, which is love for yourself. As they say, you won't have enough love to share with the world if you don't have enough for yourself.
This is why this coming Valentine's Day, we're encouraging all our single ladies and gents to not dread what many call the annual couples' holiday. Instead, set that day aside for yourself to relax and unwind from the stresses of everyday life, and recharge so you're ready to conquer the next days with more passion and strength and energy.
In fact, we encourage you to go all out! This time, create a space for yourself at home and establish good routines so you can let all the negativity go and invite all the positive vibes to come in. Let's call it our Self-Love Rituals.
Know that your own Self-Love Rituals are unique. What makes you happy and loved may be different from the next person, so feel free to tailor-fit each ritual to your needs and preferences. Let this be a guide and a motivation for you to invest in your self and what makes you happy—because at the end of the day, no one can love you more and take care of you better than yourself.
Create a no-gadget zone
For those who have enough space in their home, create an area where you can disconnect fully from technology and just connect with your inner needs. Sometimes, it's nice to go back to our roots and escape from that constant need to check our phones and respond to notifications.
When creating your no-gadget zone, think of plants that grounds you and bring you back to nature. You can also put a couch or a comfortable chair, or maybe a comfortable blanket or yoga mat if you'd like to stay on the floor. This is where you can do things that make you happy—read a book, write on your journal, crochet or knit, draw or paint, have a cup of coffee or tea. Literally anything that you'd like to do that doesn't need you to be connected to the internet. By creating a no-gadget zone, you'll finally have a space where your mind can truly be free from the expectations of social media, the troubling news from the TV, or the stresses of the daily grind.
Get some good sheets
Some people like to lounge on their bed to read a book, watch a movie, or binge a Netflix series. If you're the kind of person who goes to bed early and stays in bed long into the morning, then might as well get some comfortable sheets for that extra luxe feeling.
Remember that hotel feeling of waking up to extra soft sheets and not wanting to crawl out of it for days? Since travel and staycation is still limited, bring that morning hotel vibe to your home instead.
Don't forget, good mornings and evenings are not just about expensive sheets—they're also about clean sheets. So make sure to wash and change your sheets at least once every week or two weeks.
Mind the lighting
Lighting can do so much in setting the mood and atmosphere of any space. Did you notice that most hotel rooms have tons of small warm lights? This mood lighting is great in creating that relaxing vibe. To mimic that in your home, create a separate light environment for the day time or when you need to work, and another one for when you're ready to relax or head to bed.
For day time, make sure to let in tons of sunlight and air to energize yourself and stimulate your serotonin levels. Mirrors are great at reflecting light to make a space feel bigger and brighter. If possible, get huge windows that allow plenty of sunlight to enter.
For night time, invest in small lamps that you can put in your bedside table or lounge area. You can also get dimmable lights that you can change from bright to warm so you can customize the lighting that you need and set the mood during the night.
Add soft textures
Marble and wood are beautiful elements in any home, but soft textures stimulate the senses and create that feeling of luxury. That's why it's so nice to feel soft carpet beneath your feet and rub your hands over velvety throw pillows on your couch. You can also add throw blankets on the couch for that extra warmth and luxe.
Add elemental touches
If we think about it, our very nature is to be connected to the elements—and that is fire, water, earth, and air. You can create a space that feels nice and feels yours when you add these elemental touches to your home.
For fire, light up some scented candles to add warmth and a layer of fragrance to the air.
For water, you can try adding a small aquarium or a hydroponic plant on your table.
For earth, gem stones are always nice to have as décor and as a way to attract the right vibrations that you need in your life. You can also always surround yourself with plants.
For air, you can incorporate some feathers into your décor like a knitted dreamcatcher or hanging macrame. Saging or smudging is also great to clear and purify your space.
Embrace what makes you happy
Ultimately, your space depends on what makes you happy. If dried flowers and plants make you happy, then go for it. If you like collecting toys and figures, then don't let people stop you from enjoying that. If minimalist aesthetics is what you want, then never mind the décor and just keep it simple.
The freedom to be happy and to feel at home rests largely on your own mindset. It's about pursuing what is 100% you and finding satisfaction with what you have and what you have done.
As Minimalism.co said: "Create space by doing what you want so long as you do no harm. Take the complexity out of ethical issues by granting yourself freedom to live by your own rules — so long as they don't impede on anyone else. This can apply to your time management, the things you like doing, or even how you choose to communicate. When you are constantly trying to keep up with the rules and expectations of other people, you will never be able to keep up."
Check out our gallery below for our curated picks that can help you build your Self-Love Ritual and space.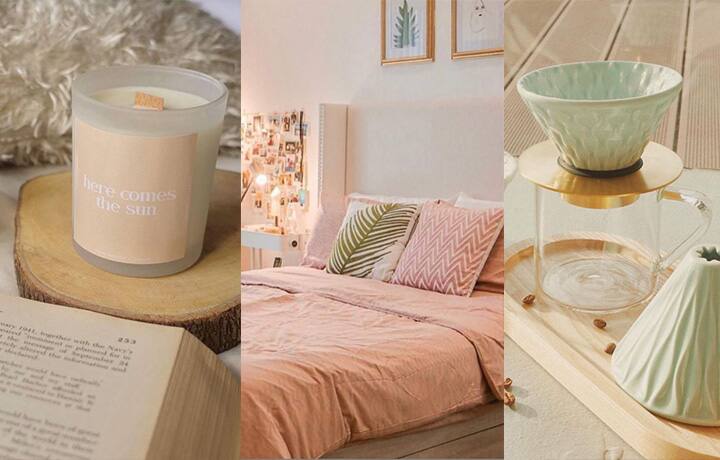 Photo Gallery
Photo Gallery
Take the complexity out of ethical issues by granting yourself freedom to live by your own rules — so long as they don't impede on anyone else.