10 Filipino Creatives Lend Their Flair To The Japanese-Designed Ishinomaki Stool For A Good Cause
Sales will benefit the Masungi Georeserve
To honor the 10 years of Ishinomaki Laboratory, its local partner, Lamana, has collaborated with ten notable Filipino creatives to embellish a locally-made Ishinomaki Stool. The sale proceeds of these one-of-a-kind versions of the Ishinomaki Stool will benefit the conservation efforts of Masungi Georeserve. As the Ishinomaki Lab brand was borne out of a natural disaster, it is meaningful to support an organization that protects nature.
About the Ishinomaki Stool
The Ishinomaki Stool is one of the first products ever made by Ishinomaki Laboratory. Designed by award-winning architect, Keiji Ashizawa (who has also collaborated with other notable brands such as MUJI, Karimoku and Norm Architects), it was made to attend to the need of displaced residents of Ishinomaki, Japan living in temporary housing after the devastating 2011 Tohoku earthquake and tsunami. A stool so iconic and symbolic that it has been welcomed into the permanent collection of the V&A Museum in 2015. It is made and offered locally in the Philippines by Lamana through Ishinomaki Laboratory's initiative called Made in Local.
See how ten Filipino creatives worked with the Ishinomaki Stool, giving it their special spin: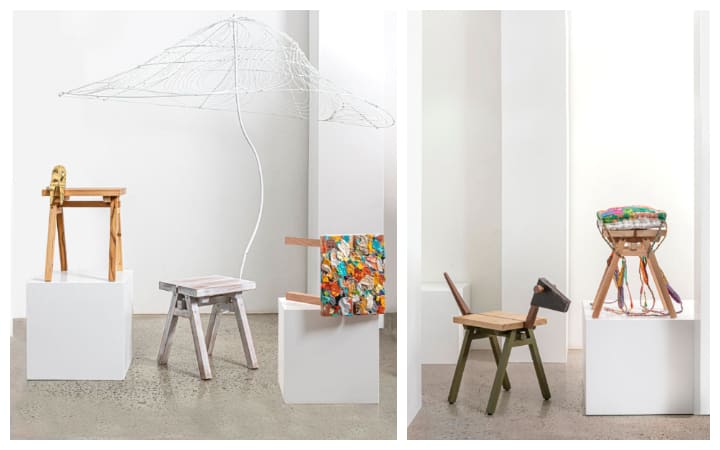 10 Creative Riffs On The Ishinomaki Stool
10 Creative Riffs On The Ishinomaki Stool
Bid on these one-of-a-kind beauties on November 27 at 2:00pm (live and online). To register as a bidder or view the pieces please contact Salcedo Auctions at info@salcedoauctions.com or 09171075581. Please send Lamana a message for a special access as an online bidder for these particular pieces.
This auction is co-presented by Bid for the Future (BFF), a social enterprise under Salcedo Auctions that harnesses the power of art to solve global challenges.
No portion of the sale proceeds from this project will go towards Lamana.
Photographs by Jar Concengco