These Exhibits Incorporated Pieces From Furniture-Maker Ishinomaki Lab x Lamana PH
You have until October 18 to catch "Cycles" and "A Topology of Everyday Constellations"
After a devastating tsunami in March 2011, Ishinomaki Laboratory was founded. It began as a workshop for locals from its namesake town, Ishinomaki in Japan, creating DIY furniture pieces for residents affected by the disaster and renovating and restoring local shops. Since then, it has expanded its reach to neighboring countries and towns—Singapore, Hong Kong, Manila—and even going further west: New York, London, Zurich, Lausanne.
With Ishinomaki Laboratory's desire to empower local communities, Made in Local was created. In this initiative, local craftsmen in Manila will manufacture their designs. Purchases made in the Philippines hope to empower local communities, and pieces manufactured locally use unfinished larch and teak for wooden products.
On September 26, two exhibits opened simultaneously at Space Encounters Gallery in Ortigas, in cooperation with Lamana: one featuring the works of Itsy Macasaet-Dazo, and another featuring the pieces of Jem Magbanua. Both artists have ties to Japan—Jem spent her residency in Japan, which influenced her identity as an artist, and Itsy's show, "Cycles," was influenced by cremation ceremonies that affected her deeply, making her realize that beauty can be found even in death, the very ethos of Ishinomaki Laboratory's pieces.
In "Cycles," Itsy reflects on the concepts of mortality, malady, and redemption. "For this particular series, I looked back on a few cremation ceremonies that affected me deeply," she shares. "In the process of coming to terms with the experiences, I was reminded once again that life will always be beautiful." The paradox of life and death—and their perpetual cycle—is examined in each of Itsy 's mesmerizing works.
Jem does something quite similar. In "A Topology of Everyday Constellations," she explores time, temporality, and transformation as she juxtaposes images of domestic life with natural and urban vignettes. "In pursuit of exploring space and how to depict it, I looked to the way furniture and architecture serve as representations of people and states of mind," she says.
Go through the gallery to see how these pieces by Ishinomaki Laboratory complemented the art created by Jem and Itsy.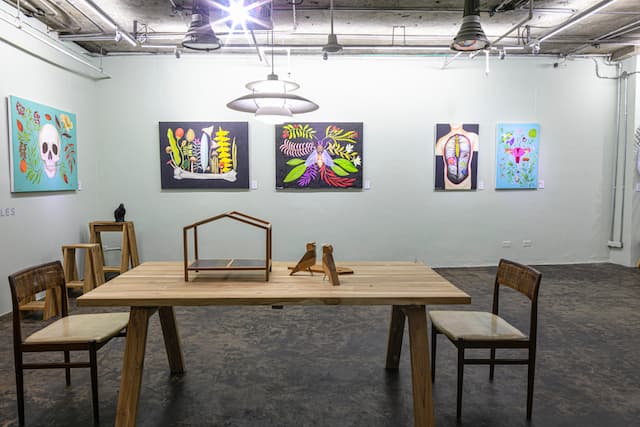 SWIPE LEFT OR RIGHT
TO NAVIGATE BETWEEN PAGES
"Cycles" and "A Topology of Everyday Constellations" will be on view until October 18 at Space Encounters Gallery, located at Unit 7D, 7/F Padilla Building, F. Ortigas Jr. Road, Ortigas Center, Pasig City.