Architect Keiji Ashizawa's First PH Project Is A Hidden Beverage Spot In Makati
The acclaimed Japanese architect highlights height and lighting to make up for the footprint that's on the small side at 24 sq m
Inside a 24 square meter curvilinear space in Makati, lies the very first project designed by world-renowned Tokyo-based architect Keiji Ashizawa. Believing he would execute their vision in the most authentic way, co-founders of beverage space ITO, Niko Tiutan and Alex Atienza, enlisted his expertise to create something out of the sliver of space on the ground floor of 107 Aguirre.
"We really wanted someone who can work with small spaces. We've been following his work for such a long time. Apparently, our friend Dan [Matutina, co-founder of Plus63] knew him so he introduced us to Keiji-san," Atienza said.
"Honestly, we thought he would be super intimidating especially with him being such a well-known architect with such amazing work. But he's one of the nicest people we've ever met," chimes in Tiutan. "I think it's the space and the unique layout that caught Keiji-san's attention. It ties in too with how one of his first projects was a bar of this size. I feel like there's also a tie with food and beverage plus his past work being beverage related especially his first one - I believe it was called Bar Orange which still stands the test of time until now. I think we synergized a lot with Keiji-san. When he first gave the pitch for the design and the color scheme for it, it was almost how Alex envisioned it at first. So we felt like this was really a great match."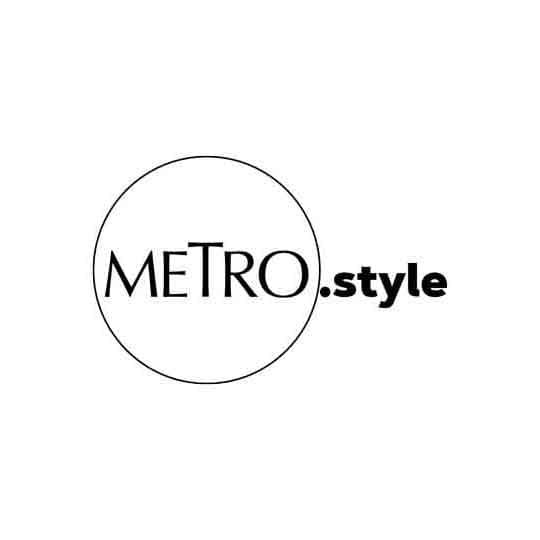 Niko Tiutan and Alex Atienza, owners of Ito enlisted acclaimed Japanese architect, Keiji Ashizawa to design their 24 sq. m. Makati space. | Jar Concengco
ITO is hidden behind a heavy door of black steel with a copper handle. Upon pulling the door open, a single curved counter made of terrazzo sections the space into two distinct areas - one for making the drinks and one for enjoying them. Seven stationary black stools line the counter keeping the focus on Tiutan shaking up a cocktail or Atienza whisking matcha tea into a heavenly froth.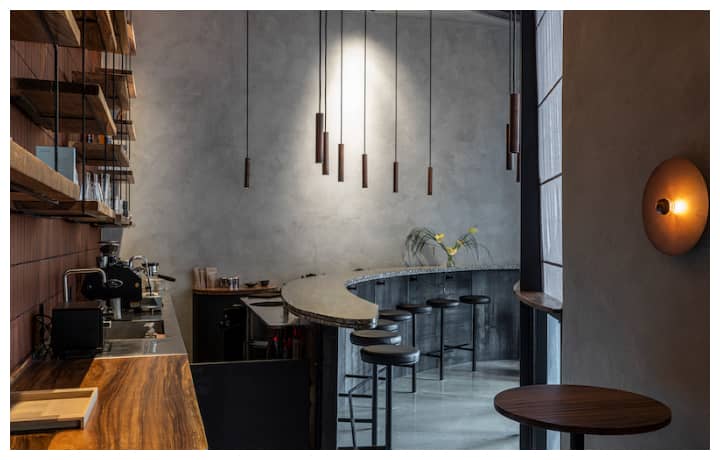 Photo Gallery
Photo Gallery
What the space lacked in width and length, it made up for in height. Ashizawa highlighted this. "It's a really challenging space. So it's a good thing that it has a really high ceiling which makes the space feel not so small. That was really a key element," he says.
Copper pendant lights hang down emphasizing the verticality of the space, while acacia wood shelves line the brick wall all the way to the ceiling. "When I have projects outside of Japan, the important thing is to fit the idea of local. So naturally I wanted to use local material. For example, we used acacia wood for the shelves and the counter material [against the windows]. I researched and found out that The Philippines produces copper so I thought it would be nice to use copper," Ashizawa shares. He designed the small acacia table with a concrete base and stool that Lamana custom made for the space. He also specially hand carried a copper sconce from Japan as an accent to one corner of ITO.
"Keiji-san wanted to work with a lot of local materials. That's why he wanted to use copper. It's such a beautiful material and we love how it will patina over time and age with the space," Atienza adds.
The space behind the bar where Tiutan and Atienza craft their drinks is concise and has to be. "Since the space is very small, we knew how important every single element and aspect was especially with material choices. Everything is tangible, everyone can see and touch everything. That's one of the big reasons why we wanted to work with Keiji-san because his thrust for materials is evident in all of his work. Another thing that we love about Keiji-san is that we knew how particular he was about his lighting and we know how important lighting is in changing and setting the mood. It can be a big distinguishing factor between day and night. We were able to work with people like Studio Ong to help us make every single light adjustable," elaborates Tiutan.
Studio Ong, the local designer and project management team, played a vital role in the project. "It was amazing working with Studio Ong. I feel like they brought Keiji-san's and our ideas to life. I feel like they executed it so well because it's such a small space and we're working with so many different suppliers. The main concern was whether it would fit together, and they managed to put it together properly," Atienza shares.
For the wares, ITO worked with two main local potters: Joey de Castro and Marco Rosario. "We're really big fans of their work. Everything was customized because we specified the measurements for each and the amount of liquid we wanted inside. For us, we like having our hot drinks with less milk. So we wanted those to be a bit smaller so we can get the flavor that we want," explains Atienza.
Guests can sample different types of coffee and tea in their afternoon sessions. For coffee, Tiutan prepares beans such as Tanzania AA beans by Current Roasters from Cebu in 3 different ways: as an espresso shot, one as a latte prepared with oat milk, and one as a bright mocktail with taugtog berries from the Mountain Province. Atienza partners with Shinichiro Ogata's Saboe (responsible for Yakumo Saryo in Tokyo) for tea such as the sobacha or roasted buckwheat tea that she prepares in front of you. For the matcha, she works directly with a farm in Fukoaka called Hoshino Seichaen. Their evening sessions is where guests can taste flights of cocktails paired with small bites.
The space plays an important role in the overall experience. There's an intimacy shared that is enhanced by the way the space is designed and with the materials used. It's not unlike entering a private home. "The core meaning of ITO is the Filipino word for 'this', ito. We have people come to our space and we'd love for them to be here in the moment - to be here with this, the beverage in front of them. We originally designed the space to be very experiential and being in the moment is very crucial to that. On top of that, we love how the word ito exists in different languages. It's just three letters and in some other languages it means this and it can also mean thread in Japanese. We wanted a word that was a bit more neutral that didn't only tie to the Philippines," explains Tiutan.
Reserve a spot at Ito through this link.
Photographs by Jar Concengco