Bring Nature Indoors From An Award-Winning Architect's Bonsai Shop
Architect William Ti opened his new bonsai shop to showcase how these small trees can be sustainably farmed and more
Having a bonsai inside a home is a wonderful sight to behold—a reimagined tree that's smaller in size but isn't less of a spectacle. For Architect William Ti, it's an interesting and exquisite craft, which eventually led to him discovering more about it.
"I was looking for information for myself and there didn't seem to be a really structured or available source of materials and information in Metro Manila," he tells Metro.Style about his initial days of delving into bonsai. The architect then moved on to sourcing Japanese Black Pines, but couldn't find any in the country.
So he took the reins to work on a solution. "Finding where to get these trees and making them available became one of the catalysts for starting Izumi Bonsai," William shares about launching his latest business venture.
"The ability to have nature in your home in the form of a majestic tree is priceless, especially for those homes with children," the architect muses. "Children living in apartments who would never have had that childhood tree could now grow up with one."
Another thing that captured him is the ability of bonsai to densify small gardens, allowing for so much more detail and intensity in what space is available. "Bonsai allow you to stroll through a small garden and spend an entire afternoon there. Each piece is a different tree or scene creating a wide diversity of landscapes in your own backyard," he offers.
With a myriad of species offered in his store, every homeowner looking for the perfect tree to place in their home will find a perfect fit. Some of his favorites among the collections include Shimpaku juniper, a Japanese black pine, a pair of bantigues, and a water jasmine forest. "Together, they allow me to have quite a diverse array of scenes in my home, ranging from mangroves to forests, to alpine and montane settings," he comments.
Apart from making certain types accessible to clients, William's goal is to provide a platform to share how bonsai can be sustainably farmed and grown in nurseries. "I felt like by formalizing and creating the framework for a continuous market we would be able to build a network of nurseries for bonsai in the country," the business owner adds.
With a steady stream of clients inquiring and adopting a bonsai for their homes, the architect looks into further expanding his collections in the coming months. With the store continuously thriving, he wants to remind homeowners of how to look after these precious mini wonders.
While it's easier to maintain a bonsai than what most people would think, it requires careful application. William points out how overwatering is the most common problem of bonsai tenders, so he's quick to remind people to be mindful in giving the plant its daily fill. "Make sure you check the soil before you water," he emphasizes.
For him, he makes sure that all his trees are hand-watered. Furthermore, checking the bonsai's daylight exposure is a must, as well as the soil medium. "The health and well-being of a tree depends on its roots which in turn depends on the soil," he notes. "The visible parts of a tree, the branches and leaves are of least concern for the care of bonsai."
And finally, William suggests, "We avoid doing anything on a schedule, but rather work according to the trees' needs. But most of all, I think bonsai just requires patience. Think twice before any action. Avoid stressing the trees and just letting them grow in peace."
In the gallery below, find some of Izumi Bonsai's wonderful trees and be fascinated with this beautiful craft!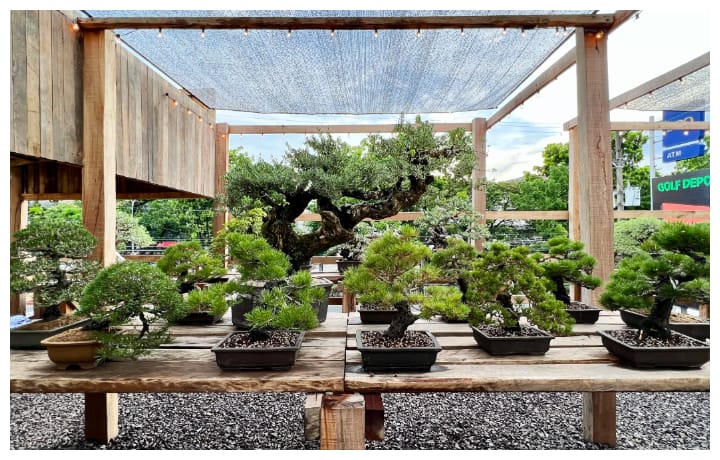 Photo Gallery
Photo Gallery
Izumi Bonsai is located at 224 Ortigas Avenue in Greenhills, San Juan. It is the only bonsai destination at the very center of Metro Manila.