Skeletal Yet Graceful: This New Furniture Line is Making Rattan Rock Again
Architect and furniture designer Jed Yabut merges Japanese minimalist aesthetic and Filipino sensibilities to make something new and cool out of this natural tropical plant
Mention rattan and most people will conjure an image of a wicker basket, or a sentimental furniture piece your grandmother could never let go of, earning rattan the nickname "the grandma trend." And there's nothing wrong with that. We all know Grandma knows best.
The grandmillennial look seems like it's here to stay, but still, this highly layered and judiciously edited style is not for everyone. Thus, the tendency towards a more minimalist aesthetic in so many new homes. What if there's a way to upgrade this very "lola" material, modernize it to fit in the current and the contemporary? Merging Japanese minimalist aesthetic and Filipino sensibilities, architect and fledgling furniture designer Jed Yabut is on the mission to make something new and cool out of this natural tropical plant.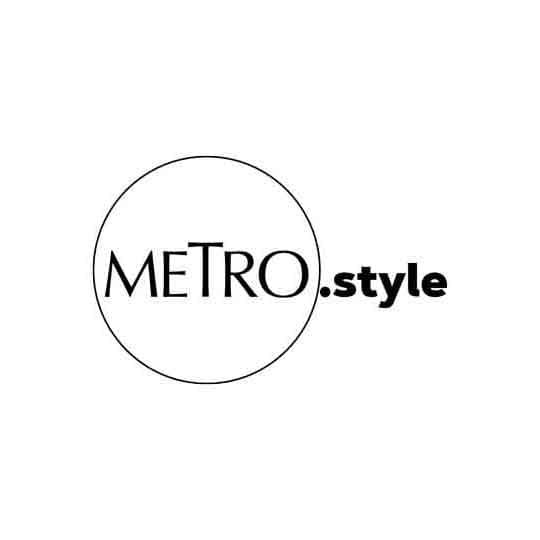 Architect and furniture designer Jed Yabut with one of his creations. | Courtesy of Jed Yabut Furniture
"Rattan is flexible. There's more creative movement to it compared to, say, wood. I didn't want to do wood, because that's too common already. Rattan is a difficult material to work with, it's a very sensitive material, but I took that as a challenge," Jed shares with Metro.Style.
Drawing inspiration from the grace and the curves of rattan, Jed came up with intriguing pieces lifted from the flora and fauna of the Philippines, playing up on words and local traditions. With names like alon, talon, tambol, bunot, banderitas and tinikling, it's hard not to take a second look.
Jed adds, "rattan is quite common. If you see my designs, they're very unusual. I designed them in such a way that you've never seen it before in a rattan."

The creative process
Alon or "wave" is a lounge chair shaped like the waves of our white sand beaches. Puno is an accent stool that stands straight and proud, with an arched back and a thick mane.
Tambol, a double-purpose bench and storage, is shaped like set of drums thrashed and pummeled by your neighborhood rondalla during town fiestas. Tinikling is a coffee table that takes inspiration from the Filipino traditional dance, where bamboo poles are stacked together. Though most of the pieces use other materials like metal, glass and cushion, rattan still takes the spotlight.
Asked where he got ideas for the pieces, Jed answers, "it's a mix between looking at a certain object I have in mind, or just sketching a particular shape or silhouette. It starts from there."
Bunot or coconut husk, is something he saw being sold in the palengke (market). "I found it interesting and I thought, yeah, that could become a base of a table. I went home and came up with bunot, the side table."
From sketches, Jed makes 3D renderings so the artisans and workers can understand the vision of each design. As a project manager for huge developments in Singapore for eight years, Jed has mastered project management to a tee, and he's not afraid to use tools and do manual labor himself.
"I love working with my hands. Ako mismo gagamit ng barena, magpupukpok. I'm hands-on that way," Jed shares.
Jed's technical know-how helped him communicate with the workers better. Jed is especially proud that the workers are part of the design process too.
"I have the designs. For the execution, I work on it together with the workers, I consult with them on how to make the piece structurally feasible," Jed says.
"I tell sila Kuya Rudy, I'll let you decide how and where to place the rattan. Do what you feel is right. Then afterwards, let's see if it worked."
Even if the pieces follow strict dimensions, and Jed and his workers need to be meticulous with all the structural details, Jed lets the rattan flow. He explains that it's all very random, "a beautiful chaos", lending finesse to otherwise muscular pieces.
Handcrafted by local artisans
Jed considers himself very lucky for having the right contacts in the Philippines. Through them, he found the best rattan artisans in Luzon-- from Nueva Ecija, Bicol, to Pangasinan. These are the artisans with decades of experience in framing, waving, and decorating rattan products for local and export markets.
"Yung mga craftsmen natin sa Pilipinas, they're very, very few na lang. Yung mga anak na lang mapapamanahan nila. Not a lot of young people now are interested in doing crafts," Jed says.
Despite the pandemic, Jed personally sought them out. Instead of considering them as workers that are paid at a minimum per day, he offered a fair trade system, where every artisan dictates the price depending on the piece.
It's all part of Jed's vision to create handcrafted furniture using local raw materials that is sustainable for everyone involved. In a country where artisans struggle to sustain themselves, a fair trade system can ensure their sons and daughters go to college, continue the craftsmanship, and create sustainable businesses for their families.
Bohemian-inspired, tropical, and eclectic
A quick look at the catalogue in Jed Yabut's website shows not only tables and chairs, but also mirror accents, ceiling and table lamps, cabinets and shelves. He also accepts custom-made furniture from clients.
It's hard to believe he only sketched the first designs last July, and launched the furniture line two days before the New Year 2021. And already, he has created new designs for the fast-approaching summer, and is rolling it out soon. Jed is hardly wasting time.
"Next namin in line is we're gonna play with colors, still rattan. We'll work on pops of colors to jive in with the summer season," Jed says.
So if you're sprucing up your space, or upgrading it for the upcoming heat, why not listen to your lola, or to Jed Yabut? Rattan can cool down your interiors, enliven any nook with its natural textures, and make stand-out pieces that are light on the eyes.
Jed adds, "Rattan is great for an eclectic space, or Bohemian-inspired condos. They're very skeletal, unlike solid rigid pieces. Skeletal, light and bare, and a good accent conversation piece in a sea of sturdy furniture."
Take a look at Jed Yabut's line of furniture here: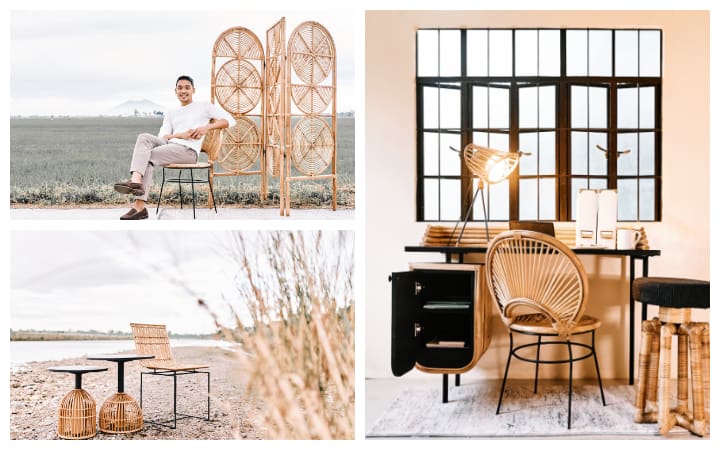 Photo Gallery
Photo Gallery