Relive "Crash Landing On You"... Create Your Own K Drama Journal With Metro.Style
Geok-jeong-ha-ji-ma ... Here's how to creatively immortalize the feels with a personal touch!
As quarantine drags on, delving into another addicting series or comforting hobby is an appealing prospect, indeed! Without our usual travels and a possible dry period in our love lives, we need to rely on the distracting powers of 'Hallyu.'
Luckily, if you're like me and are experiencing the insignificant yet real regret of bingeing a series too swiftly, I have a solution for you - K Drama Journaling. I'll admit: this isn't nearly as good as falling for Captain Ri for the first time, but it allows us to be engrossed in our favorite parts of the story, and capture moments to preserve them in creative and fun ways!
Allowing yourself to indulge in this creative process is a stress reliever and a way to calm the mind, as you focus on building your journal page by page. You may want to curate pages dedicated to themes such as the characters, the costumes, the sets, the fashion, the beauty looks and the food. On the other hand, you can organize your pages by episode. There is no limit. Creative journaling makes you feel good as you relive moments from Crash Landing on You. Let all of it soak in, make your mind wander in the narrative and the creativity, and transform your day with positive energy!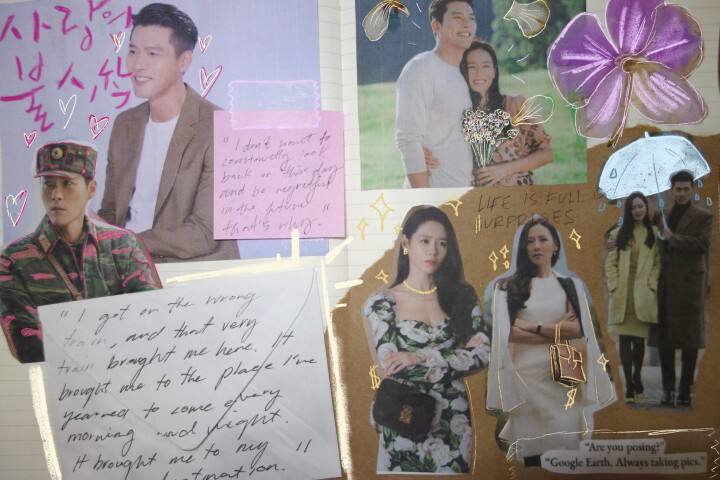 "Crash Landing On You" K-Drama Journal | Still from Metro.Style video
Follow this video that walks you through a step by step tutorial on how to produce your own pages!
Follow these Steps:
1. Start by selecting your subject. This will be your project's focal point. It can be a scene from the series you've just finished, your favorite character, or outfits and fashion pieces. You can draw inspiration from practically anything!
2. Visualize your layout. What do you want your page to look like? What materials do you think you'll use? What colors will you combine? Having an idea of what and where the components will ensures that the printed photos are perfectly proportional to your design.
3. Gather your materials. For most pages you'll need :
● Scissors
● Glue
● Patterned or colored paper
● Photos
● Writing tools
● Embellishments / Decorations
4. Start with a base layer. Rip or clean cut some extra paper to add some color and fill up the blank background space. Don't be afraid to try different shapes to partition your blank slate into sections to complement your layout.
5. Pick and place your favorite photos down on the page just like how you planned it.
6. In decorating, use different textures to make the page more visually and tangibly interesting.
7. To add dimension to the page, include layers by adding more photos and paper. Experiment and test out combinations to find the perfect aesthetic.
8. Add embellishments : whether it be stickers , washi tape , envelopes or some extra doodles and drawings, decorate your page to make it more personal and creative. Choose your pieces wisely. Remember, too little will leave your page looking bare, but too much will just clutter it.
9. Note nostalgic quotes and / or put your thoughts down on the paper to transport anyone who picks up your journal to your favorite scenes. Try out different fonts. Some nice calligraphy can add character and charm.
10. Look over your work and make your final touches. And voila! You've finished the first of many pages to preserve your fondest K-Drama memories, all while practicing your creativity and craftsmanship.
Video Credits:
Produced by Anna M. Rosete
Created by Alessandra Villalon