Look! Osaka's Kei Truck Gardening Trend Turns Car Trunks Into Charming Pocket Gardens
What ideas of your own would you come up with?
Leave it to the Japanese to know exactly how to transform small spaces spaces and overlooked objects into beautiful things!
It's a feat that gardening enthusiasts from Osaka, Japan and the Japan Federation of Landscape Contractors took on in 2016 when they launched the very first Kei-tora Gardening Contest, a competition that invites the most avid gardeners and professional landscapers to create their very own pocket gardens.
What makes this challenge so unique, however, is how competitors don't design pocket gardens or garden landscapes on small plots of land, but they're tasked to do so using the trunk or bed of kei-tora, a.k.a. a mini pickup truck of sorts often used by those in the agri business.
The competition has been well-received and has since grown in popularity over the last four years.
Next to the goal of showcasing competitors' creations, the Kei-tora Gardening Contest also aimed to bring nature closer to city dwellers who, more often than not, are deprived of access to big, sprawling green spaces. Japan's densest urban cities don't give residents the luxury of gardens in their homes, making these gardens-on-wheels the closest thing to having a green backyard many of them can get.
Competitors at the competition aren't limited to too many rules when it comes to their designs. Aside from having to work with the empty, unused back of a kei-tora truck, they're free to add any and all elements they wish.
Creativity abounds in many forms thanks to the artistic liberty they're given, with aquatic elements (think functioning "wells," fountains, and tiny ponds), leveling, hanging plants, frames and platforms, moss beds, bonsai, artificial lighting, and built-in benches and tables mixed into the scene with flowering shrubs, purple-leafed trees, vines, potted greens, aged trunks, giant pottery, smooth stones, and so much more.
The results are anything and everything from mountainside-inspired creations to a cozy corner cafe, or even a sushi bar and a meditation garden.
With Filipino plantitas and plantitos emerging everywhere these days, they could learn a thing or two from their Japanese counterparts to level up their gardening game and maybe start our local version of the kei-tora trend!
Scroll through the gallery below to see our favorite kei-tora garden creations over the years and gather your own ideas!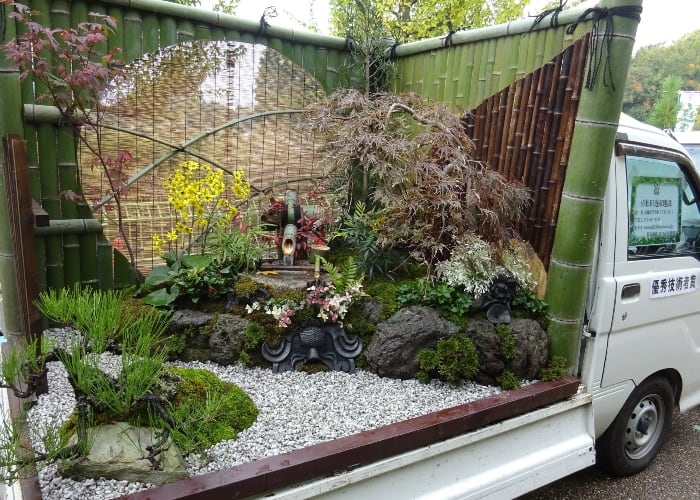 the best entries from Japan's kei-tora gardening contest
the best entries from Japan's kei-tora gardening contest
Opening images from Fukuharu Landscaping and Showa Landscaping Co., Ltd. Civil engineering as featured here.