Pet of the Week: Kim Go-eun's Adopted Pup, Wol
We're all soft for this sweet story of how Kim Go-eun adopted Wol
On June 27, 2022, an adoption shelter on Instagram, @dangjin_adoptus posted several photos on their page, sharing that one of their rescue dogs has been adopted. Previously named Gu-mi, Wol was revealed to be adopted by Goblin and Yumi's Cells actress, Kim Go-eun.
In their Instagram post, the shelter shared a long message about Wol's journey. As translated by SBS News, the shelter brought Wol in when he was around six months old. During the preparations for his adoption, it was discovered that he still wasn't well, as he couldn't balance himself while walking. Despite this, Goeun proceeded with the adoption process and wished for Wol to come home with her.
For the first few weeks, Wol was encountering difficulties such as throwing up, having cases of diarrhea, and bumping into walls, so the shelter revealed that he often spent time at the vet during those hard times. Eventually, it came to a point where Wol appeared to be completely fine, so they thought everything was going to be alright moving forward.
However, when Wol had a brain MRI scan as he was getting neutered, they discovered that Wol had pneumocephalus and encephalomeningocele, which are incurable brain diseases that Wol would have to endure for the rest of his life as it would be dangerous for him to undergo surgery. With this, the shelter expressed their sadness over Wol's condition and sent their apologies to Go-eun, but they also thanked Go-eun for taking care of Wol and accepting him as her family despite his illnesses. Go-eun then replied to their Instagram post, saying, "I'll take good care of him," along with a heart emoji.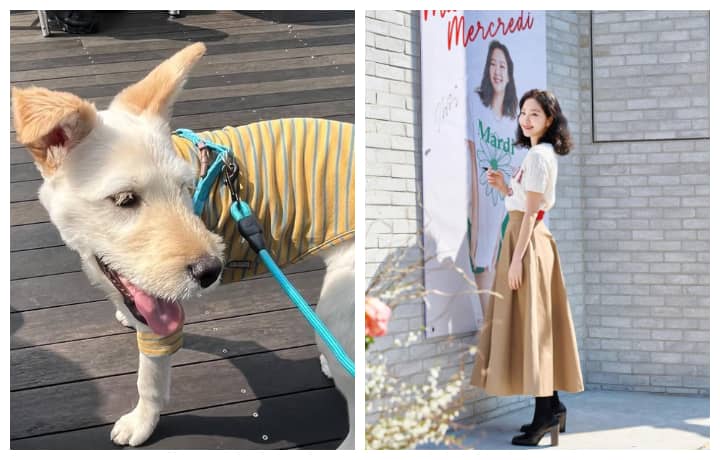 Photo Gallery
Photo Gallery
The shelter had also shared an Instagram story containing before-and-after photos of Wol, where they also expressed their gratitude towards Go-eun.
Before the shelter's post, Wol already made an appearance on Go-eun's Instagram page last April 29, with BLACKPINK Rosé's dog, Hank, as a special guest.
Our hearts go out to Wol, and to all dogs who are lost, abandoned, and left with no homes. If you are interested in emulating Kim Go-eun's example and adopting a dog, here are some local pet shelters you may look into:
The Philippine Animal Welfare Society (PAWS)
PAWS Animal Rehabilitation Center (PARC) Aurora Blvd. Katipunan Valley, Loyola Heights, Quezon City, Philippines 1108
Visit https://paws.org.ph/adoption/ and https://paws.org.ph/contact/
Compassion and Responsibility for Animals (CARA) Welfare Philippines
Visit https://www.caraphil.org/pets-for-adoption/ and https://www.caraphil.org/contact-us/
Lara's Ark
Shelter Branches: 585 Calbayog Street, Mandaluyong & JP Laurel Street, Nasugbu
Visit https://www.facebook.com/larasark.ph
Hound Haven Philippines
353 Pinaglagarian Street, Angat, Bulacan
Visit https://houndhavenph.org/adoptables
Pawssion Project Foundation
Visit https://www.instagram.com/pawssionproject/
Strays Worth Saving (SWS)
Visit https://www.instagram.com/straysworthsaving/
Banner and Thumb Images by @ggonekim @dangjin_adoptus